Get our 43-Page Guide to Real Estate Investing Today!
Real estate has long been the go-to investment for those looking to build long-term wealth for generations. Let us help you navigate this asset class by signing up for our comprehensive real estate investing guide.
Note: Our market forecast includes Charleston data and data from its surroundings, including North Charleston.
A leisurely walk through Charleston's downtown historic district takes visitors back in time, with the city's old-world charm and blend of architectural styles. Routinely named one of the top travel destinations in the world, Charleston has a rich history, world-class cuisine, sandy beaches, and so much more.
However, unlike many vacation spots where travelers only come for a week and then return, Charleston's allure has a growing number of visitors choosing to make it their permanent home. The city's population growth has enhanced its appeal to real estate investors.
Here's a closer look at the local Charleston real estate market.
Why consider Charleston for real estate investing?
Nestled in South Carolina's Lowcountry region along the Atlantic Coast, Charleston has a rich history. Founded in 1670 as Charles Town in honor of King Charles II, the city became a major trading port and was once one of the largest cities in North America. The importance of its port made Charleston a key maritime battleground in both the American Revolution and the Civil War.
While Charleston's port remains a key economic driver in the region -- it handles about 22% of South Carolina's port system's total container volume -- the city has a diverse economy that has grown briskly in recent years. Its GDP has surged 75% over the last decade, according to the Federal Reserve Bank of St. Louis.
As a result, Charleston rates high for job growth and overall business climate. Add that to the city's high quality of life, thanks to its rich history and warm weather, and it has been a magnet for millennials and baby boomers in recent years.
Overall, Charleston's population has grown three times faster than the national average and double South Carolina's growth rate. That upward trend should continue over the next decade, with forecasters predicting that the city will expand by another 25% by 2030. As a result, housing demand should remain robust in the region, making it an ideal location for real estate investors.
The state of the market
The Charleston real estate market remained strong in 2020 despite the impact of the COVID-19 outbreak on the city's hospitality and tourism sector. South Carolina quickly reopened much of its economy after the initial wave and didn't restrict indoor dining or other activities during subsequent waves.
Meanwhile, in-migration to the city continued as the region's economy barely skipped a beat, leading to a below-average unemployment rate. On top of that, retirees and remote workers also kept moving into the region because of its warmer weather, high quality of life, and affordability. As a result, inventory remains low, causing home prices to continue climbing.
Here's a quick snapshot of three important real estate trends for the Charleston market.
Unemployment is low
In January 2021, Charleston's unemployment rate was 4.3%. That's a slight increase from its pre-pandemic level. However, it's well below the national average and much improved from its peak during the initial days of the COVID-19 outbreak. The city benefits from a diversified and overall stable economy thanks to a significant employment base in the healthcare, military, and aerospace sectors.
The housing market is tight
Housing inventory in Charleston remains low at less than three months' worth. The region's housing inventory entered 2021 at a 20-year low. It had only about a quarter of the housing inventory needed for a balanced market. As a result, home prices have continued to rise.
Rentals are abundant
While Charleston lacks single-family housing inventory, the region has a glut of rental units. As a result, its vacancy rate is well above the national average, while the average rental rate is below average. That's due to a significant amount of multifamily development in recent years; the transient nature of some residents, as Charleston has high student and military populations; and a higher number of short-term rentals serving the tourism industry.
Charleston housing demand indicators
All data and charts supplied by Housing Tides by EnergyLogic.
As noted, the Charleston market is strong, as evidenced by the following key housing demand indicators.
Unemployment trends
Charleston's unemployment rate has been below the national average for several years. While it spiked during 2020 as a result of the pandemic, it quickly recovered, even though the city has a significant number of hospitality-related jobs due to the importance of the tourism industry to its economy.
While some restaurants permanently closed because of the pandemic, South Carolina's government quickly reopened its economy, allowing many restaurants to operate at near capacity for much of the past year. As a result, tourists continued to visit the region, keeping its hotels occupied and its restaurants busy.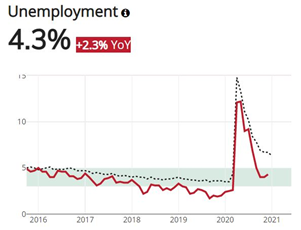 Median home price
Charleston's home prices are slightly below the national average, though they have grown nearly in tandem with the national trend over the past five years. That's due in part to the overall affordability of housing across cities in the Sun Belt region like Charleston. Meanwhile, even though many more people are moving into the city than leaving, new construction has helped absorb much of this demand growth to keep housing prices from overheating.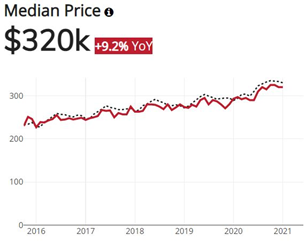 Median rent price
Rent prices are a bit below the national average in Charleston, though rental rates have steadily increased along with the national trend. One factor keeping down rental prices is an overabundance of rental housing in the market.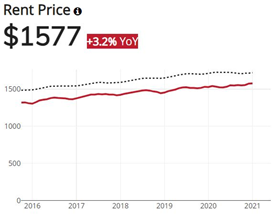 Charleston housing supply indicators
Here's a snapshot of what the housing supply looks like in Charleston.
Total housing supply
While housing supply in Charleston is tight at less than three months, the region isn't as supply-constrained as the rest of the nation. Still, homes are moving at a brisk pace, as the region's supply hit its lowest level in 20 years to start 2021 at around 2,300 homes. That's less than a quarter of the listings needed to bring the market back into balance with demand, according to data from the Multiple Listing Service.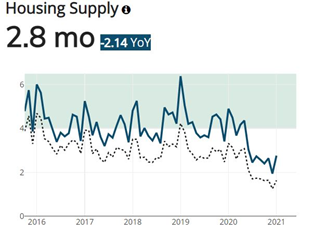 Rental vacancies
Rental vacancy rates are high in Charleston. That's due to a glut of apartments in the region as builders have developed new multifamily units faster than demand in recent years. There also seems to be some vacation rental influence in this number, as data from REIS, the real estate solutions arm of Moody's (NYSE: MCO), pegged Charleston's apartment vacancy rate at 8% in early 2020.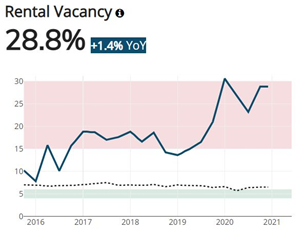 Architectural billings
Architectural billings, a leading indicator of commercial building activity, have been generally above the national average in the South over the last five years. While they collapsed during the early part of 2020 due to government-mandated shutdowns to slow the pandemic, this metric recovered faster than the national average during the latter part of the year. That's because many Southern states reopened their economies more quickly than other regions and kept them open despite new virus surges.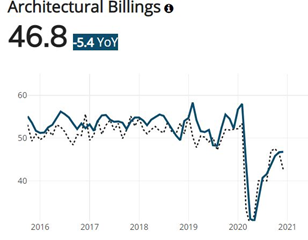 Construction indicators
Construction costs have risen nearly 5.5% over the past year. That's mainly due to surging lumber costs because of shortages and significant demand from homebuilders and home remodeling projects.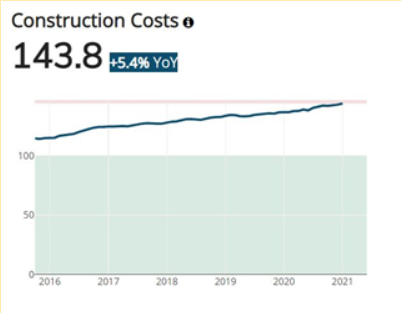 Single-family detached permits
As of January 2021, there were 551 single-family housing permits issued in the Charleston metro area, roughly 100 more than forecast. That suggests strong demand for housing in the region. On the one hand, that's good news for future buyers, since it should help with the region's inventory issues. However, the additional supply could impact home price growth.

Multi-unit permits (2-plus units)
As of January 2021, there were 174 multifamily housing permits issued in the Charleston metro area, right on target with the forecast. That broke a streak throughout 2020 where permits came in below forecast. One concern for investors with the uptick in permits is that Charleston already has a lot of multifamily vacancies, suggesting that the region's glut could get worse, putting some pressure on rental growth.

Charleston real estate financial health indicators
As stated earlier, Charleston quickly recovered from the initial impact of the pandemic.
Delinquencies
Delinquencies in Charleston had been above the national average in recent years. There had been a general downward trend until 2020, when they spiked with the rest of the nation due to the economic uncertainty caused by the pandemic. While the city's delinquency rate has improved from its peak, it remains above the national average, making it a metric investors will want to monitor closely.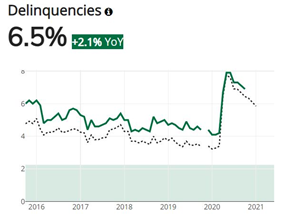 Foreclosures
Despite the spike in delinquencies last year, Charleston's foreclosure rate has continued its overall downward trend in recent years. That's mainly due to a significant amount of government support throughout the pandemic to keep people in their homes.
Brand New South Carolina Foreclosures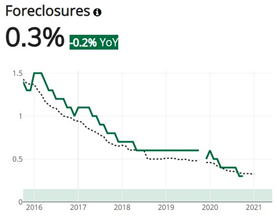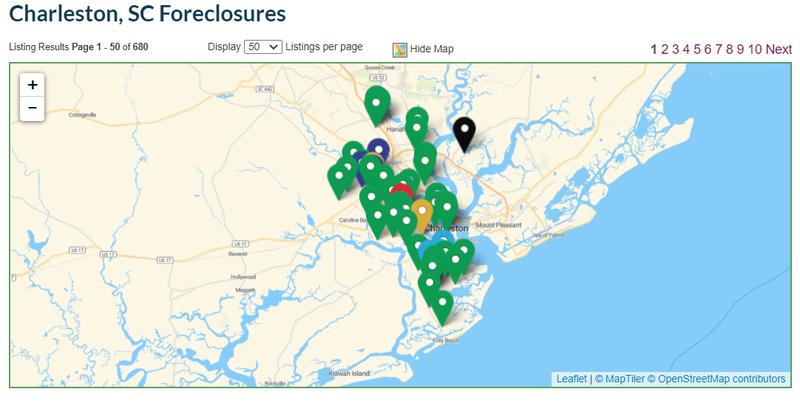 Anchor institutions
Charleston's low unemployment rate is due in part to its strong regional economy, supported by several notable industries:
Aerospace and defense: Charleston is the home of Joint Base Charleston, a large military facility. Given the city's strong military presence, there's also a sizable military retiree presence in the city. Aerospace giant Boeing (NYSE: BA) is also a major employer in the region, as it builds components for one of its large commercial airliners in Charleston.
Hospitals/healthcare: The Medical University of South Carolina (MUSC) is in Charleston. It operates a medical school and clinical health system. Roper St. Francis Healthcare and Trident Health System are also large private-sector employers in the city.
Hospitality: The hospitality and tourism industry is a major employer in the Charleston region at 13.4% of the total, according to the Bureau of Labor Statistics.
Schools of note
Charleston is home to several colleges, which drives the steady need for student housing:
MUSC: Founded in 1824, MUSC educates and trains more than 3,000 students and 800 residents in six colleges. The school is the largest non-federal employer in Charleston, with more than 17,000 employees.
The Citadel: Founded in 1842, The Military College of South Carolina, or The Citadel, has about 2,300 undergraduate students and another 1,000 at The Citadel Graduate College. Known for its Corps of Cadets, students live and study under a classical military system focused on leadership and character development.
Charleston Southern University: Charleston Southern is the only Christian university in South Carolina's Lowcountry region. The school has more than 3,400 students enrolled on its 300-acre campus in Charleston.
The College of Charleston: Founded in 1770, The College of Charleston is in the heart of historic downtown Charleston. The school has more than 10,000 undergraduate students and another 1,000 in its graduate programs.
Neighborhoods of note for investing
Charleston has several historic neighborhoods on the Peninsula and many more across a bridge to one of its suburbs. Here are a few notable ones for investors.
The Peninsula: Downtown Charleston is on a peninsula surrounded by the Charleston Harbor. The city boasts a historic downtown area, world-class restaurants, hotels, parks, and plenty of activities. The Charleston peninsula features many historic homes and has a high student population thanks to the College of Charleston.
Mount Pleasant: Located across the Arthur Ravenel Bridge from historic downtown Charleston, Mount Pleasant has many great restaurants, convenient shopping centers, and highly regarded schools. Home prices in Mount Pleasant tend to be higher than in other suburbs due to its amenities and proximity to the beach.
Daniel Island: The island was largely undeveloped until the late 1990s when a newly constructed highway paved the way for its development as a master-planned community. The island features a small downtown area with shops, restaurants, schools, churches, and other businesses. The island also has affluent residential neighborhoods, parks, trails, and many recreational amenities.
West Ashley: Located west of the Ashley River, just outside of downtown Charleston, West Ashley is close to everything, including downtown, several beaches, and many parks and historic plantations. This suburb has more affordable housing options, good schools, convenient shopping, and several restaurants.
Johns Island: Johns Island is a more rural suburb of Charleston that's quickly growing. Several housing developments are currently under construction on the island, which is becoming a sought-after spot for those who want a slower pace. While Johns Island doesn't have as many shopping options as other neighborhoods, it's home to several high-quality restaurants.
The Millionaires bottom line
Charleston has been growing at an above-average rate for the past several years. It attracts baby boomers looking for a warmer climate and high quality of life and millennials searching for employment. Those two catalysts should continue driving the region's growth over the next decade, with one forecast estimating that its population will expand by 25% by 2030.
That projection bodes well for real estate investors in Charleston, as housing prices should continue to climb. It should also help fill some of the city's vacant apartments, which would drive steady rent growth.
Got $1,000? The 10 Top Investments We'd Make Right Now
Our team of analysts agrees. These 10 real estate plays are the best ways to invest in real estate right now. By signing up to be a member of Real Estate Winners, you'll get access to our 10 best ideas and new investment ideas every month. Find out how you can get started with Real Estate Winners by clicking here.