Get our 43-Page Guide to Real Estate Investing Today!
Real estate has long been the go-to investment for those looking to build long-term wealth for generations. Let us help you navigate this asset class by signing up for our comprehensive real estate investing guide.
Founded in 1812 and named for the famed explorer Christopher Columbus, the city of Columbus is the state capital of Ohio and the most populous city in the state. Per 2019 estimates, Columbus is now home to almost 900,000 people.
This city is known for its diverse offerings. In particular, it's home to Ohio State University, which is a large driver of the economy. However, six Fortune 500 companies, including Cardinal Health (NYSE: CAH), American Electric Power (NASDAQ: AEP), L Brands (NYSE: LB), Nationwide, Alliance Data Systems (NYSE: ADS), and Huntington Bancshares (NASDAQ: HBAN), have also chosen to settle in the area.
The state of the market
Fortunately, although the city is still recovering from the pandemic, there are a lot of positive things to say about Columbus's investing scene. Here are three major trends to be aware of before you add a property in this area to your portfolio.
Home prices are on the rise
With just 1.5 months' worth of inventory available, Columbus is definitely being impacted by the inventory shortage. As a result, home prices have shot up by 10% on a year-over-year basis. Still, at a median home price of only $254,000, the average home in Columbus is much more affordable than in the rest of the nation.
Housing permits are surpassing projections
As of March 2021, both single-family and multifamily housing permits are surpassing projections. In addition, the architectural billings index is up 12% year over year and now measures above 50, which also suggests an increase in the number of new construction projects. Short term, this will likely help to ease the inventory shortage that's driving the rise in home prices.
The financial health indicators are mixed
For its part, the foreclosure rate in Columbus is down. Overall, this is a good sign, but it's likely due in part to pandemic-related assistance measures, which may end in the near future. Meanwhile, although the delinquency rate is still higher than it was pre-pandemic, it's worth noting that this index has been on the decline for the last few months.
Columbus, Ohio, housing demand indicators
All data and charts supplied by Housing Tides by EnergyLogic.
Although you can still see some lasting effects from the pandemic in Columbus's housing demand indicators, they should provide investors with a relatively positive outlook.
Unemployment trends
One of the first things to notice about Columbus's economic landscape is that unemployment is up 1.4% year over year as of February 2021. While that figure is not ideal, it's hardly unexpected, given the widespread effects of the coronavirus pandemic. Additionally, it's important to point out that at just 5.4%, the current unemployment rate in Columbus is actually lower than the national rate of 6.2%.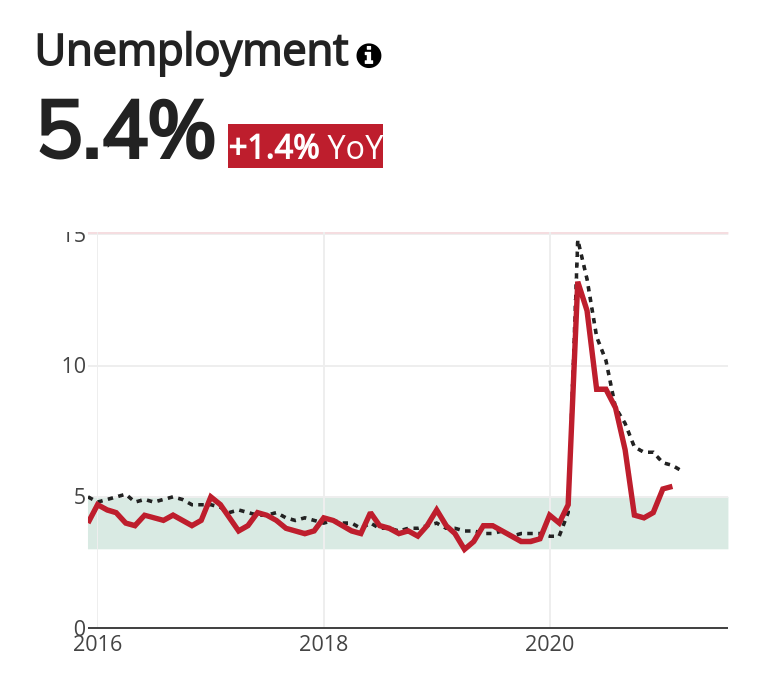 Median home price
Median home price is another metric where Columbus is following along with national trends. Thanks to the widespread inventory shortage, the median home price in Columbus has increased by 10% since the same time last year.
Still, investors will be interested to know that Columbus's median price of $254,000, is just shy of $100,000 less than the median price for the nation as a whole, which currently sits at $353,000 as of March 2021.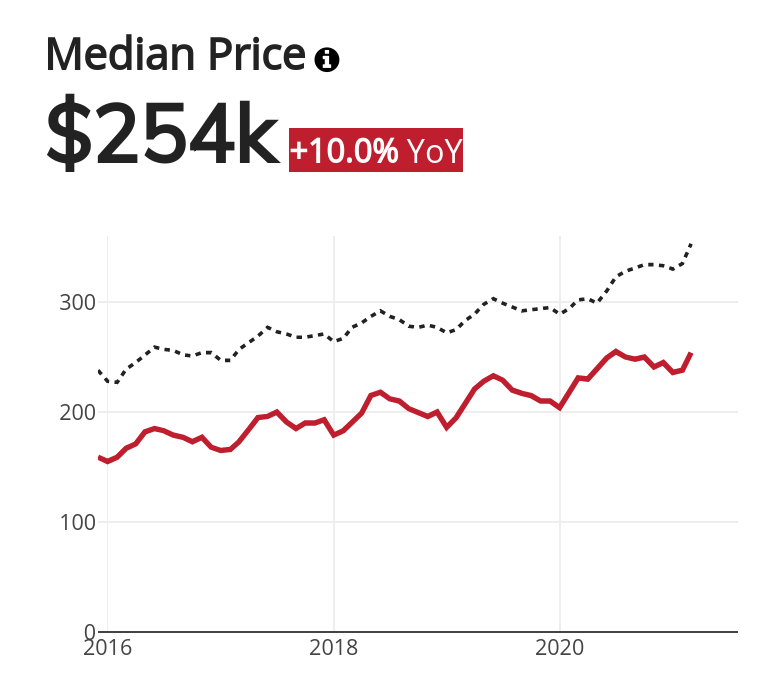 Median rent price
Fortunately, the median rent price is also rising. It has gone up 6.8% in the last year to $1,296.
Even though that increased rate is still 25% lower than the national average of $1,721, it's still a positive sign for those hoping to follow a buy-and-hold investment strategy in Columbus. After all, the current median home price is 28% lower than the national average, which means there's a good chance you'll come out ahead on rent.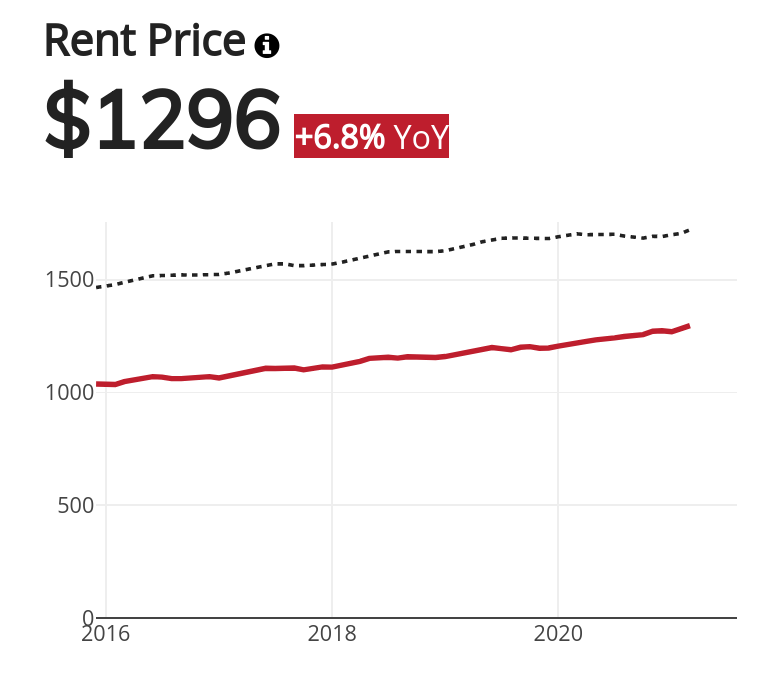 Columbus housing supply indicators
For the most part, Columbus housing supply indicators seem to be showing that the city is on its way to a post-pandemic recovery.
Total housing supply
As of March 2021, Columbus, Ohio has 1.5 months of available housing inventory. Again, while this number may seem low, it's important to remember that we're in the middle of a nationwide inventory shortage. For reference, the nation as a whole has only 1.09 months' worth of inventory.
From an investing standpoint, the shortage will almost undoubtedly have an impact on your bottom line. For example, you'll likely need to offer over asking on most properties that you're thinking of adding to your portfolio.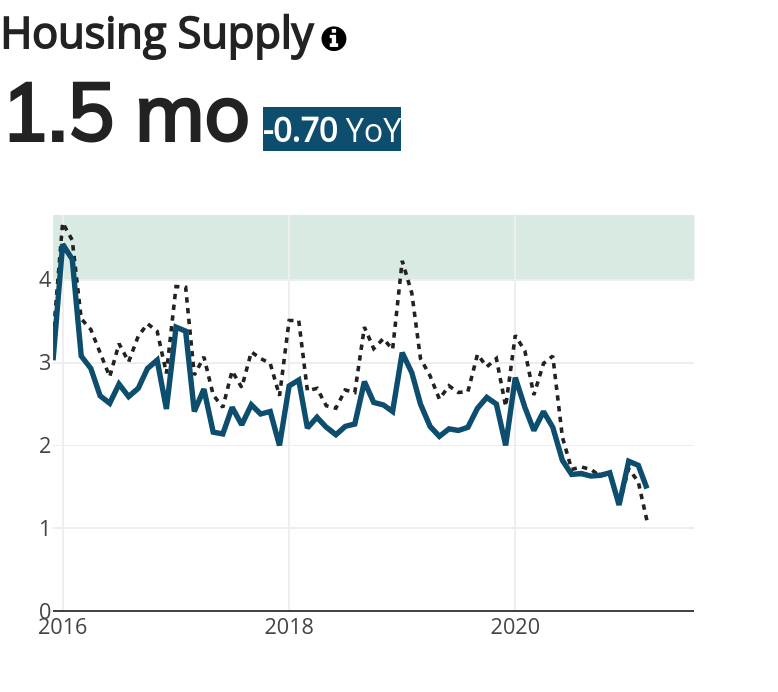 Rental vacancies
For their part, rental vacancies are up 1.6% on a year-over-year basis. However, this metric is on its way to recovery. Columbus's March 2021 vacancy rate of 6.5% is actually a decrease from Its mid-pandemic peak of 8.3% in October 2020. Notably, this figure is also slightly lower than the current national average of 6.8%.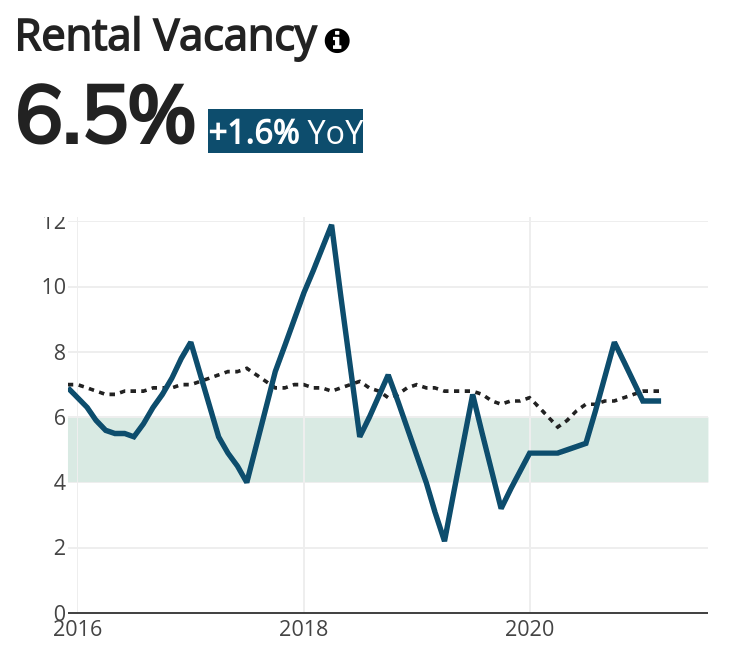 Architectural billings
Meanwhile, architectural billings are generally seen as an indicator of nonresidential construction activity. Typically, an index above 50 indicates an increase in demand for architectural design services, while an index below 50 suggests there has been a decline in the need for the services.
Measuring 56.5, the Midwest's architectural billing index is following a positive trend. It's up 12.3% year over year.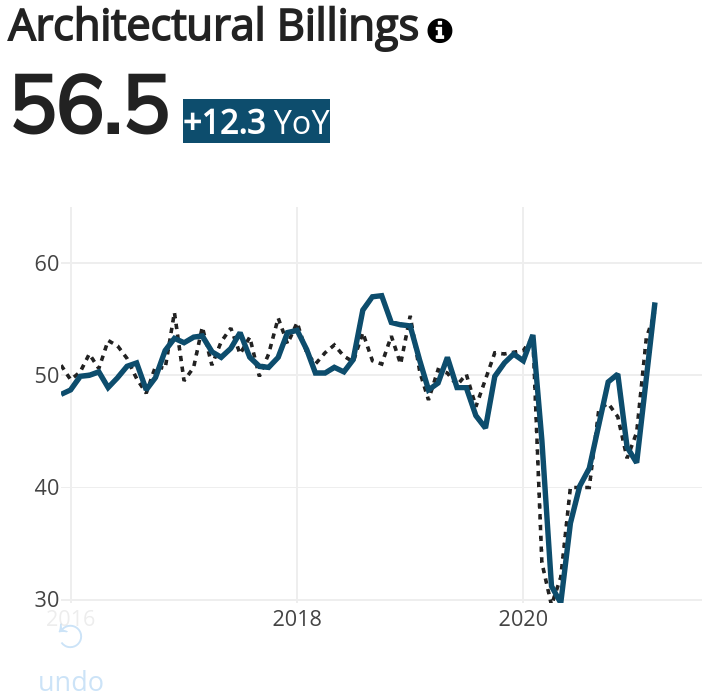 Construction indicators
Construction costs are up 7% on a year-over-year basis. This is not entirely unexpected as they have been on an upward trajectory since 2016. However, it's likely that this significant jump has been aided by the midyear lumber shortage and pandemic-related supply chain issues.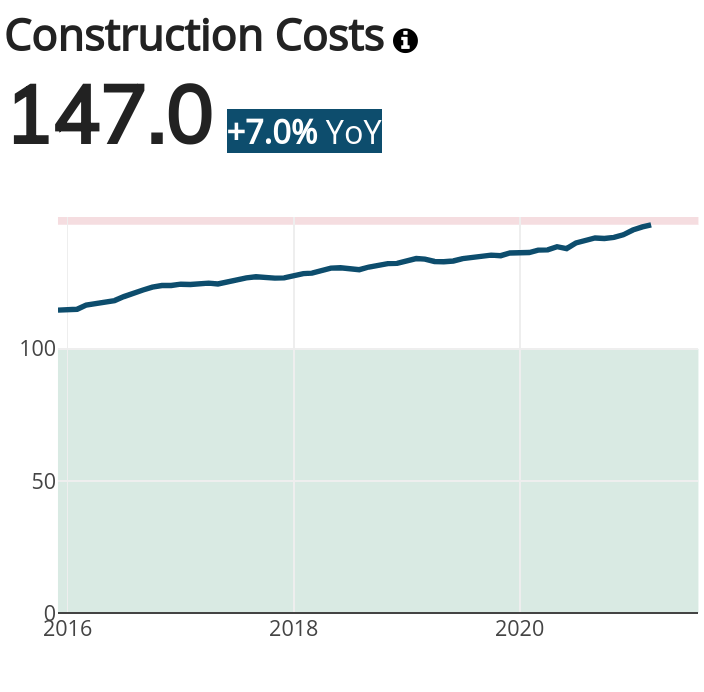 Single-family detached permits
In Columbus, single-family housing permits are currently exceeding projections. As of March 2021, there were 632 permits issued, as opposed to a projected 406. In the short term, this surplus will certainly help to ease the inventory shortage. However, if this continues long term, the city could reach a point where supply outpaces demand.
Multi-unit permits (2-plus units)
Similarly, the number of multifamily housing permits is also exceeding expectations. In March 2021, there were a total of 507 permits issued compared to a projected 401. In recent months, however, it looks as though this metric has come closer to the projected number of permits.

Columbus, Ohio, real estate financial health indicators
Columbus's real estate financial health indicators are mixed but still have been showing signs of improvement.
Delinquencies
Although delinquencies in Ohio are up 1.2% year over year, this is not entirely unexpected given the pandemic. Overall, this metric gives us another indication that Columbus is on the road to recovery. It has been following a downward trend for the last few months, particularly since the delinquency rate reached its peak in May 2020. However, even then, at 6.7%, the delinquency rate in Ohio was lower than the national average of 7.76%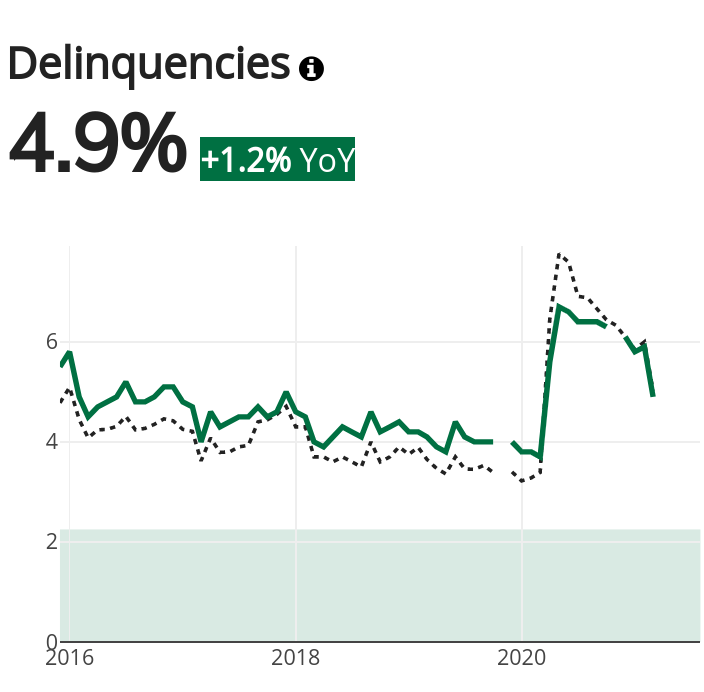 Foreclosures
On the other hand, Columbus foreclosures have actually gone down amid the pandemic. It's likely that many of the increased protections offered to homeowners, such as extended forbearance options, have helped this metric continue to trend downward, despite the economic upheaval.
Brand New Ohio Foreclosures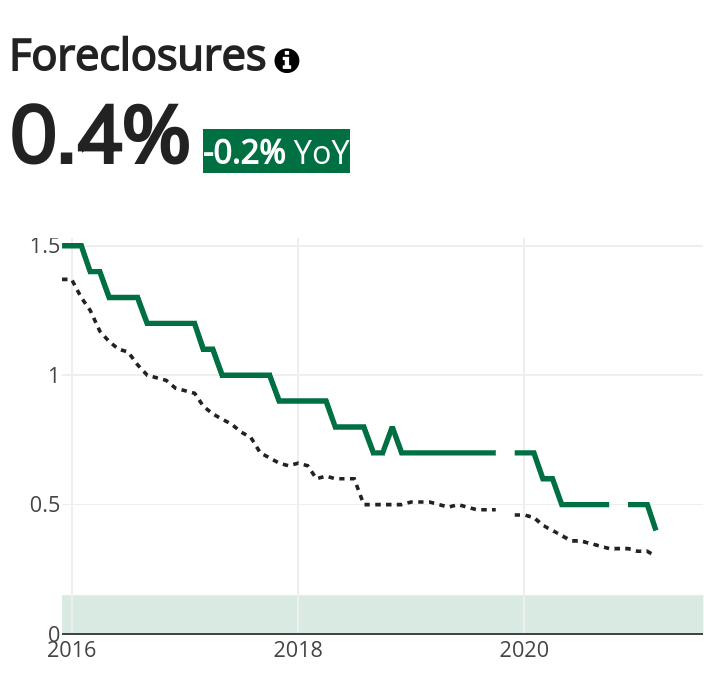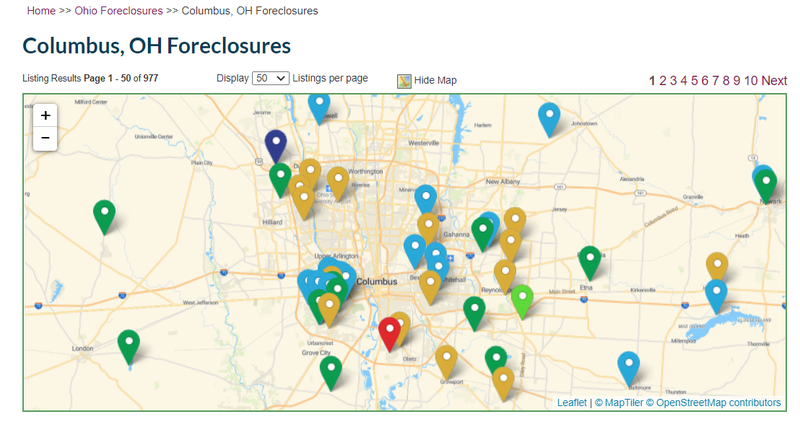 Anchor institutions
Although Columbus is a smaller city, it's still home to a diverse array of employment opportunities. Of note, its three largest employers all span different industries, which is positive from both an economic and an investing standpoint.
Ohio State University: According to the Columbus Business Journal, Ohio State University is the city's largest employer. In total, the higher learning institution creates jobs for nearly 34,500 employees.
OhioHealth: Although OhioHealth is only the third-largest healthcare provider in the state of Ohio, it's the second-largest employer in the Columbus area. As of the 2020 ranking, the healthcare giant was responsible for employing almost 25,000 people in the Columbus area.
State of Ohio: Meanwhile, the state of Ohio is actually the third-largest employer in Columbus and the largest employer in the public sector. Per the ranking, it adds another 23,000-plus jobs to the economy.
Schools of note
According to the Columbus Region, a nonprofit organization that focuses on economic development in the Columbus area, the city has one of the largest concentrations of higher education in the U.S. The region is home to 52 college and university campuses, with a total enrollment of over 134,000 students, which is good news for investors who want to specialize in student housing. Here are three schools in the Columbus area.
Ohio State University: With over 42,000 undergraduates alone, Ohio State University is by far the biggest higher education institution in the Columbus area. The school is widely known for having a wide array of academic offerings, as well as being part of Division I athletics.
Columbus State Community College: Although it's not a traditional four-year school, Columbus State Community College enrolls about 28,000 students each year. The school is centered around a centrally located campus in downtown Columbus.
Franklin University: Designed to accommodate adult learners, Franklin University boasts three campuses in the Columbus area, which offer mostly evening and weekend classes. In total, around 6,000 students are enrolled at this university at any given time.
Neighborhoods of note for investing
Like any city, Columbus is made up of a diverse array of neighborhoods. We've picked three that might be of particular interest to investors.
Franklinton: An up-and-coming neighborhood, Franklinton is located just west of downtown and has become increasingly popular with first-time homebuyers, who want a short commute to the city center. The area is still in transition, and property values are lower here, despite a steady rise over the past few years, meaning that it could be a good fit for investors hoping to score a deal.
Southern Orchards: Southern Orchards is another neighborhood that has undergone a major revitalization in the last decade. Located to the east of Parsons Avenue, this area is very popular among fix-and-flip investors.
College Hill: College Hill is named for its proximity to Ohio State University's Columbus campus. While this area will undoubtedly feature a higher price point than the other neighborhoods on this list, it's a natural fit for those interested in focusing on student housing.
The bottom line
While every investor should do their own research before buying a piece of real estate, there's a lot to be said for investing in Columbus. Even though some aspects of the economy are still recovering from the pandemic, by and large, the city seems to be finding its footing. In particular, the rising rental rates and lower-than-average median home price are two factors that will appeal to those looking to expand their portfolios.
Got $1,000? The 10 Top Investments We'd Make Right Now
Our team of analysts agrees. These 10 real estate plays are the best ways to invest in real estate right now. By signing up to be a member of Real Estate Winners, you'll get access to our 10 best ideas and new investment ideas every month. Find out how you can get started with Real Estate Winners by clicking here.
The Motley Fool has no position in any of the stocks mentioned. The Motley Fool has a
disclosure policy
.