Get our 43-Page Guide to Real Estate Investing Today!
Real estate has long been the go-to investment for those looking to build long-term wealth for generations. Let us help you navigate this asset class by signing up for our comprehensive real estate investing guide.
Note: Our market forecast includes Cleveland data and data from its surroundings, including Elyria.
Cleveland is the second-largest city of Ohio, with a population of nearly 400,000 and a metro area that contains more than 2 million residents. The largest city on Lake Erie, Cleveland is part of Cuyahoga County, the Buckeye State's second-largest county and home to over 1.2 million people. All told, the Greater Cleveland region is ranked as the 33rd largest metropolitan area in the country.
The city's location near the mouth of the Cuyahoga River and close proximity to canals and railroads made it a major manufacturing hub in its early days. Today, the city reflects a more diverse economy, including healthcare, higher education, technology, and financial services.
In addition to industry, Cleveland is also a hub for arts and culture. Playhouse Square is the country's second-largest performing arts center, and the Cleveland Museum of Art is one of the most popular museums in the world. It's also known for being a big sports town, with the Cavaliers, the Browns, and the Indians being the major pro sports teams. Cleveland's nickname is "The Forest City," as it's an integral part of the Cleveland Metroparks nature reserve system.
If you're thinking about investing in Cleveland, here's what you need to know.
The state of the market
The cost of living in Cleveland is lower than elsewhere in Ohio and the rest of the nation. As with many cities across the country, Cleveland was heavily affected by the pandemic. Here are some other trends worth noting in Cleveland:
Unemployment rates were high during the pandemic: Back in April 2020, unemployment rates skyrocketed to 21.8%, meaning that about 1 in 5 Clevelanders were out of work. While joblessness has improved greatly over the course of the past year while mortgage interest rates were at their lowest, the loss of income might have forced would-be homebuyers to stay renters for a bit longer.
The median price of a home is much lower than the national average: Although lower property prices make it easier for investors to break into the market, the resale value will not be nearly as high as in other markets. Fix-and-flip investors will especially want to keep an eye on their bottom lines so that they don't outprice comps with expensive renos.
It's more expensive to rent than buy: According to the Urban Institute, there's a rent gap that favors buying a home in Cleveland. For renters, 18.21% of income is earmarked for rent, while only 14.48% is put toward the mortgage, representing a gap of 3.73%.
Let's take a closer look at some of the key factors driving the current housing market in Cleveland.
Cleveland housing demand indicators
All data and charts supplied by Housing Tides by EnergyLogic.
Cleveland's median rents and home prices are both well below the national average, but the city is still struggling in its unemployment stats. This could put homeownership on hold for those affected, while higher-priced rental units might remain vacant.
Unemployment trends
Cleveland is currently at a 4.9% unemployment rate, a 1.3% decrease year over year. Right before the pandemic, Cleveland's jobless rate was at 6.2%, but that figure shot up to 21.8% in April 2020, a full 7% higher than the national average. Cleveland's jobless rate has greatly improved over the past year, though, and it now sits more than a full point below that of the national average.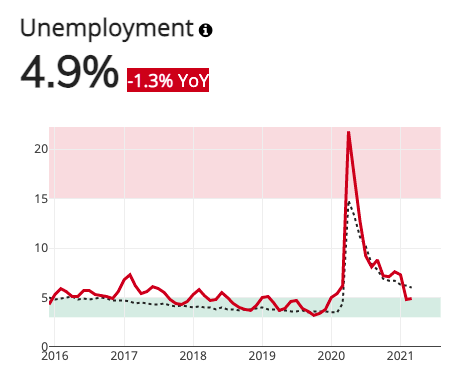 Median home price
The median home price in Cleveland is $165,000, exactly 50% lower than the national average. Even with 13% year-over-year growth, the Cleveland real estate market is vastly more affordable than in other areas of the country. This is good news for investors looking to break into the market, though homes tend to get snapped up quickly at these low prices.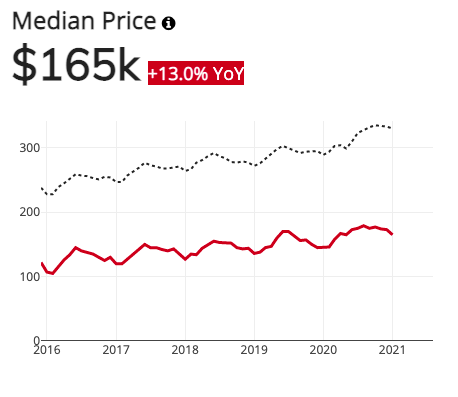 Median rent price
The median rent in Cleveland as of March 2021 was $1,158, well below the national figure of $1,705. RentCafe.com reports that the city's highest average rent, found in the University neighborhood, is $1,599.
Despite these comparatively lower rents, it's still more affordable to buy a home than rent one in Cleveland and in other parts of Northern Ohio. This trend is not at all unique to the Buckeye State, though. ATTOM Data Solutions' 2020 Rental Affordability Report found that owning a three-bedroom home was cheaper than renting one in more than half (53%) of the 855 U.S. counties included in the report.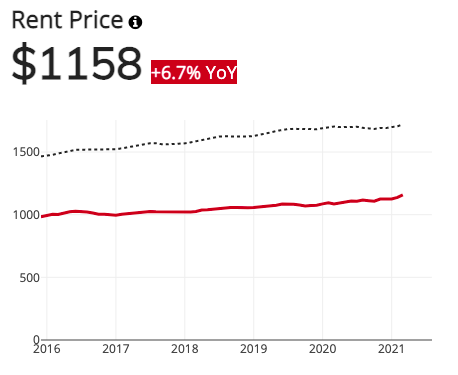 Cleveland housing supply indicators
Here's a glimpse at what the housing supply looks like in Cleveland.
Total housing supply
There is currently a 1.7-month housing supply in Cleveland, on pace with the national average and down 1.77 year over year.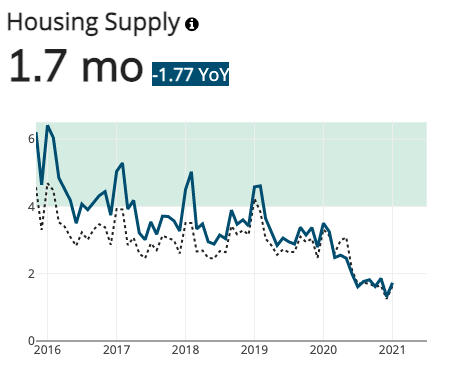 Rental vacancies
It has been a roller-coaster ride in the rental market over the past five years in Cleveland. The percentage of rental vacancies hovered around 12% in 2017 and then dropped down to less than 2% at the start of 2019, when it began to rise steadily. At the start of 2020, the vacancy rate was around 7%. It dropped sharply to around 3%, but then it went up again during the pandemic. Right now, it's at 5%, nearly 2% less than the national average. The fluctuating vacancy rate could be an indicator that more people are taking advantage of the lower cost of home ownership or that residents left the city during the pandemic in search of more space.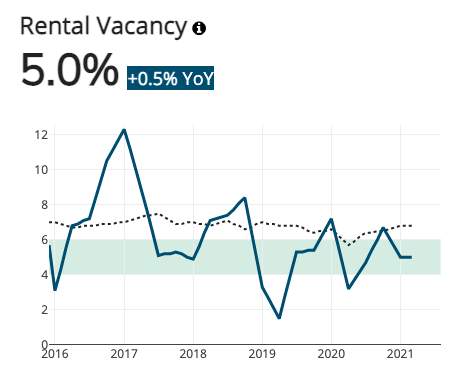 Architectural billings
The rise and fall in architectural billings in the Midwest was very much in line with what was going on in the rest of the country. As of March 2021, Cleveland is at a 56.5 index, a 12.3 increase year over year. It recovered from a steep drop in mid 2020 and now is on a sharp upward trajectory, sitting about a point above the national index.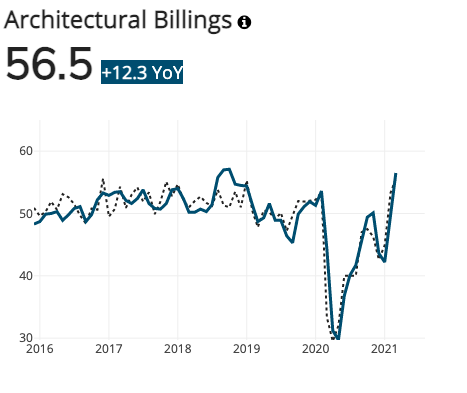 Construction indicators
Construction projects had stalled in Cleveland and surrounding areas because of the pandemic, but things are picking up. Construction costs were already on the rise, but homebuyers can also blame that on the pandemic for making materials scarce.
Construction costs
Construction costs have been steadily increasing over the past five years in Cleveland. Currently, costs are 147, marking a 7% year-over-year increase.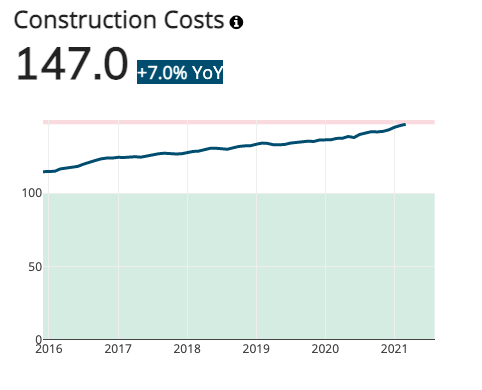 Single-family detached permits
At the start of 2021, there were 209 single-family detached permits in Cleveland. Forecasts predicted this number would increase sharply by midyear to 296.8. However, in March 2021, there were 295 single-family permits, far more than the projected 234.6. This shows tremendous growth in the real estate market -- and an excellent opportunity for investors.

Multi-unit permits (2-plus units)
The number of permits for multifamily housing in Cleveland has also seen many peaks and valleys over the past five years. The city experienced a sharp drop to 21 permits in the middle of 2020, likely due to the pandemic. The good news is that permits have been on the rise, far surpassing forecasts. Earlier forecasts had projected 27.9 permits for March 2021, but the actual number of multifamily unit permits was currently 42.8.

Cleveland real estate financial health indicators
The unemployment rate in Cleveland is better but still recovering and has caused the city's delinquencies to increase over the past year. While the foreclosure rate is very low, it might be more due in part to mortgage forbearance and the fact that less than half of Clevelanders own their own home.
Delinquencies
Delinquencies have seen a 2% increase year over year in Cleveland, likely a result of many layoffs and furloughs due to the pandemic. By January 2021, Cleveland's delinquency rate was 5.8%, nearly the same as the national average.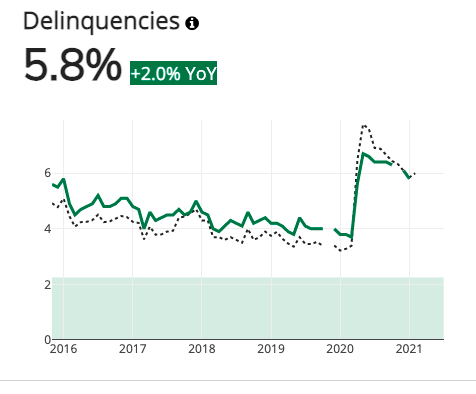 Foreclosures
Cleveland foreclosures are at 0.5%, marking a 0.2% decrease year over year. They are higher than the national average of 0.33%, but both of these figures are still under 1%. This is likely due to foreclosure moratoriums last year because of the pandemic, which likely helped many a laid-off or furloughed homeowner.
Brand New Ohio Foreclosures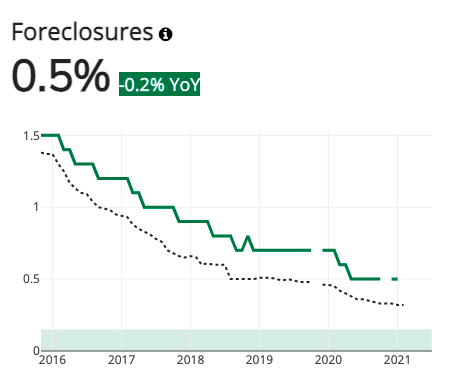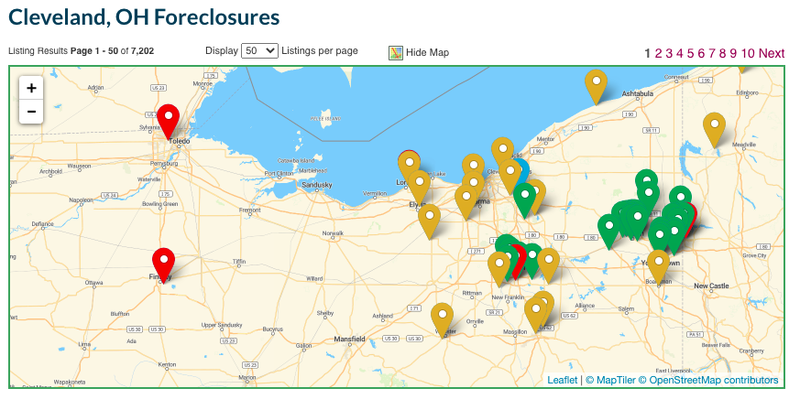 Anchor institutions
Cleveland is home to many corporate headquarters, including Aleris, American Greetings, Sherwin-Williams Co. (NYSE: SHW), Things Remembered, and Vitamix. Jones Day, one of the country's largest law firms, was founded in Cleveland.
In addition to its roots in manufacturing, these key industries are thriving in Cleveland:
Finance: Cleveland has a number of financial services firms, including Forest City Realty Trust and Victory Capital Management. The Federal Reserve Bank of Cleveland, one of a dozen banks in the national Federal Reserve system, is located downtown and also has branches in Cincinnati and Pittsburgh.
Technology: Cleveland is on the technology industry's radar, with a number of tech start-ups setting up shop in the city, including OAREX Capital Markets, Complion, Able, Snip Internet, and CHAMPtitles. Additionally, NASA's Glenn Research Center is located in Cleveland.
Healthcare: Cleveland is home to premier healthcare facilities, including the Cleveland Clinic and the University Hospitals Cleveland Medical Center. The Cleveland Clinic was ranked by Newsweek as the No. 2 hospital in both the country and the world, just behind the Mayo Clinic in Rochester, Minnesota. In addition to providing world-class healthcare, the Cleveland Clinic is also the city and state's largest employer, with more than 50,000 employees. University Hospitals Cleveland Medical Center, which is among the top three hospitals in the state, has also been ranked by U.S. News and World Report nationally as a Best Hospital.
Sports: Cleveland is a good place to be a sports fan, with the Cleveland Browns, Indians, and Cavaliers representing the city's pro football, baseball, and basketball teams, respectively. Progressive Field is the home of the Indians, FirstEnergy Stadium is where the Browns take the field, and Rocket Mortgage FieldHouse is where the Cavaliers play. The latter is also the home ice of the Cleveland Monsters, the top affiliate team of the NHL's Columbus Blue Jackets. Although 2016 was the last time any city team won a championship (the Cavs took the NBA title), the city still hums with energy on game days.
Arts and culture: Cleveland is a hub of culture, with several notable institutions. Playhouse Square is the country's second-largest performing arts center, eclipsed only by New York City's Lincoln Center. The Cleveland Museum of Art is one of the most popular art museums in the world, with over 800,000 visitors annually. Meanwhile, the Cleveland Orchestra has long been touted as one of the top instrumental ensembles in the country. And rock fans look to Cleveland each year when a new roster of musical greats gets inducted into the world-famous Rock & Roll Hall of Fame. Many music lovers consider a visit to the Hall's museum as a pilgrimage to view the instruments, costumes, and other artifacts on display from their favorite rock & roll gods and goddesses.
Schools of note
The Buckeye State is well-known for its colleges and universities, and there are a number of top schools in Cleveland and the surrounding area. The aptly named University Circle is home to a number of institutions of higher education as well as K-12 schools. Here are some key colleges and universities of note in The Forest City and surrounding area:
Case Western Reserve University in University Circle is a renowned private research institution offering undergraduate and graduate degrees. U.S. News and World Report ranks the school top in the state and among the top 50 schools nationwide. It's noted for its programs in engineering, law, management, medicine, nursing, and social work.
Cleveland State University in downtown is Cleveland's public four-year university that is also a familiar name among the U.S. News' annual school rankings. It offers nearly 175 programs through its 10 schools and colleges and is the campus home of around 16,000 students.
Cuyahoga Community College, the city's two-year community college, is also in downtown Cleveland.
In the Cleveland suburbs, notable institutions of higher education include John Carroll University in University Heights, Ursuline College in Pepper Pike, Notre Dame College in South Euclid, and Baldwin Wallace University in Berea. In addition, Oberlin College is a top-notch liberal arts institution located in Oberlin, a town less than an hour's drive southwest from Cleveland.
With the high concentration of college students, investors in student housing will find a wealth of opportunities in and around Cleveland, particularly in the University District of the city.
Neighborhoods of note for investing
Although the median home price in Cleveland is far below that of the national average, more than half of households are renters. Here are the neighborhoods that, according to RentCafe.com, command the highest rents in the city, which could be good news for rental investors.
University Circle, part of Cleveland's University District, is aptly named because of its concentration of institutions of higher education that attract more than 13,000 students. It is also a thriving district of art and culture and is home to such places as the Cleveland Museum of Art, the Cleveland Botanical Garden, and Severance Hall, where the Cleveland Orchestra plays. University Circle has its own police department to keep its citizens and streets safe.
Downtown Cleveland has always been a popular place to be because of its many attractions, including shopping, dining, and nightlife. The Warehouse District, which got its name for being at the crux of the commercial industry in the 19th century, is nationally recognized as a historic district and one of the city's original residential neighborhoods. Today, many of those warehouses have been or are being converted into office and residential space, including apartments and condos that attract young professionals.
About five miles west of downtown is Edgewater, right at the edge of Lake Erie. It is known for its picturesque tree-lined streets and the Clifton Boulevard Historic District retail corridor.
Solon is a Cleveland suburb that consistently makes various "best of" lists, including best places to live and raise a family. The school system receives top marks, and the area is among the safest in the city. The median home price is around $340,000, well above Cleveland's median. Single-family investors might find opportunities here.
The Greater Cleveland Regional Transit Authority (RTA), which is made up of an extensive system of trains, buses, and trolleys, makes it easy to get around the city, so investors should look to other towns that are on RTA routes.
The bottom line
With median home prices far below the national average, Cleveland can be alluring for investors. However, limited inventory means quick action is needed to close the deal. While it does cost less to own a home in Cleveland than to rent, more than half of the city's residents remain tenants, which means rental investors will have the upper hand in the Forest City.
Got $1,000? The 10 Top Investments We'd Make Right Now
Our team of analysts agrees. These 10 real estate plays are the best ways to invest in real estate right now. By signing up to be a member of Real Estate Winners, you'll get access to our 10 best ideas and new investment ideas every month. Find out how you can get started with Real Estate Winners by clicking here.