Get our 43-Page Guide to Real Estate Investing Today!
Real estate has long been the go-to investment for those looking to build long-term wealth for generations. Let us help you navigate this asset class by signing up for our comprehensive real estate investing guide.
Note: Our market forecast includes Baltimore City data and data from its surroundings, including Columbia and Towson, Maryland.
Table of Contents:
Baltimore is the most populous city in the state of Maryland and one of the nation's oldest cities.
Since its inception on July 30, 1792, the "city of neighborhoods" (as the locals call it) has been full of "charm." Fondly nicknamed Charm City for its many beautiful neighborhoods, captivating Inner Harbor, delicious seafood, and proximity to the nation's capital, Baltimore is a great place for your next investing endeavor.
Many people come to Charm City to visit its harbor, see its historic sites, or watch professional sports (Baltimore is home of the Baltimore Ravens and the Baltimore Orioles), but Baltimore has more to offer than leisure activities. It's home to the World Trade Center-Baltimore and the world-renowned Johns Hopkins Hospital.
Baltimore has so many charming qualities, and you may find your new real estate investment in the middle of Charm City. Let's review the state of the local market and also look at some of its most popular neighborhoods to learn why this may be the next place for you to be.
The state of the market
In Baltimore, the COVID-19 pandemic made a long-lasting impact on many sectors of the local economy, while inadvertently enhancing some. A consequence of the COVID-19 pandemic was the boom in the real estate market.
In Baltimore, the real estate market is booming because of record-low interest rates. At present, the real estate market is a top performer. This has not only occurred in Baltimore, but in cities all throughout the country.
In addition to low interest rates as a driving force, many people may be on the hunt for space conducive to the "new normal." For example:
Young professionals may be looking for a space with a home gym, home office, and green space for activities.
Families may be looking for homes that can accommodate children who attend school virtually and also offer a private office while the parents work remotely.
Older adults may be in the market for a multigenerational home.
Whatever the personal need, the demand for housing has hit Baltimore. Let's look at some trends that are helping to drive the demand.
1. Rental vacancies are up
The rental vacancy rate in Baltimore is currently at 5.8%. That's an increase of 0.2% year over year. On a national level, however, the vacancy rate is 6.8%. So, while the vacancy rate may be high for Baltimore, it's not particularly alarming considering the national average. Still, the rate could fluctuate as the year progresses because of the demand for single-family homes.
2. Housing supply is consistent with the national average
The supply of housing in Baltimore is consistent with the national trend of increased demand for single-family homes. Presently, Baltimore only has one month worth of housing inventory available; this is a decline of 1.45% year over year. So housing is pretty scarce in Baltimore. As we all know, when demand is high and supply is low, prices will be on their way up.
3. Unemployment is high
As of April 2020, the unemployment rate in Baltimore peaked at a high of 9%. Since then, the unemployment rate has dropped to 5.8% as of February 2021. While high rates of unemployment pose some risk for investors, present rates should not cause great concern. The high rate of unemployment over the last year is more than likely attributable to the COVID-19 pandemic and the industries impacted by it.
Baltimore has a large restaurant and hospitality industry, and this was one of the hardest-hit sectors during the peak of the pandemic. This is reflected in the 9% unemployment rate.
As the city moves forward with its vaccination goals, the rate of unemployment will likely drop as the restaurant and hospitality industry recovers. If you're an investor in this sector, watching industry trends will help to guide your next investment decision.
Baltimore housing demand indicators
Charts courtesy of Housing Tides, an EnergyLogic company.
To help guide you through the decision-making process, we will review some of the most recent data sets out of Baltimore.
Unemployment trends
The unemployment rate in Baltimore held pretty steady until 2020 and then the city saw a significant increase. As previously noted, the spike is attributable to the COVID-19 pandemic. As a result of the pandemic, many local establishments closed their doors, while leaders devised strategies to respond to the public health crisis. As the city moves into a post-vaccination world, the rate of unemployment is on the decline and below the national average of 6.2%.
While the unemployment rate has begun to decline, the rate in other sectors of the economy are on the rise.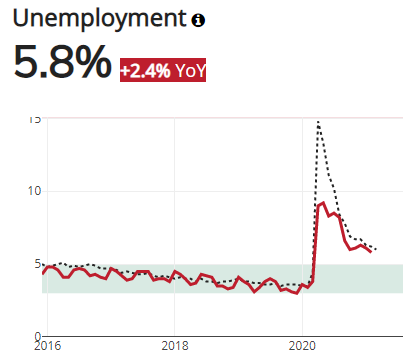 Median housing price
The data set reveals that the median price of a home is up by 7.9% year over year. The rise in prices is deeply connected to the pandemic.
In Baltimore, the average price of a home is $315,000, slightly lower than the national average of $353,000. While the average home is slightly cheaper in Baltimore as compared to the national average, there is a 7.9% year-over-year increase in home prices. The dramatic increase is likely due to demand for housing while the city holds a one-month supply of houses.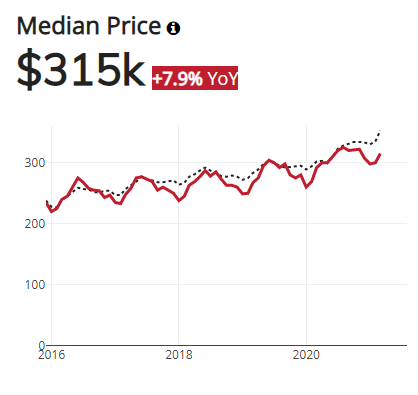 Median rent price
Consistent with the increase in housing prices, rental prices in Baltimore are slowly increasing across the city. There has been a year-over-year increase in rental prices of 3.2%. As an investor, this may be an important trend to follow -- with rental prices on the rise, you may be able to increase your profits at a quicker rate.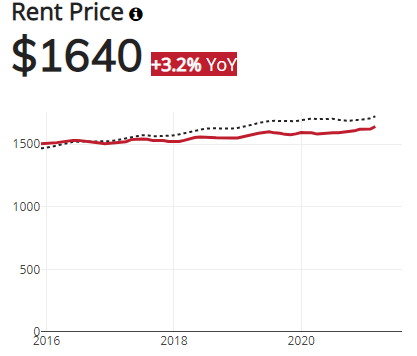 Baltimore housing supply indicators
Here is an overview of what the housing supply looks like in Baltimore.
Total housing supply
As previously mentioned, Baltimore's housing supply is steadily declining. The city currently has one month worth of housing inventory available; this is a decline of 1.45% year over year. With such a small reserve of houses, those investing in the Baltimore market could find themselves involved in bidding wars. For investors, this is not the easiest market to infiltrate. You may find yourself paying above market rate for these properties.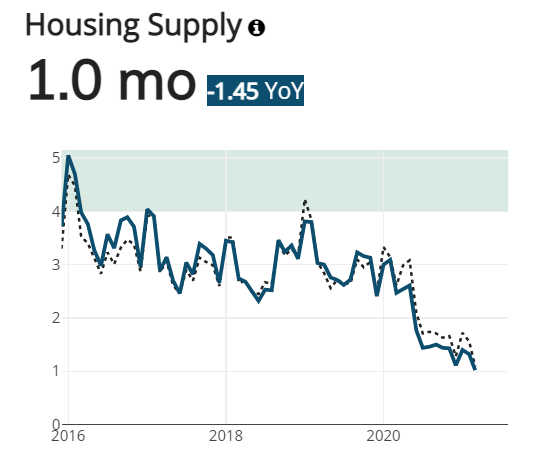 Rental vacancies
The rental property market in Baltimore has been on an up-and-down swing. Baltimore saw an all-time low in rental vacancies in January 2020, with the rate of available vacancies at 4.7%. Just six months after its lowest point, the rate skyrocketed up to 9.6% in July 2020, and by February 2021, the rate dropped back down to 5.8%. The trends suggest that the rate is projected to slightly increase over the next year.
This is something for residential real estate investors to monitor over the next year. If rates stay steady, you may be able to ensure your rentals are always occupied, thereby always having a steady stream of rental income.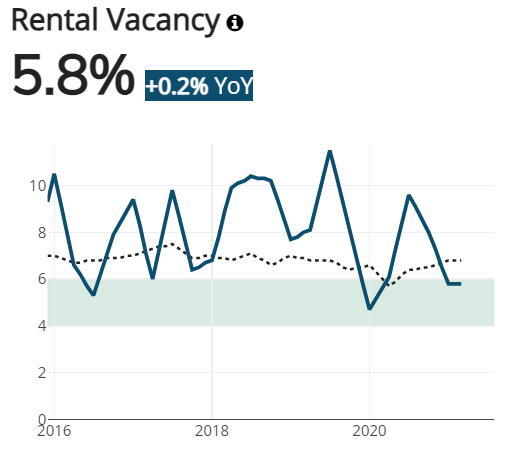 Architectural billings
The architectural billings index (ABI) is the leading economic indicator of demand for nonresidential construction activity. The indicator is also used to access the general state of the economy. Consistent with many other market trends, the ABI saw a drastic decline in 2020, with the lowest index rate during 2020 at 31.1. This was a dramatic plummet from an index rate of 52.2 in January 2020. The steep decline can be attributed to the COVID-19 pandemic, but it's recovered as of March 2021, with an index rate of 55.8.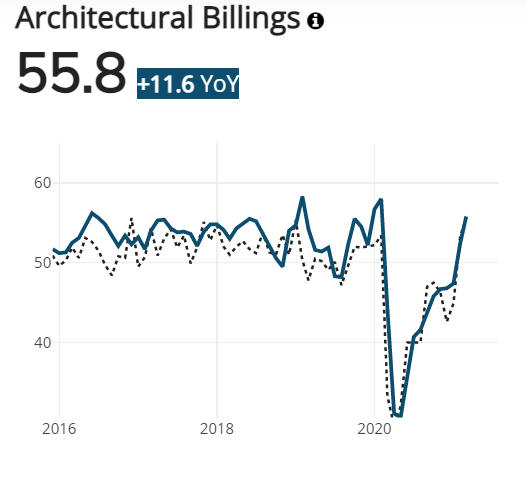 Construction indicators
Construction costs
Additionally, construction costs rose 7% from the previous year. This is definitely a market trend for investors to closely monitor because increased costs of production will lead to a decrease in revenue for the investor. Most investors incur many expenses when engaging in a construction project, including hiring construction workers.
While no data is available on the percentage of construction jobs available in the city, the national rate of unemployment among construction workers is 9.6%. These rates could lower dramatically if the Biden administration passes the American Jobs Plan. As part of the plan, the administration calls for a large investment in the nation's infrastructure, and such a plan would lead to a greater demand for construction jobs.
In addition to the president's plan, as more private citizens seek building permits to develop real estate, more construction jobs will also be available.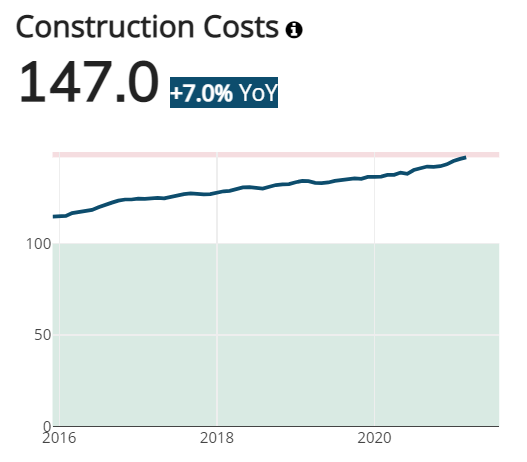 Single-family permits
As of March 2021, there were 530 single-family detached housing permits issued in Baltimore, up from 401 permits issued in January 2021. This means a number of privately owned companies have been given the authorization to construct single-family homes in Baltimore. With construction rates improving, there may be a number of new homes available, which would increase the housing stock. This increased housing stock could ultimately put an end to bidding wars in Baltimore.

Multi-unit permits (2-plus units)
As of March 2021, there were 195 multifamily building housing permits issued, down from 275 permits issued in January 2021. While the number of permits has declined from January to March, trends suggest this rate will continue to increase as the year progresses. This is consistent with the data that demand for housing in Baltimore is on the rise.

Baltimore real estate financial health indicators
As previously discussed, Baltimore felt the impact of the COVID-19 pandemic, which is clear from accessing the market health indicators.
Delinquencies
The delinquency rate in Baltimore was at an all-time high during the pandemic at 9.4%, but it's now at 6.6%, up by 2.3% year over year. The decrease in delinquencies is likely attributable to Maryland's ban on evictions. While there has been a ban on evictions since the height of the pandemic, this could be lifted, since a federal judge recently struck down the moratorium on evictions. This rule would favor landlords who have been unable to collect rent since the moratorium was put in place.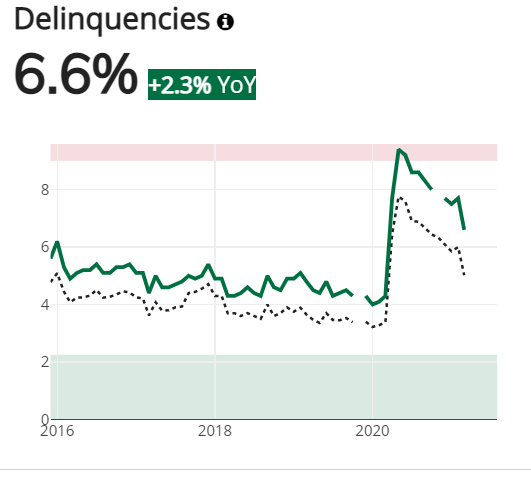 Foreclosures
Consistent with the ban on evictions, there also has been a ban on foreclosures. This ban is in place until July 1, 2021. Since the ban has been implemented, Baltimore saw a sharp decline in the rate of foreclosures. This decline in Baltimore foreclosures may rise once the ban is lifted.
Brand New Maryland Foreclosures
Bethesda, MD
Fort Washington, MD
Elkton, MD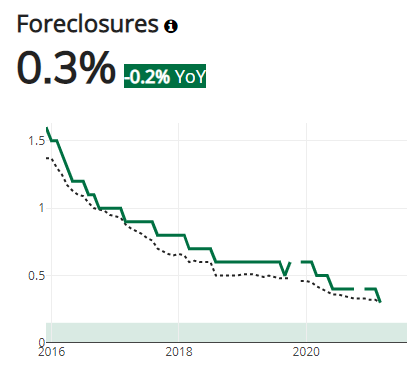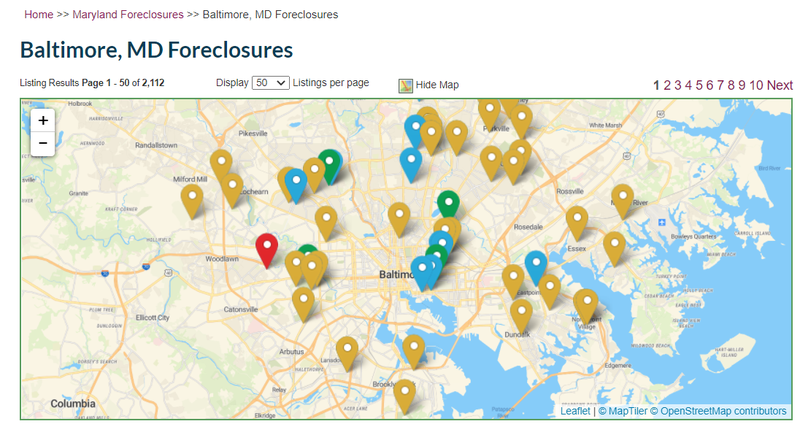 Anchor industries
During the COVID-19 pandemic, Baltimore quickly responded to the needs of industry leaders and community partners so it could not only survive but thrive in the pandemic. As a result, a number of industries are doing well in Baltimore.
Port sector: The Port of Maryland is located in Baltimore. The Port generates billions of dollars in revenue and also is responsible for 13,650 direct jobs, supporting about 140,000 overall.
Biopharma and life sciences/healthcare: Baltimore continues to be a leader in the biopharma and life sciences industries. Not only is it home to the world-renowned Johns Hopkins Hospital and the Centers for Medicare & Medicaid Services, but 20% of the leaders in vaccine development live within the region.
Textiles and sports equipment: Baltimore is also headquarters of Under Armour (NYSE: UAA), an industry leader. In 2020, the company generated an estimated $4.5 billion in revenue.
Finance and investment: Baltimore is also home to a number of investment firms like PNC (NYSE: PNC) and Deutsche Bank (NYSE: DB), which each have billions of dollars in assets under management.
Sports and entertainment: Baltimore is home to the NFL team the Baltimore Ravens, which plays at M&T Bank Stadium, and the MLB team the Baltimore Orioles, which plays at Oriole Park at Camden Yards.
Retail and e-commerce: While not headquartered in Baltimore, Amazon (NASDAQ: AMZN) has established a number of its warehouses in and around the city. The company has brought 4,000 jobs to Baltimore and the surrounding area and is a staple in the community.
Schools of note
Baltimore has a number of prestigious universities and colleges. The college community is a target market for student housing investors. Here are a few of Baltimore's universities of note.
Johns Hopkins University: Johns Hopkins University, founded in 1876, is one of the nation's oldest universities. It has a student population of approximately 27,000 and 10 campuses around the city.
Morgan State University: Morgan State University, recently named a National Treasure by the National Trust for Historic Preservation, was founded in 1867. The university has a student population of 7,700 students.
University of Maryland, Baltimore County: University of Maryland, Baltimore County, known by locals as UMBC, is widely known for its diverse range of technology programs and is located in Catonsville, one of the surrounding counties of Baltimore. While in the county, it's less than a 20-minute drive to Baltimore's Inner Harbor. Many students hope on the Charm City Circulator to enjoy what downtown Baltimore has to offer.
University of Maryland, Baltimore: University of Maryland, Baltimore, or UMB, is located in downtown Baltimore. The university is known for its graduate degree programs. The university is home to some of this nation's oldest professional schools. Its law school is the third-oldest law school in the country, and many students come from across the globe to attend the institution. UMB has a student population of approximately 6,500 students.
Neighborhoods of note
While many call Baltimore Charm City, it's also known as the city of neighborhoods. The city has more than 250 diverse neighborhoods, full of people from every walk of life.
Since the city has many neighborhoods, we cannot review them all, but we'll take a look at a few you may want to consider for your next investment property.
Federal Hill
Federal Hill has grown to become one of the most attractive neighborhoods in Baltimore. It's known for its historic brick row homes and close proximity to many of the city's attractions. From Baltimore beach the Sandlot to M&T Bank Stadium, Federal Hill has proven to be a charm of the city. Just six minutes away from the World Trade Center- Baltimore, Federal Hill is a great neighborhood to invest in if you're interested in business.
Fells Point
Another gem of Charm City is Fells Point. Over the years, Fells Point has become an attractive location for many professionals. The historic waterfront neighborhood has a population of approximately 15,800 people and is known for its row houses that have been in existence since the 18th century. The neighborhood is within walking distance of many of Baltimore's bustling businesses and could be a great location for your next investment. From Fells Point, you can hop onto Baltimore's Water Taxi, which can take you to another amazing part of town.
Canton
Just six minutes away from the historic Fells Point neighborhood, you'll find yourself in one of the trendiest parts of town, Canton. The vibrant, friendly neighborhood is full of luxurious homes and has become one of the hot spots of the city. Considered one of the richest sections of the city, this neighborhood may be a prime location to invest in a new home.
Locust Point
Another thriving neighborhood in Baltimore is Locust Point. Located in South Baltimore, Locust Point was once a neighborhood that attracted many factories. Since that industry has changed, Locust Point has become a thriving section of the city. The neighborhood offers a phenomenal view of Fort McHenry Park, and if you're lucky, you can catch a glimpse of the morning flag change or take part in the festivities of the Star Spangled Banner Weekend.
The Millionacres bottom line
Charm City has stood the test of time. Time and again, the city has proven that this is a place to not only survive, but to thrive, as evidenced by the recent housing market boom. A thriving market in a beautiful city -- what more could an investor ask for?
While initial entry into the market may be tough, with the right amount of grit and determination, you could obtain prime real estate in one of the most charming neighborhoods.
Got $1,000? The 10 Top Investments We'd Make Right Now
Our team of analysts agrees. These 10 real estate plays are the best ways to invest in real estate right now. By signing up to be a member of Real Estate Winners, you'll get access to our 10 best ideas and new investment ideas every month. Find out how you can get started with Real Estate Winners by clicking here.
John Mackey, CEO of Whole Foods Market, an Amazon subsidiary, is a member of The Motley Fool's board of directors.
None
has no position in any of the stocks mentioned. The Motley Fool owns shares of and recommends Amazon, Under Armour (A Shares), and Under Armour (C Shares). The Motley Fool recommends the following options: long January 2022 $1,920 calls on Amazon and short January 2022 $1,940 calls on Amazon. The Motley Fool has a
disclosure policy
.