Get our 43-Page Guide to Real Estate Investing Today!
Real estate has long been the go-to investment for those looking to build long-term wealth for generations. Let us help you navigate this asset class by signing up for our comprehensive real estate investing guide.
Table of Contents:
Boise, Idaho, is booming. The city, which has one of the highest appreciation rates in the country, is quickly becoming one of the hottest markets in the nation. With a stable economy, ample job opportunities, and more affordable housing prices than many of its neighboring states, Boise is becoming a popular destination for residents and investors fleeing coastal cities. Take a closer look at the local market in Boise to better understand the challenges and opportunities available to real estate investors in 2021.
What makes Boise special?
Boise, Idaho, dubbed the "City of Trees," is part of the Treasure Valley region in southwestern Idaho and home to just under 800,000 residents. It is the second-fastest growing metro in the entire country, with an inward migration rate of 3.24% in 2020. Despite being a large city with a vastly growing population, Boise still has a small-town feel with big-city amenities, including hundreds of great restaurants and bars as well as a diverse arts and culture scene. The area is a mecca for outdoor enthusiasts, with year-round activities such as skiing, golf, hiking, camping, and fishing.
Boise is home to a number of major employers and Fortune 500 companies, which has brought a younger and highly educated workforce to the area, with roughly 40% of its population aged 25 - 54. Idaho is ranked #4 of all 50 states for property tax rates with a number of tax incentives for business owners. Home prices were just below the national average for affordability, making Boise an appealing, safe, and beautiful place to work and live.
State of the market
Boise's inland location is one of the biggest appeals to residents and investors right now. After homebuyer preferences shifted as a result of the pandemic, people want more space, more air, and more land nearby as they work and live. Boise's lower real estate prices are a reprieve when compared to real estate in nearby California, Washington, or Oregon. This coupled with the higher quality of life means real estate prices are on the rise. Here are a few of the notable trends for 2021 in the Boise market.
1. Real estate prices will continue to rise
Low interest rates and a shortage of housing has driven home prices through the roof over the past year. Boise, which is also experiencing a large inward migration, is feeling even greater pressure for homes, leading to a 22.7% year-over-year increase in median home prices. This makes it one of the fastest-appreciating markets and there's no sign of slowing down. For investors, this is both a good and a tough position. Those who own properties here are benefiting from dramatic increase in value in a short period of time, but those who want to invest here are met with rising prices and fierce competition, making it challenging to find investment opportunities. The good news is values will hold, as it seems demand for the market is strong.
2. Rental demand will drive prices up
Rent prices, while still well below the national average, are rising rapidly, having seen a 10.3% year-over-year price growth. March 2021 saw a 5.2% increase in rental rates in just a single month according to a study conducted by ApartmentList.com, and a recent study dubbed Boise as the hottest rental market in the country right now. It seems there was pent-up demand for rental units as tenants stayed home during the pandemic, but as vaccinations are becoming widely available, tenants are on the hunt for a new home, and rates are soaring because of it. Landlords have huge potential in this market right now, but low inventory will make it challenging to find and snag a rental deal.
3. Inward migration will hold strong
Boise's hot rental and real estate market is being driven by certain economic factors, such as low interest rates, lack of inventory, and migration patterns related to COVID-19, but the long-term demand outside of these short-term trends is there. High-quality job opportunities and a higher quality of living means the inward migration trends are likely here to stay, which will, in turn, continue to push both rental rates and home values up.
Boise housing demand indicators
Charts courtesy of Housing Tides, an EnergyLogic company.
Here's a closer look at housing and economic indicators that give further insights into the notable trends for the Boise area.
Unemployment trends
Unemployment in Boise is low, right now around 2% less than the national average. This is a strong sentiment considering the general economic conditions across the globe and speaks volumes to the job opportunities in the market today. While rates of unemployment spiked in early 2020, rates are near pre-pandemic levels and recovering nicely.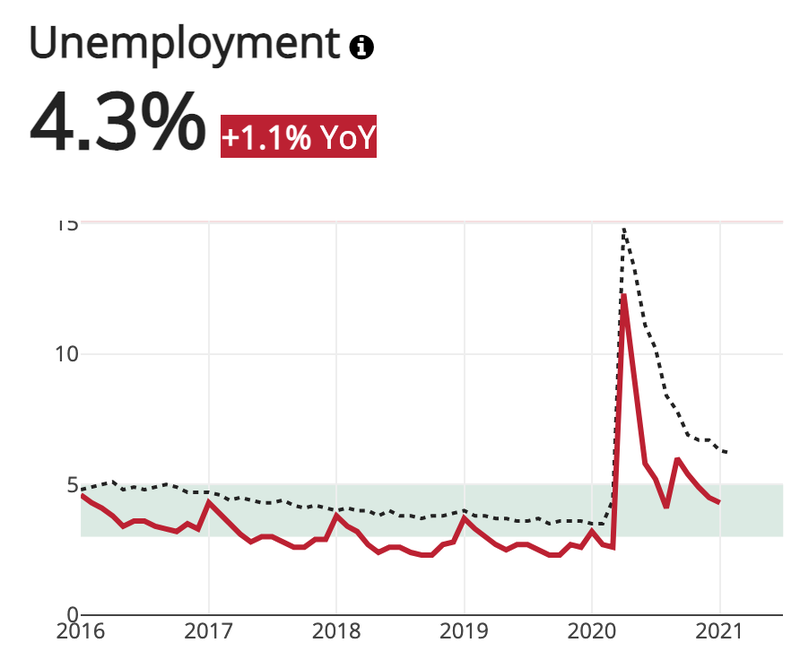 Median home price
Boise's median home price has nearly doubled over the past five years. The shortage of homes, low-interest rate environment, and general high demand for housing in the area has pushed home prices 22% above the national average and up nearly 23% year-over-year. Long-term affordability will be a continued concern as demand continues to drive prices up, especially as home values increase faster than wages increase. The average days on the market as of March 2021 was four days.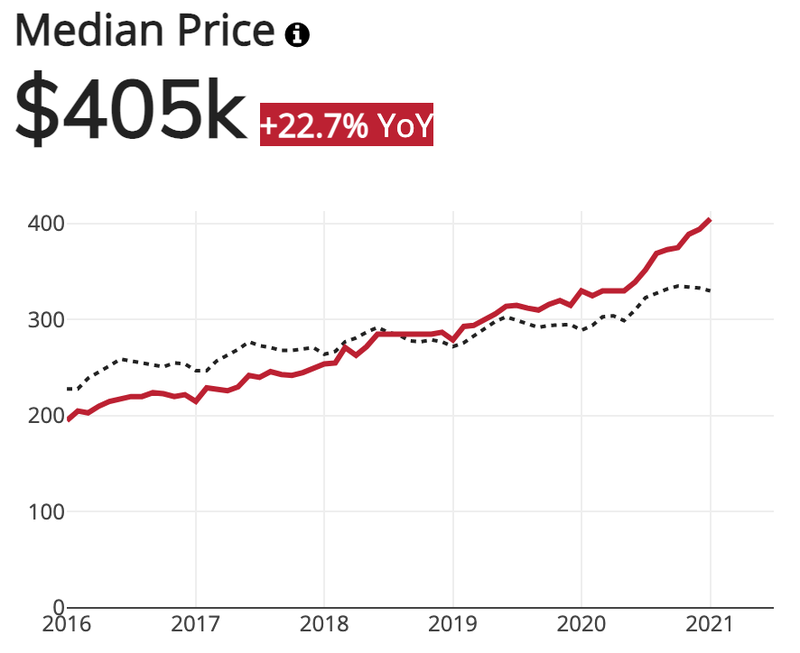 Median rent price
Rent prices still hover around 19% lower than the national average but are rising quickly with a 10% year-over-year increase. Boise's rent-to-price ratio is 24, meaning it's more affordable to rent than to own a home. Rental demand isn't expected to wane any time soon, which means rental prices will likely continue a steady upward trend as we've seen over the past five years.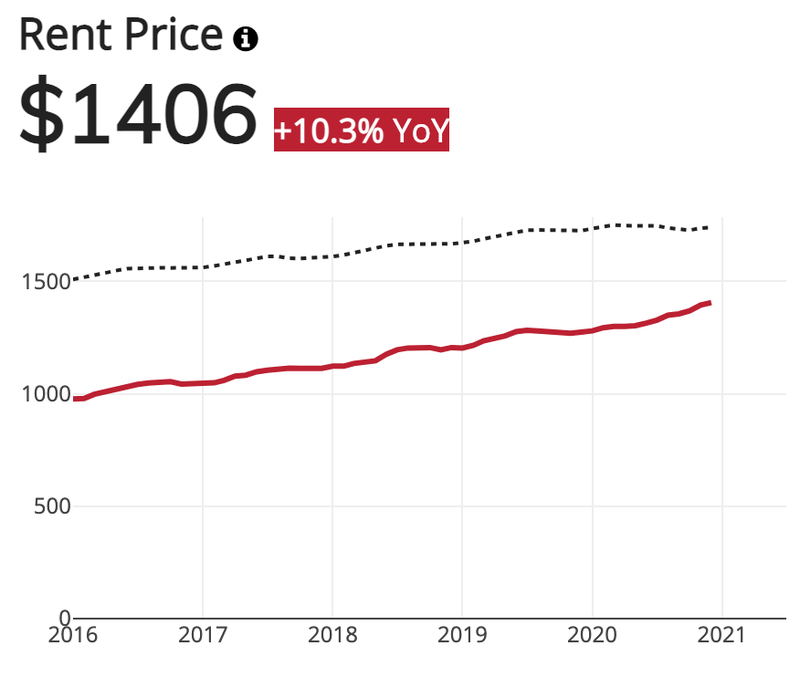 Boise housing supply indicators
Here's a snapshot of what housing supply looks like for Boise.
Total housing supply
Boise's total housing supply is among the lowest in the nation, having just 0.3 months of supply. This is staggering when considering the national shortage still has around 1.63 months of supply and a balanced or stable market has around 4-5 months of inventory. The lack of housing inventory is surely one of the reasons this market is rapidly appreciating, and until that supply is balanced, prices will continue to soar.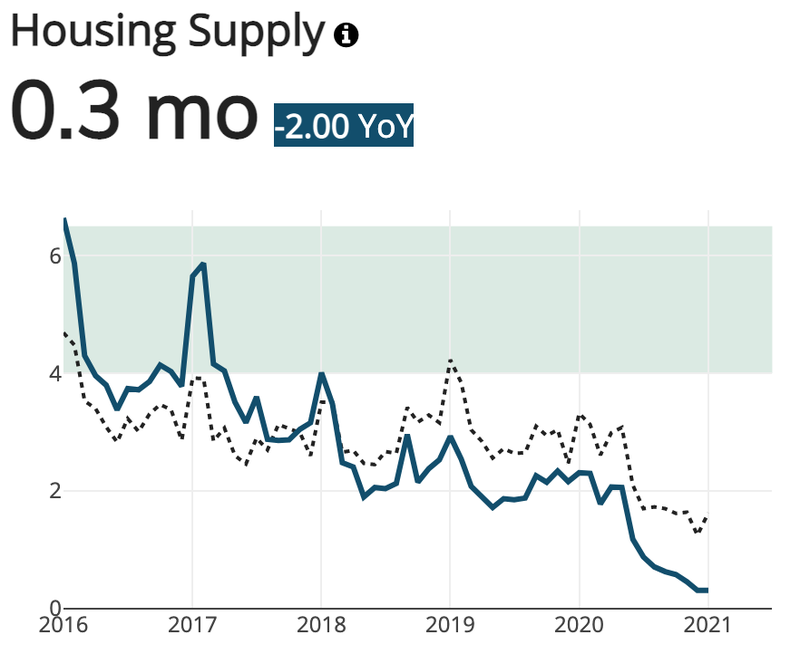 Rental vacancies
Housing tide's didn't have data available for Boise's rental vacancy; however, a local organization conducted by the Southwest Idaho National Association of Residential Property Managers found Ada county's vacancy rate as of Q4 2021 was 1.05%, which is well below the national average of 6.5%. This is an extremely low vacancy rate, and again one of the lowest in the nation right now, another reason rental rates are making such huge jumps month over month and year over year.
Architectural billings
Architectural billings, or the number of nonresidential properties in development, provides further insight into the commercial real estate (CRE) market in the area. It's no surprise that architectural billings saw a stark decrease in 2020, but numbers have rebounded closer to historic levels. Right now, billings for the west is around 2% less than the national average, showing a healthy market for CRE.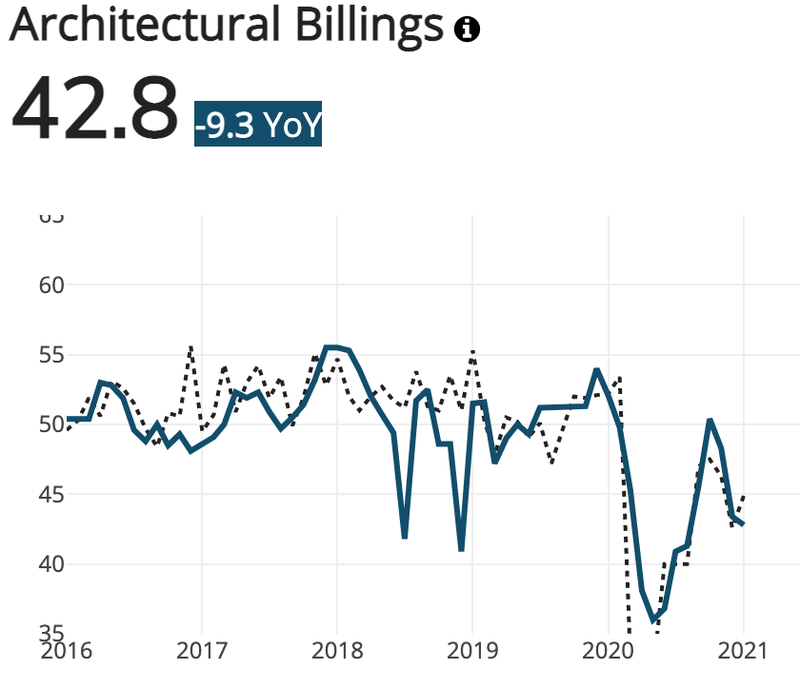 Construction indicators
Construction jobs have remained stable throughout the pandemic, with a 0.1% increase year over year. High demand for housing, largely due to the shortage of homes, means new construction is on the rise. Construction costs are up, as is the current norm throughout much of the country. Increased demand and shortage of supplies resulted in an increase in cost on a national level. This number should remain high, however, considering the pent-up demand for construction in the area.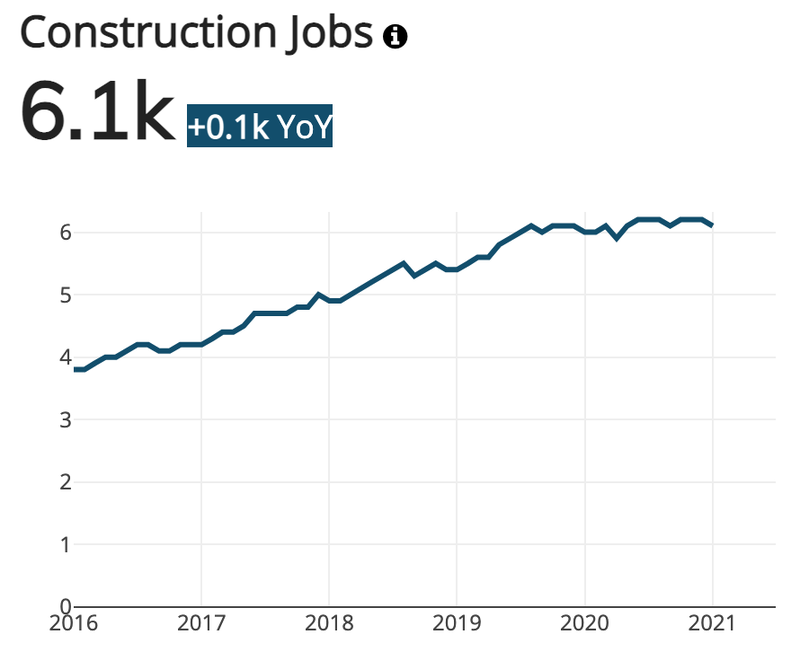 Single-family detached permits
Surprisingly, single-family detached permits are within historical ranges, having 715 permits issued in February 2021. Considering the housing inventory crisis in Boise, I personally would have expected that number to increase and present a market opportunity for ground-up developers. However, it is important to note that Housing Tide's forecasts for single-family permits are expected to increase dramatically in the near future.

Multi-unit permits (2-plus units)
Multifamily, classified in Housing Tides as two housing units or more, saw a boom in 2019, reaching a peak number of permits December of 2019. Then 2020 resulted in a sharp decline in mutl-unit permits. However, these numbers are recovering and trending upward. Single-family rental properties are more popular than multi-unit rental properties, but the lack of inventory may drive renters to seek housing in multifamily.

Boise real estate financial health indicators
Delinquencies
Mortgage delinquencies are up when compared to historical levels, largely due to coronavirus -related income losses, but are still quite low compared to the national average. This is not surprising when considering the low unemployment rate -- and this number should continue to improve as economic recovery is achieved.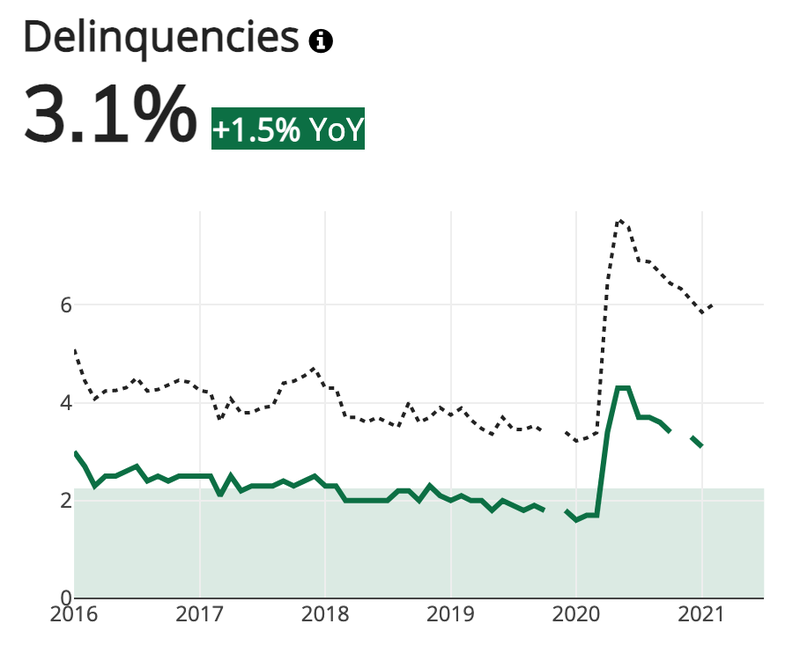 Foreclosures
Foreclosures across the country are down as foreclosure moratoriums are still in place, including Boise foreclosures. Idaho's foreclosure levels are extremely low right now at a total foreclosure rate of 0.1%. This is well below the historical averages, which were closer to 1% in 2016.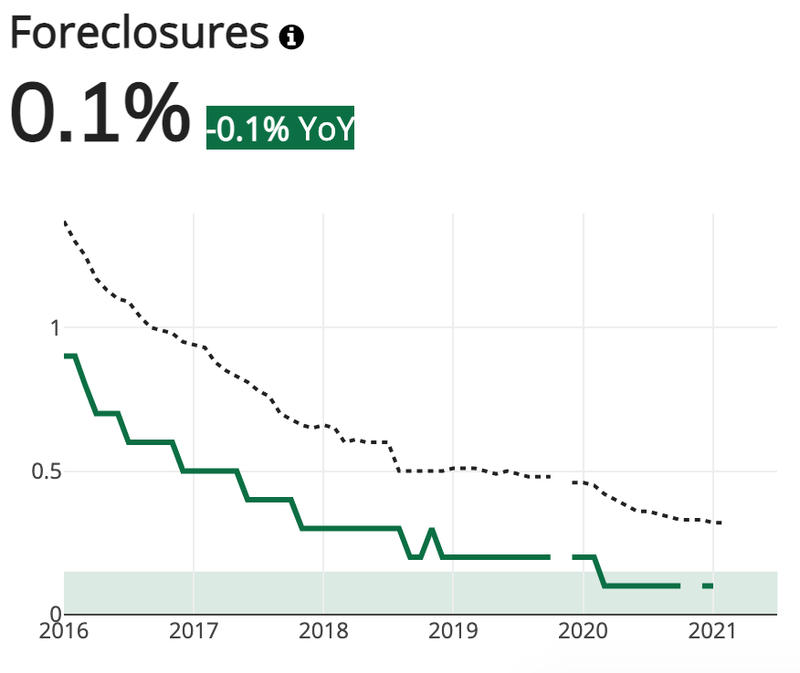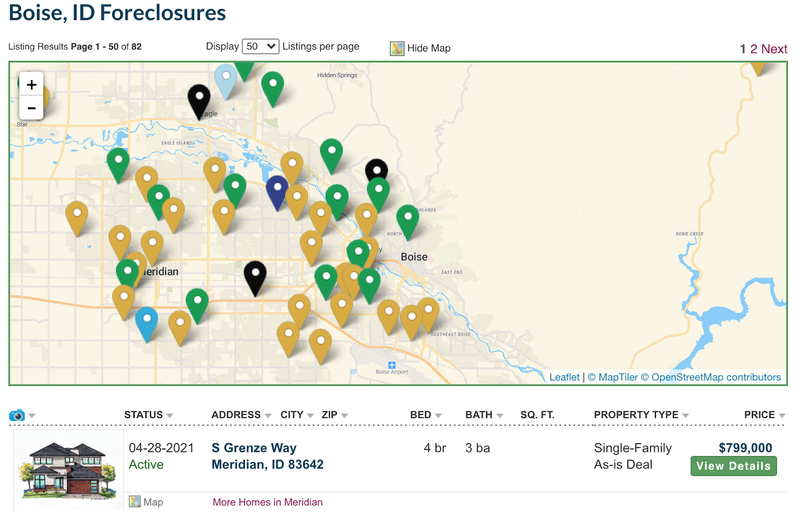 Anchor industries
Boise is a budding economic hub. While far-less established Fortune 500 companies can be found here when compared to other major metro markets, the city does have major roots and ties in several diverse industries.
Manufacturing, Transportation, and Logistics: Boise Valley has direct access to a foreign trade zone (FTZ), allowing for ease of transportation and a hub for manufacturing and logistics. Boise is home to Micron Technologies (NASDAQ: MU), HP (NYSE: HPQ), and Plexus Corp (NASDAQ: PLXS).
Medical and healthcare: Like in many other major metro markets, healthcare is a big industry in Boise. St. Luke's Health Systems is one of the largest private employers in the area, followed by Saint Alphonsus Health Systems, providing roughly 12,000 jobs in total.
Telecommunications: Four fiber routes used for telecommunications pass through Boise, with six fiber providers having headquarters in the Boise area, including Syringa Networks, Integra Telecom, TW Telecom, Sparklight (NYSE: CABO), Zayo, and CenturyLink (NYSE: LUMN).
Food processing: Idaho as a whole is largely tied to food processing and farming and agriculture production. Boise is home to some of the country's largest food suppliers, like J.R. Simplot Co., Albertsons (NYSE: ACI), Jacksons Food Stores, CTI SSI Food Service, and Agri Beef Co.
Schools of note
Boise State University (BSU) is the major university in the area, with just over 26,000 students enrolled in the 2019-2020 school year. The College of Western Idaho: While higher in enrollment, this two-year college works closely with nearby employers to provide high-demand technical and professional training. There are a few other private colleges, including the College of Idaho and Northwest Nazarene University among a few others. However, the number of students enrolled is small in comparison to the two major colleges and universities.
Neighborhoods of note
Boise is still a relatively small city when compared to other major and sprawling metropolitan areas, meaning investors don't have a ton of land or neighborhoods to choose from. The good news, the area is growing rapidly and the investors who were able to get in on the growth and action over the past several years and next several years, will likely prosper. Below are a few neighborhoods of note in the area that are of particular interest to real estate investors.
Highlands
The Highlands is a more historic area on the north end of Boise and a popular destination for businesses and families considering the great schools and amenities in the area. This picturesque area is largely made up of single-family homes, but there are some older multifamily buildings in the area as well. While higher priced than the other neighborhoods on the list, this area is good for fix-and-flip investors or landlords in search of class A rental units that can boast higher rental rates because of the location.
Meridian
Meridian is a smaller suburban city neighboring Boise to the west that still boasts relatively affordable home prices in the upper $100's to low $500's. Considering the inward migration, there's a good chance Boise housing will expand over the next few years, and demand will slowly continue to creep outward. There are a lot of homes for sale right now in the area, which is one reason real estate prices have remained low compared to Boise proper. However, patient investors may reap the rewards if holding the real estate in the long term.
Boise Bench
Southwest Boise, also known as the Bench, is a short drive to downtown and a far more affordable area than the more popular West End, East End, and North End neighborhoods that surround downtown. Pockets of this area, including Morris Holl and Boise Bench, offer homes in the upper $300's to low $600's with rental rates ranging from $1,000 to $2,000 depending on the size, location, and property type.
Boise State University District
The area surrounding BSU is a great neighborhood for landlords who invest in student housing. Considering the number of students who attend the university, there is consistent long-term demand. Competition is fierce here right now, with very few homes or rental properties on the market at all. Prices range in the low $400s to mid $600s with rents ranging from $1,000 to $2,000, depending on condition, size, and property type. Although this means the spread for rentals isn't great right now, coupled with appreciation, a rental here could make sense for the right investor.
Garden City
Garden City, positioned about the Bench and below Boise's West End, is known for its large concentration of mobile homes and manufactured parks. However, developers are quickly buying up these areas to build ground-up development for homes, condos, and townhomes, making this a very up-and-coming neighborhood with a lot of opportunities for investors. It's also a prime opportunity for mobile home investors who may want to keep the parks in place as an option for affordable housing in this market.
The Millionacres bottom line
Boise is in a major growing phase right now. This hot market has a lot of long-term appeal and major potential for investors, but buying here right now and achieving a worthwhile return on investment is extremely challenging. I see the market continuing with its upward trend, meaning despite its high prices, it still could be a great long-term investment.
Got $1,000? The 10 Top Investments We'd Make Right Now
Our team of analysts agrees. These 10 real estate plays are the best ways to invest in real estate right now. By signing up to be a member of Real Estate Winners, you'll get access to our 10 best ideas and new investment ideas every month. Find out how you can get started with Real Estate Winners by clicking here.
Liz Brumer-Smith
has no position in any of the stocks mentioned. The Motley Fool has no position in any of the stocks mentioned. The Motley Fool has a
disclosure policy
.