Get our 43-Page Guide to Real Estate Investing Today!
Real estate has long been the go-to investment for those looking to build long-term wealth for generations. Let us help you navigate this asset class by signing up for our comprehensive real estate investing guide.
Note: Our market forecast includes Miami data and data from its surroundings, including Fort Lauderdale and West Palm Beach.
Table of Contents:
Miami has more to offer than iconic beaches. Its diverse economy and easy access to international markets make it a gateway to foreign business and a hot spot for residents and investors. The city has grown enormously over the past few decades. Take a closer look at the local Miami market to better understand the challenges and opportunities available to real estate investors in 2021.
What makes Miami special?
The greater area of Miami-Dade, Florida, is home to over 2.8 million residents and has the highest foreign-born population in the country, with the majority of residents being of Hispanic ethnicity. Its prime location on the eastern tip of Florida's peninsula just outside of the Everglades means it offers ease of transportation by boat, land, or sea to the remainder of the U.S. or beyond. The city is home to three international airports and several international cruise and shipping ports, providing easy access to several South American and Latin American countries.
The Greater Miami area encompasses three counties:
Palm Beach
Broward
Miami-Dade
The county includes several big cities outside of Miami, such as West Palm Beach and Fort Lauderdale. Its tropical climate attracts visitors from colder northern states each winter who enjoy its nightlife, art and culture, food scene, and world-famous beaches. Coupled with Florida's low taxes, the city attracts many highly educated, high income-earning professionals, including doctors, lawyers, bankers, global consultants, investors, and more to work, live, and play.
State of the market
Miami's unique composition has driven investor dollars to the area on a national and international level and created its own micro-market that functions and operates independent of greater national trends. Below are a few of the notable trends for real estate investors for the area in 2021.
1. Excess supply could push real estate prices down
Right now, the majority of the United States is battling record-high demand for housing during a serious housing shortage. This has pushed home values through the roof and resulted in sellers getting top dollar for their properties in a matter of days to weeks, not months, after listing. Miami, however, has over five times the housing inventory than the national average, making it a balanced market.
This means certain property types and price points aren't moving as quickly as others. It also means the area is likely due for an increase in supply as demand weakens on a national level. When interest rates rise, it's likely demand will diminish and housing prices will drop as supply outweighs demand, as the area's historical averages have shown.
2. Long-term upward trend in single-family home values
Despite a long-term battle against oversupply in the market, Miami's home price has increased 20% year over year. Slight decreases in home values can be seen when supply exceeds eight months, but in general, the market is trending upward. This trend will likely continue but will be driven by certain property types rather than being a blanket trend for the whole area.
3. Rental real estate is leading the way, slowly but surely
Miami's housing prices and rental rates are higher than the national average. It's expensive to live here, but that doesn't seem to dampen demand. Rental vacancies have steadily decreased while rental rates have slowly risen over time, showing a long-term trend toward rental property in the area. Considering the overall state of the housing market here, this could be a prime opportunity for short-term and long-term rental investors to find cash-flowing properties.
Greater Miami housing demand indicators
Charts courtesy of Housing Tides, an EnergyLogic company.
Here's a closer look at housing and economic indicators that give further insights into the notable trends for the greater Miami-Dade area.
Unemployment trends
Historically, Miami's unemployment rate has stayed below the national average, especially just prior to the onset of the global pandemic. However, this rate spiked in March 2020, directly related to closures related to the COVID-19 pandemic. Rates have improved steadily over the past few months and fall in line with the national average right now.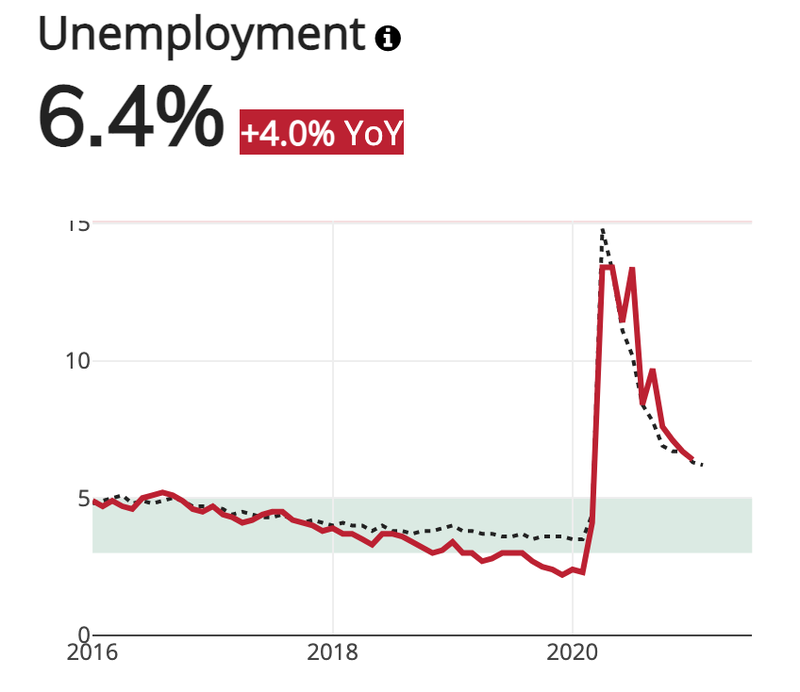 Median home price
Median real estate prices have climbed steadily over the past five years, now sitting just over 12% above the national average. Foreign buyers make up a significant portion of homebuyers in the area. When foreign economies are booming, investment dollars are often driven to Miami, especially to the luxury market.
Luxury home sales are up 225% year over year as of March 2021. Condo values have increased at the slowest rate of all real estate property types and are at the greatest risk for decreased value because of oversupply. This is largely due to only 13 of the 9,307 condominium buildings in Miami-Dade and Broward counties being approved for Federal Housing Administration (FHA) loans.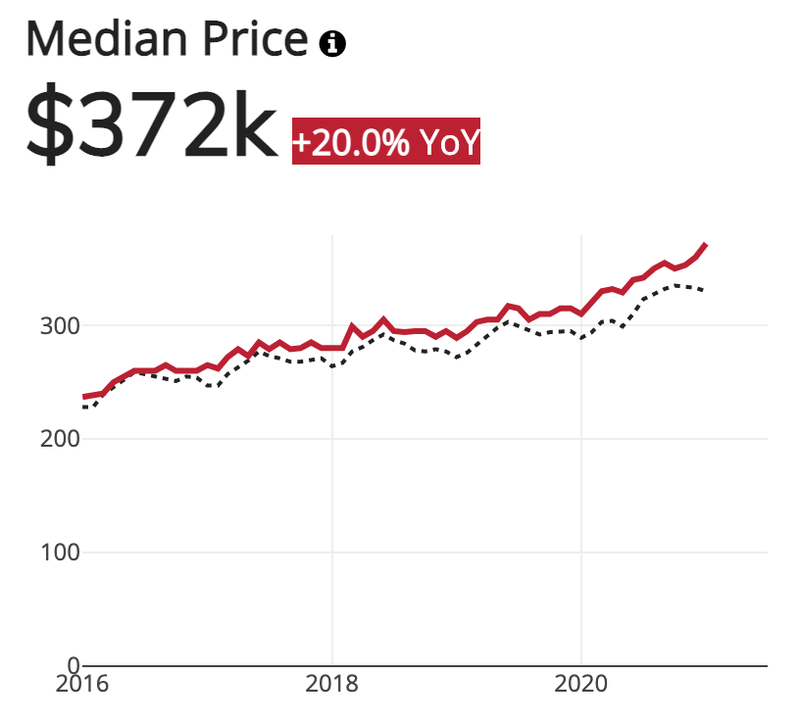 Median rent price
Rent prices have risen slowly, only 2% year over year, but long-term trends show rates steadily increasing over the past five years. Considering Miami's average rental price is 9% above the national average, it's understandable why the rate isn't growing rapidly. Miami's rent-to-price ratio is 16, meaning it's more affordable to own a home than to rent, but with Miami's temporal demographic, many choose to start their residence here as tenants.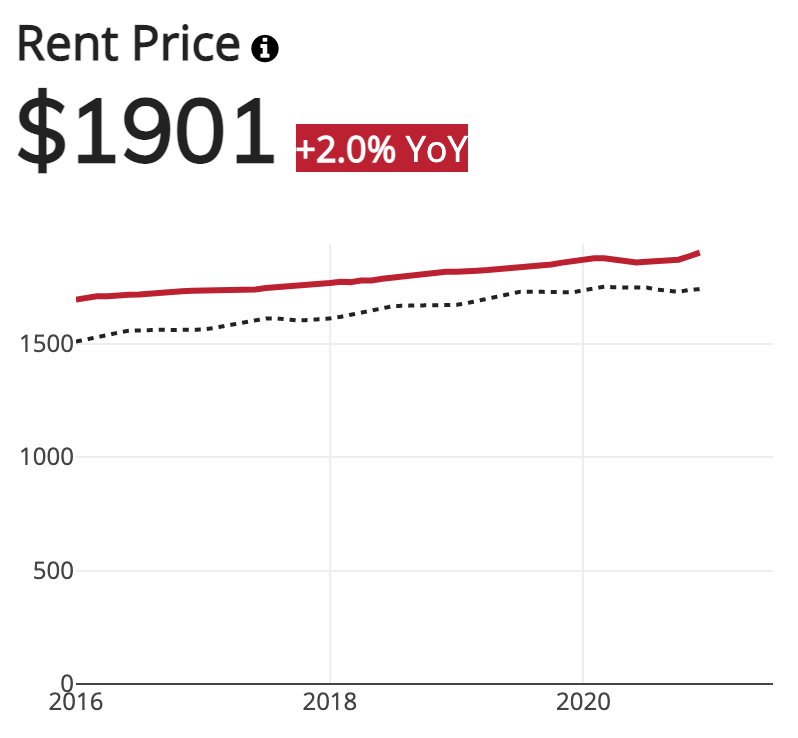 Greater Miami housing supply indicators
Here's a snapshot of what housing supply looks like for Greater Miami.
Total housing supply
Supply and demand in Greater Miami fluctuates greatly over time. Unlike the remainder of the U.S., Miami's housing market is also influenced by international economic conditions, as a large portion of real estate buyers are foreign. It's not uncommon for Miami's housing market to reach eight months or more of supply, with the peak supply just before the pandemic.
Supply has decreased dramatically over the past year, largely due to low interest rates making buying property more affordable, placing the market in a balanced position. Miami-Dade is seeing highest demand and sales transactions right now, followed by Palm Beach, then Broward, which is seeing marginal activity compared to its neighboring counties.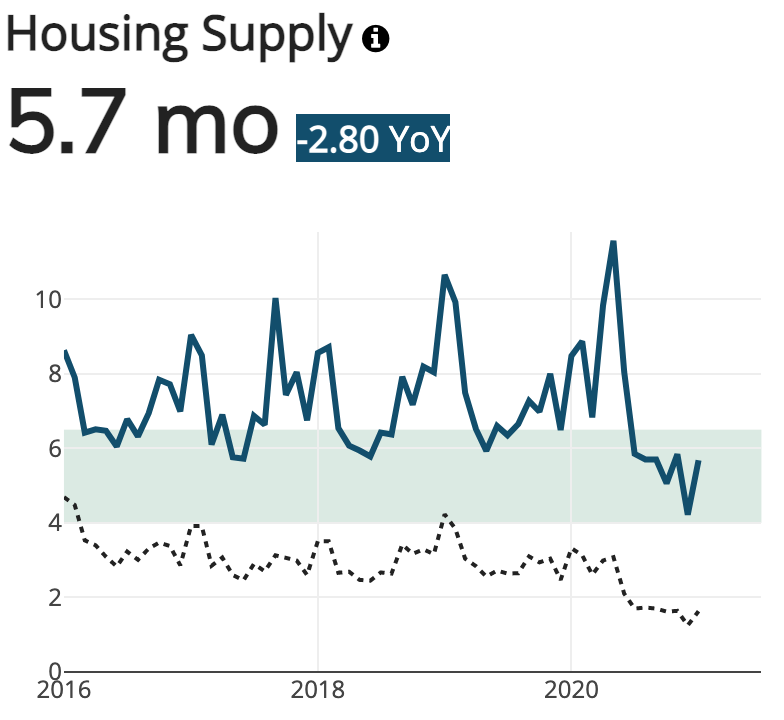 Rental vacancies
Much like housing supply, rental vacancies have fluctuated dramatically over the past five years, many times surpassing the national average. Right now, rental vacancies are at their lowest point in five years, placing the rental market in a balanced position.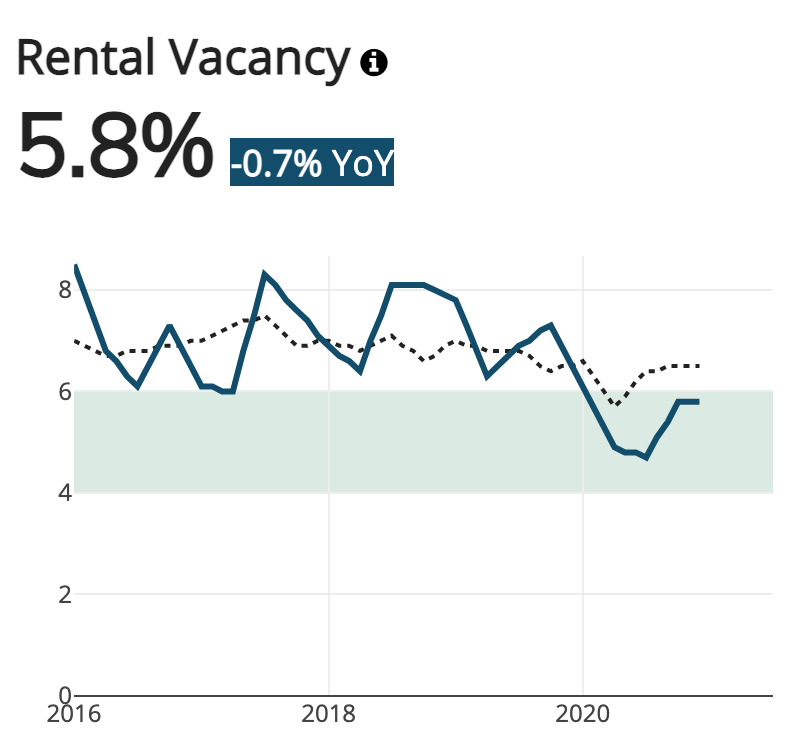 Architectural billings
Architectural billings, or the number of nonresidential properties in development, provides further insight into the commercial real estate (CRE) market in the area. Considering Miami's global reach and economic infrastructure, it's no surprise that billings are outpacing the U.S. average. However, billings are still down around 9% year over year.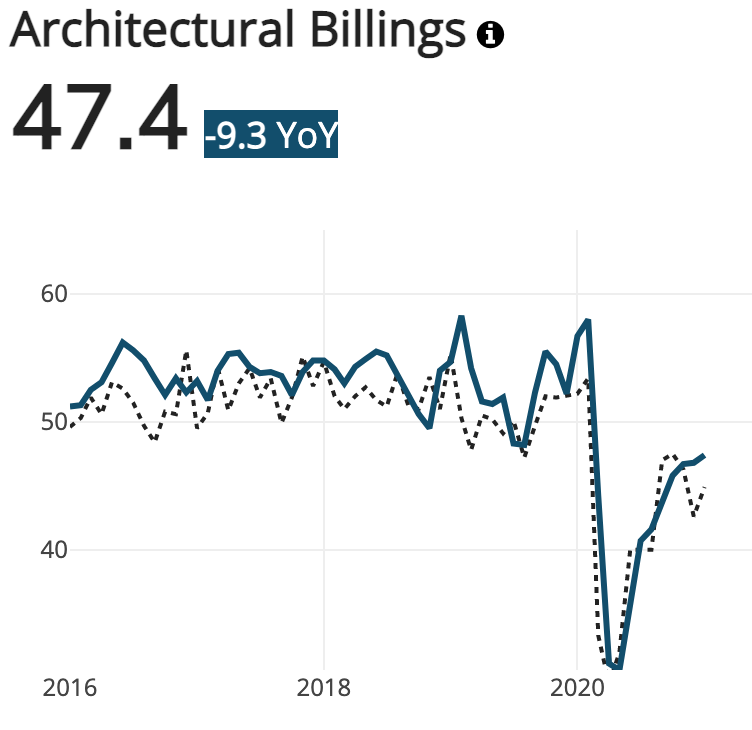 Construction indicators
Just as the remainder of the country is feeling the pressure with rising construction costs, Greater Miami saw a 6.7% increase in construction costs year over year. Production delays and high demand have resulted in higher costs for construction-related goods and services, which in turn create higher costs to improve or develop property. Investors should see this return to more normalized levels in the future, but not until supply is able to outpace demand again, which could be several years.
Construction jobs are down slightly year over year, but this is likely relating to initial dips in construction at the start of the pandemic. As new construction returns to the market, construction jobs should return with it.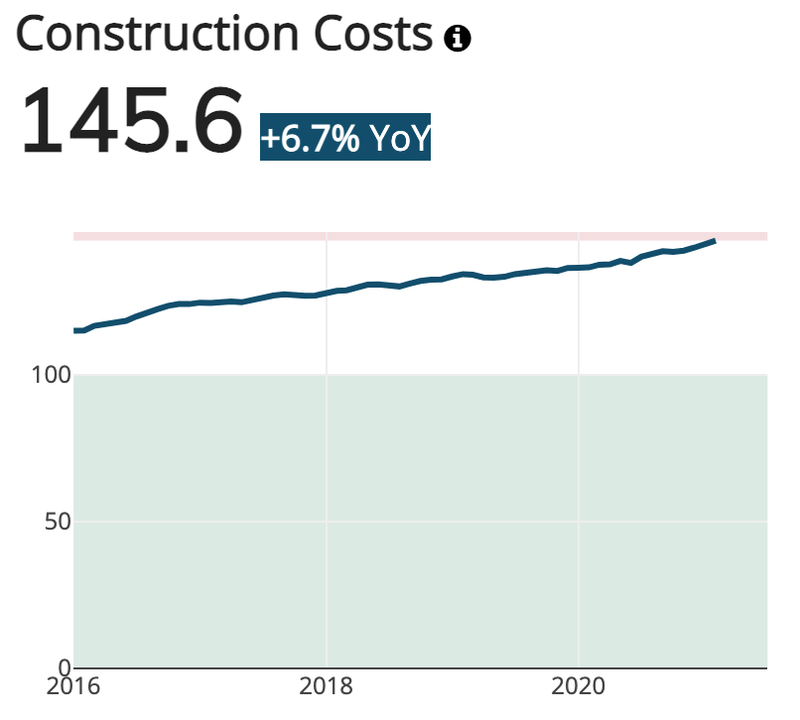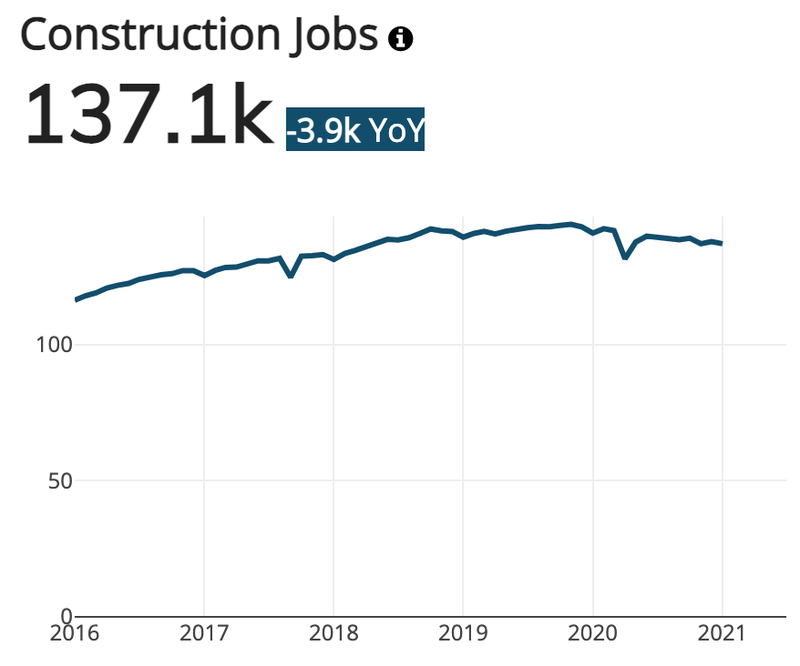 Single-family detached permits
Single-family detached permits are on the rise, with 734 permits issued in February 2021, over 100 more than forecast. Despite a housing shortage elsewhere, increasing the number of single-family homes to the market will only return the area to an imbalanced market, which is largely why permits are lower than other major metro markets.

Multi-unit permits (2-plus units)
Multifamily, classified in Housing Tides as two housing units or more, is declining, despite forecasts estimating a stark increase in supply. This could be related to the global pandemic but may also be creating concern over a return to an imbalanced market. Rental vacancies and rental rates are improving, but increasing the number of multifamily units could put those numbers at risk.

Greater Miami real estate financial health indicators
Delinquencies
Mortgage delinquencies are still at five-year highs, undoubtedly from COVID-19-related job losses. However, sentiment is improving, with Florida's delinquency rate hovering just 1% over the national average.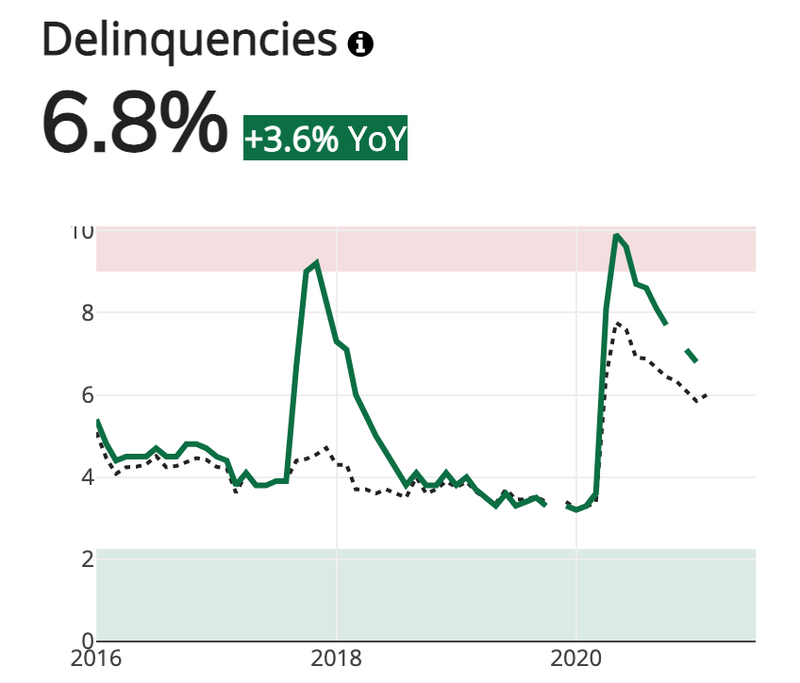 Foreclosures
Foreclosures across the country are down as foreclosure moratoriums are still in place, including Miami foreclosures. Florida right now is experiencing a total foreclosure rate of 0.5%. However, Miami-Dade saw 1.2% of all closed residential sales being distressed sales in March 2021, compared to 4.6% in March 2020. To further compare, in 2009, in the wave of the Great Recession, 70% of Miami sales were distressed sales. Meanwhile, 1.3% of Broward County's sales were distressed, and less than 1% of Palm Beach County's sales were distressed. That's still a slightly higher percentage than other markets, meaning distressed buyers could have luck buying foreclosed homes.
Brand New Florida Foreclosures
Miami, FL
Sanibel, FL
Gulf Breeze, FL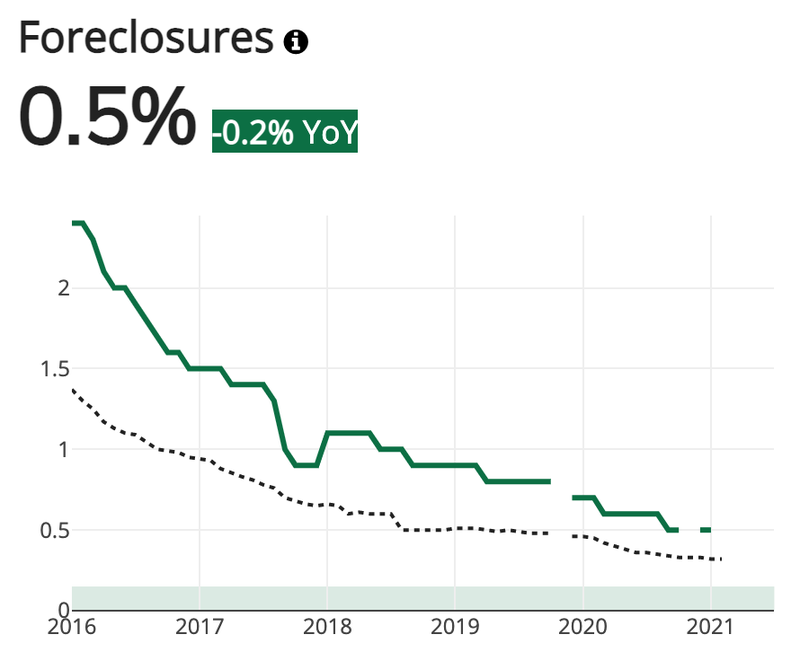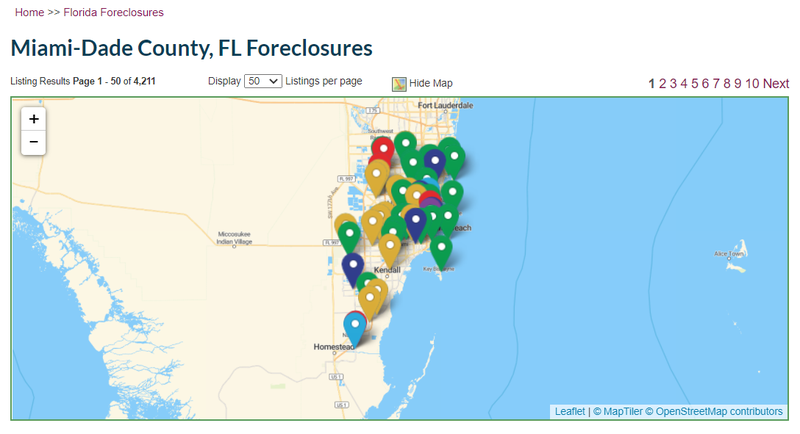 Anchor industries
It's no surprise that Miami is considered the best city for business in Latin America, but its geographic location and economic diversity also makes it the No. 1 city for start-up activity and sixth overall city for small business, according to the Kauffman Foundation. Here are a few of Greater Miami's anchor economic industries and employers.
Travel, leisure, and hospitality: Tourism, travel, and hospitality make up a huge portion of Greater Miami's economy. While this line of businesses has suffered tremendously since the start of the coronavirus pandemic, signs of recovery are on the horizon. Miami is the global headquarters for four travel and cruise-related companies, including Norwegian Cruise Lines (NYSE: NCLH); Interval Leisure Group, part of Marriott Vacations Worldwide (NYSE: VAC); Carnival Corp. (NYSE: CCL); and Royal Caribbean Cruises (NYSE: RCL).
Logistics and distribution: Miami's location makes it an ideal international logistics and distribution center for the South. American Airlines Group (NASDAQ: AAL), Air Transport Services Group (NASDAQ: ATSG), DHL (OTCMKTS: DPSGY), and UPS (NYSE: UPS) all have regional headquarters here.
Medical and healthcare: Baptist Health South Florida is the largest employer in the Greater Miami area, having just under 12,000 employees. However, several other hospitals and medical facilities are in the top 10 employers in the area.
Banking and financial services: Miami serves as a financial hub for the world, allowing businesses to operate internationally. Citigroup (NYSE: C), Wells Fargo (NYSE: WFC), Bank of America Merrill Lynch (NYSE: BAC), JP Morgan Chase (NYSE: JPM), and countless numbers of hedge funds and investment firms have offices or regional headquarters in the Greater Miami area.
Schools of note
Greater Miami is home to several public and private colleges. Florida International University (FIU) is one of the top 10 largest public universities in the country, with roughly 55,000 students in attendance. There's also the private University of Miami (UM), which has around 17,000 students enrolled and is located in Coral Gables, a suburb of Miami. The public Miami Dade College has around 85,000 students enrolled.
There are also several smaller private colleges in the area, such as Barry University, Nova Southeastern, and St. Thomas University, among others. However, their enrollment numbers are considerably smaller compared to the public colleges in the area.
Neighborhoods of note
Greater Miami's multicultural makeup brings diversity to the area, with distinct neighborhoods having large concentrations of different ethnicities residing in popular neighborhoods like Little Havana and Little Haiti. Condos and hotel communities are a popular method of owning real estate here, especially near the beach, with concentration of multifamily properties in the city and single-family homes on the outskirts, at the oceanfront, and in the suburbs.
Because the majority of Miami's residents earn $100,000 or more in annual income, real estate is more expensive here, but neighborhood price points can range widely. Investors can find properties from the low $100s to multimillion-dollar condos, mansions, and waterfront villas.
Short-term rentals and vacation homes are also a strong business here because of Greater Miami's tourism industry. Second homes are also common here as snowbirds seek warmer weather in the winter.
Below are a few neighborhoods of note in the area that are of particular interest to real estate investors.
Miami-Dade
Wynwood/Allapattah
If you've ever visited Miami, there's a good chance you visited the up-and-coming neighborhood of Wynwood. Known for being the hot new arts district, this area has dozens of new developments popping up, with hip new shops, restaurants, bars, and art galleries on every corner. Ten to 20 years ago, this was the neighborhood to invest in, but prices have inflated to match demand and subsequently priced out most investors. This is why many investors look to the neighborhoods just north of Wynwood, called Miami Design District/Buena Vista and the neighborhood adjacent to Wynwood called Allapattah.
Allapattah has a range of duplexes, single-family homes, and multifamily properties, making it a good fit for both fix-and-flip investors and long-term rental landlords. With prices starting in the mid-$200s and going up to the mid- to upper $500s, there's room for a return, considering rental rates range from $1,100 to $1,600.
Coconut Grove
Coconut Grove is located in the southern part of Greater Miami and neighbors the popular and luxurious area of Coral Gables, home to a renowned country club and mostly multimillion-dollar homes. For students attending UM, this is a more affordable option than Coral Gables itself and still within a relatively short distance to school. Properties range from the low $200s to upper $300s, meaning the purchase price is affordable as it relates to rents, which range from $1,300 to $1,800.
Bayshore
If beachfront condos and vacation rentals are your focus, Bayshore is the neighborhood for you. Located on Miami Beach, Bayshore is mostly made up of large condo and residential complexes but without the high price tag of other Miami beach neighborhoods. Condos run in the mid-$200s to low $400s, but rents range from $1,600 to $1,900 for long-term rentals and around $100 to $125 per night for vacation rentals, depending on the time of year and size of unit.
University Park and Town Park Estates
The area surrounding FIU is a great neighborhood for landlords who invest in student housing. Considering the number of students who attend the university, there is consistent long-term demand. Homes range from $150,000 to $300,000 for a condo and mid-$400s to upper $500s for a single-family home or duplex, meaning the spread isn't great, with rents ranging from $1,000 to $2,000, depending on condition, size, and property type.
Broward County
Central Beach Alliance
Central Beach Alliance is made up of mostly beachfront high-rise condos, making it an ideal investment for a short- or long-term rental property. Condos range from upper $200s to mid-$400s, and nightly rates range from $130 to $200 per night, so there's decent return potential, depending on the investment strategy.
Riverland
Riverland is a mixed residential area, made up of both multifamily units and single-family homes with a moderate price tag, making it a good spot for fix-and-flip investors and long-term landlords. Property values range from mid-$300s to mid-$500s, meaning investors have to be selective about property prices, depending on the exit strategy.
Palm Beach County
Northwood
North of West Palm Beach is the area of Northwood, which includes several distinct neighborhoods, all boasting the name "Northwood" in some form or fashion. Properties include a mix of single-family homes, duplexes, triplexes, and larger multifamily homes and is an ideal area for fix-and-flippers or rental investors. Properties can sell between the low $200s to upper $400s, depending on the property type, neighborhood, or size, with rents ranging between $1,400 to $2,000. Keep in mind the closer to Poinciana Park and Northwood Pines, the more expensive the homes get.
Lakeworth
Lakeworth isn't a neighborhood but rather a city in Palm Beach County just south of West Palm Beach. The city has a mix of single-family residential and multifamily properties at a much more affordable rental price compared to neighboring West Palm Beach to the north and Delray Beach to the south. Investors need to do their due diligence on prospective neighborhoods carefully, as some pockets are prone to higher crime and blighted homes, but the dollar and rent go a long way here.
The Millionacres bottom line
Miami is definitely a hot investment area right now, but investors should carefully consider their investment before buying, considering the general volatility of the local market. Where and what you invest in greatly determines the potential success as a real estate investor here.
Investors also need to consider environmental factors such as hurricanes, flooding, and rising water levels related to climate change. Miami has long battled flooding issues with the daily rising tides, spending trillions of dollars over the past decade and having rectified very few of the issues.
Miami's economic industry does give validity to the real estate market, but it seems the demand is driven much more by foreign interest than economic opportunities for its residents, putting it in a tricky and somewhat risky position for investors to participate in.
Got $1,000? The 10 Top Investments We'd Make Right Now
Our team of analysts agrees. These 10 real estate plays are the best ways to invest in real estate right now. By signing up to be a member of Real Estate Winners, you'll get access to our 10 best ideas and new investment ideas every month. Find out how you can get started with Real Estate Winners by clicking here.
Citigroup is an advertising partner of The Ascent, a Motley Fool company. Bank of America is an advertising partner of The Ascent, a Motley Fool company. Wells Fargo is an advertising partner of The Ascent, a Motley Fool company. JPMorgan Chase is an advertising partner of The Ascent, a Motley Fool company.
Liz Brumer-Smith
has no position in any of the stocks mentioned. The Motley Fool owns shares of and recommends Marriott Vacations Worldwide. The Motley Fool recommends Carnival. The Motley Fool has a
disclosure policy
.