Get our 43-Page Guide to Real Estate Investing Today!
Real estate has long been the go-to investment for those looking to build long-term wealth for generations. Let us help you navigate this asset class by signing up for our comprehensive real estate investing guide.
Table of Contents:
Jacksonville, Florida, is often overshadowed by more populous and popular Florida destinations such as Miami, Tampa, or Orlando, but Jacksonville's diverse economy and geography make it a top spot for real estate investors. This article will take a closer look at the local Jacksonville market while diving deep into several key metrics and neighborhoods to help you be a more informed investor in this area.
What makes Jacksonville special?
At 840 square miles, Jacksonville is the largest city by landmass in the continental United States. Its location, situated on the Atlantic coast, St. Johns River, and just roughly an hour from the Georgia border, makes the city a major economic center for the state of Florida. The city is home to the National Football League (NFL) team the Jacksonville Jaguars and has 22 miles of beaches, giving its residents a mixture of urban city and beach life. The greater area of Jacksonville is spread across seven counties, including the popular beachside towns of Jacksonville Beach, Neptune Beach, and Atlantic Beach. Jacksonville, which has just over 1.2 million residents, is emerging as one of Florida's top new tourist destinations and has become a headquarters hotspot for fortune 500 companies, making it an appealing place to own and rent real estate.
State of the market
Despite Jacksonville being a large metropolitan city, it's not one that typically comes to mind when thinking of top destinations to work or live. However, this city is quickly making its way to the top and is one of the highest-performing economies in the entire nation. The city's super-low unemployment rate, at a time when the nation is in crisis, goes to show the strength of the job market in the area. The city, like many others across the United States over the past year, is undergoing several changes. Below are a few of the notable trends for real estate investors for the area in 2021.
1. Single-family homes lead the way
There seems to be a shift in preference from rental real estate to owning on a national scale. Record low mortgage rates are driving more homebuyers to the market, but Jacksonville historically has maintained a higher number of owners than renters long before this national trend, making this an ideal city to invest as a fix-and-flipper or ground-up developer. The city's price-to-rent ratio is just over 15, meaning it's just as affordable for residents to buy than to rent -- a main reason homeownership takes the lead when it comes to housing options.
Like many other cities across the country, semi-rural and rural housing demand is up, but suburban housing still takes the lead for the greatest number of residents. Median home prices are well below national average and, despite a low supply, have recently decreased, meaning homebuyers can afford more in a time when housing affordability is a major concern.
2. Rental real estate is strong, but volatile
Rental rates have steadily increased over the past five years; however, rental vacancies have had a volatile run. In 2017, Jacksonville's rental vacancies skyrocketed to over double the national average, returning to more normalized levels by early February 2018, but historically remain higher than the national average. This means rental real estate investors need to invest in Jacksonville carefully, having a focused investment area and strategy. While Jacksonville's unemployment rate is strong, which should lead to less housing vacancy or defaults, when rental moratoriums expire, the city could see another spike in rental vacancy rates.
3. Housing prices will likely rise
Throughout much of the country, real estate values are rising rapidly as the country faces extremely low supply and record high demand. Jacksonville, while slightly higher than the national average supply of 1.7 months, is still well below the healthy range. This, coupled with the strong job market and inward migration to Florida from a number of other states, indicates there's a good chance the city will see home prices continue to rise over the next year.
Jacksonville housing demand indicators
Charts courtesy of Housing Tides, an EnergyLogic company.
Here's a closer look at housing and economic indicators that give further insights into the notable trends for the greater Jacksonville area.
Unemployment trends
One of Jacksonville's strongest indicators right now is its unemployment rate, which is hovering around 4.4%, just under 2% lower than the national average. At a time when the country is seeing unemployment levels climb and slowly recover, having a healthy unemployment range speaks volumes for the job market in the area. Historically, Jacksonville has managed to match or outpace the national average unemployment rate, undoubtedly supported by its diverse economic infrastructure.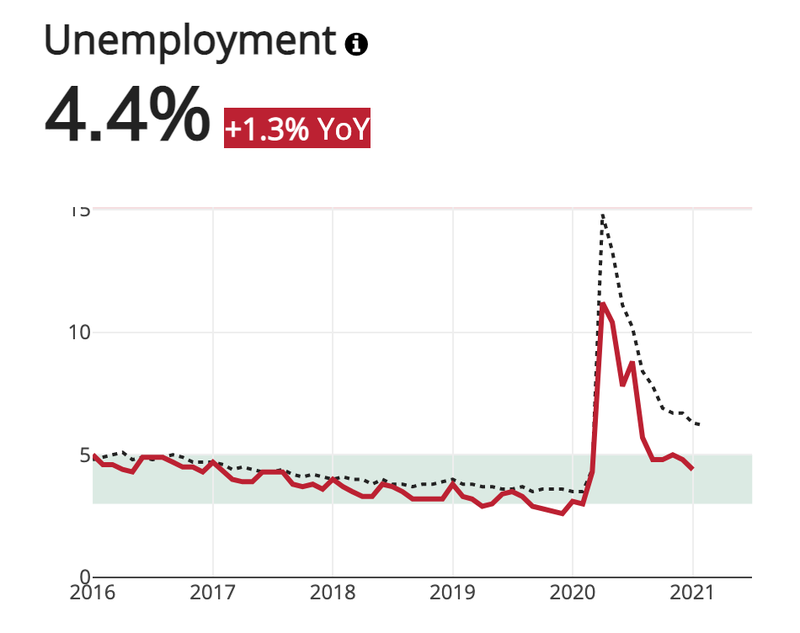 Median home price
Median real estate prices have climbed steadily over the past five years. During that time, the market saw several notable dips in home values along the way, including a slight decline today. Despite this, median home prices right now are still up 8.9% year over year, and real estate values will likely continue to trend upward as demand outpaces supply.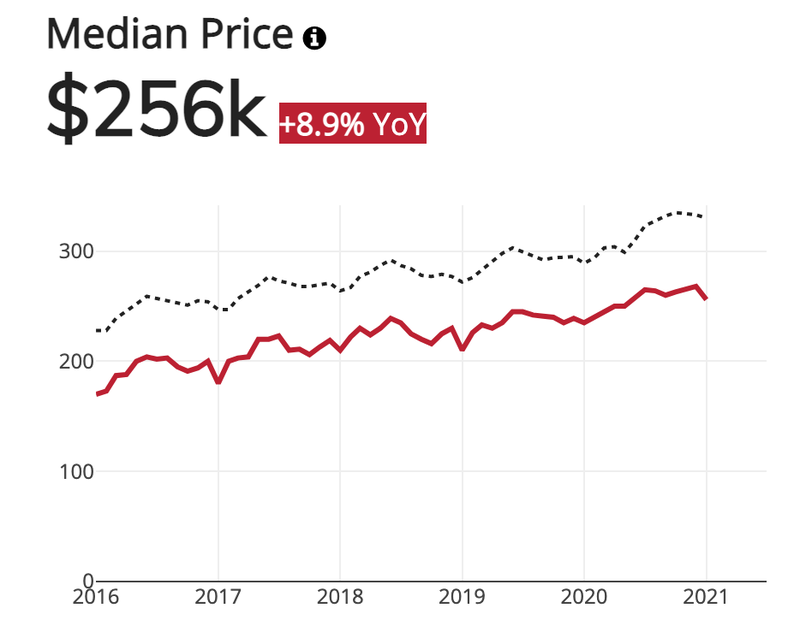 Median rent price
Rent prices have risen continuously over the past five years, with very little fluctuation in pricing along the way. Rental rates have increased 5.8% year over year and are still below the national average of $1,740, meaning renters can afford more here. Right now, housing supply is limited, meaning buyers unable to secure a home may turn to rental property in the short term, which could continue to support an increase in rental rates.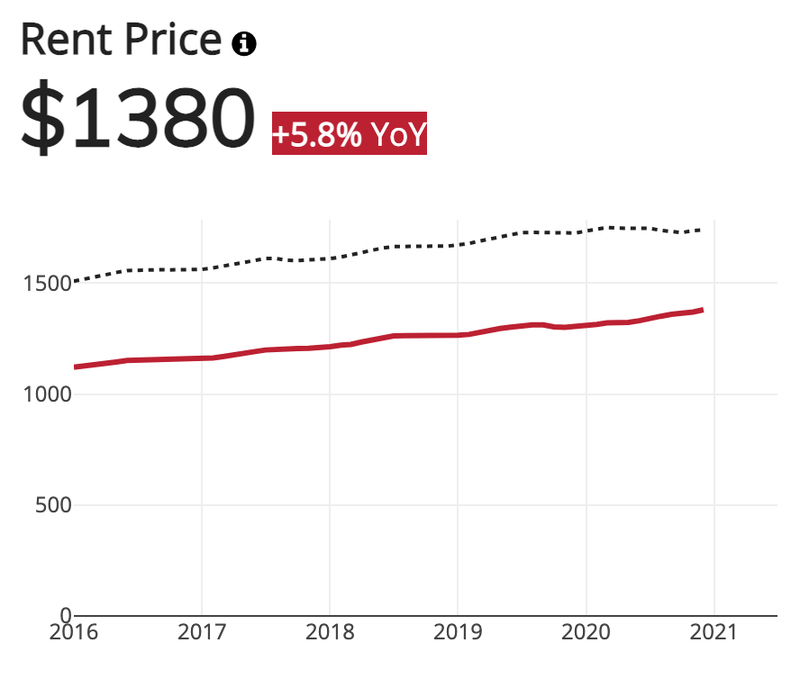 Jacksonville housing supply indicators
Here's a snapshot of what housing supply looks like for Jacksonville.
Total housing supply
Housing is in short supply across the nation, including Jacksonville. Right now there's a 1.7- month supply, a decrease of 2.21% year over year, far below the healthy range of four to five months of supply. While Jacksonville's supply is just slightly over the national average, the limited homes on the market are largely contributing to increased real estate values.
Rental vacancies
Rental vacancy in Jacksonville is slightly higher than the national average right now, and comparatively very little change has occurred year over year. In the past, vacancy rates have climbed far higher than the national average, seemingly unrelated to economic events on a national scale. Mid-2017 rates were nearly double that of the national average, indicating that the rental market in Jacksonville can be rather volatile. For this reason, it's a good idea for investors to have a deep understanding of the supply and demand in their target market and to take a micro approach to investing here.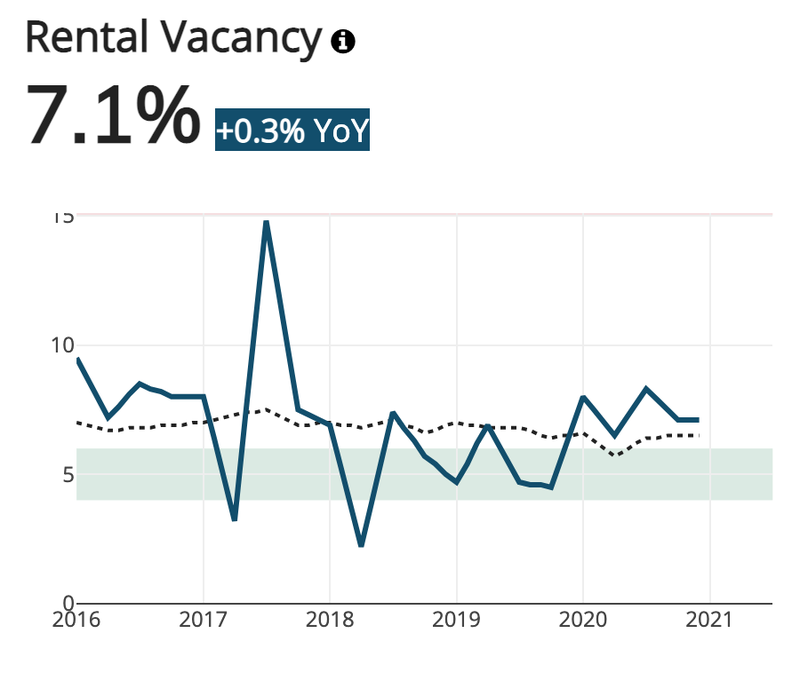 Architectural billings
Architectural billings, or the amount of nonresidential properties in development, can provide insight into the overall strength of the commercial real estate (CRE) market. After the CRE market took a dive in early 2020 as a result of the global pandemic, architectural billings are slowly returning to more normalized levels. However, billings are still down just under 10% year over year.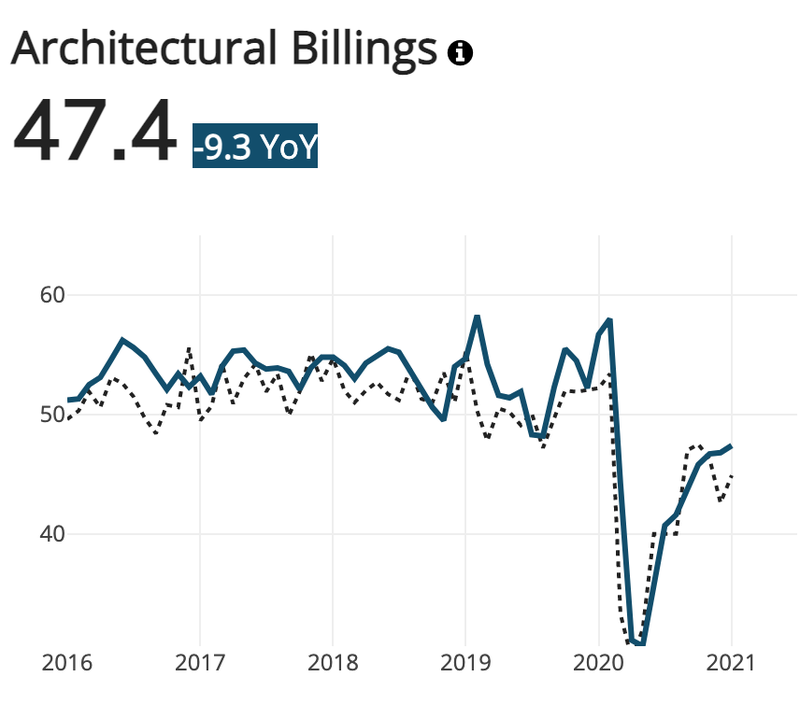 Construction indicators
Just as the remainder of the country is feeling the pressure with rising construction costs, Jacksonville saw a 6.7% increase in construction costs year over year. Production delays and high demand have resulted in higher costs for construction-related goods and services, which in turn create higher cost to improve or develop property. Investors should see this return to more normalized levels in the future, but not until supply is able to outpace demand again, which could be several years.
Single-family detached permits
With record-high demand for housing, it's not surprising to see single-family detached permits up near five-year highs. In February 2021, there were roughly 1,244 permits in the works. This should help bring more properties to the market, but it's still under the current demand.
Multi-unit permits (2-plus units)
Multifamily, which is classified in Housing Tides as two housing units or more, is on the rise after a slump from late 2019 to today. Initial concern over the state of the rental market during the onset of the COVID-19 pandemic meant many developers stopped construction of multifamily properties. However, as the outlook continues to look up, construction starts and permits have recovered to more historical levels.

Jacksonville real estate financial health indicators
Delinquencies
Across most of the country, mortgage delinquencies peaked in early 2020 at the start of the COVID-19 pandemic. Delinquency rates for the area have steadily declined over the past year but are still roughly 1% higher than the national average.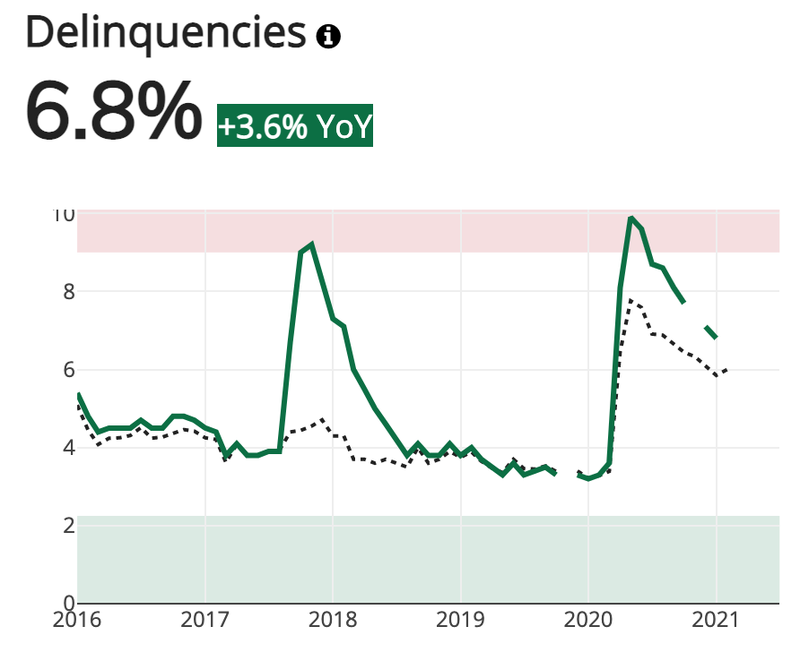 Foreclosures
Foreclosures in Jacksonville are at five-year lows. Considering foreclosure moratoriums are still in place, this comes as no surprise. Government rulings unfolding in the coming months will determine if this number should increase or remain flat over the next year. Considering the number of delinquent loans in the market, if the moratorium is lifted there could be an increased number of distressed properties to hit the market in 2022 and 2023.
Brand New Florida Foreclosures
Miami, FL
Sanibel, FL
Gulf Breeze, FL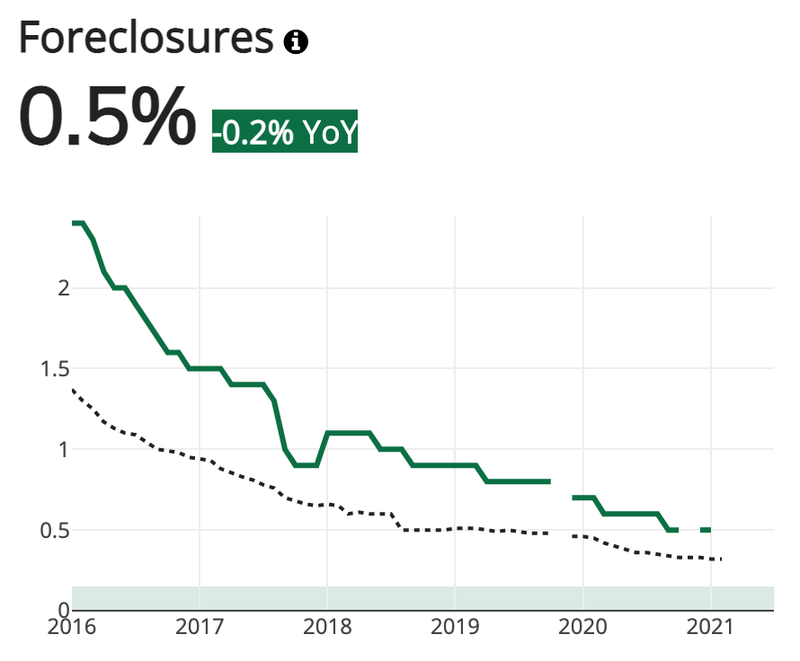 Anchor industries
Jacksonville is a huge economic hub not only for the state of Florida but also for the entire country. Over the past several decades, more and more companies have opened or moved their headquarters to sunny Jacksonville, which provides the city with diverse economic production Among the area's core categories and big-name employers:
Manufacturing and military: Jacksonville has a large military presence with a naval and airbase in the city, which requires a number of logistics and manufacturing services, including natural gas. Fortune 500 companies include Johnson & Johnson Vision (NYSE: JNJ), Anheuser-Busch (NYSE: BUD), BAE Systems (OTCMKTS: BAESY), and GE Oil & Gas (NYSE: GE), to name a few.
Logistics: Jacksonville's ideal location next to I-10, I-75, and 1-95 (major highways in Florida and northward to Georgia), make it an ideal spot for logistics and distribution hubs. Companies like Amazon (NASDAQ: AMZN) and Wayfair (NYSE: W) have bases there.
Medical and healthcare: Five of the largest employers in Jacksonville are related to the medical and healthcare field, including Baptist Health, Mayo Clinic, Florida Blue, Ascension St. Vincent, and UF Health, which provide roughly 32,000 jobs, or 1 in 6 jobs in the entire city.
Financial services: Several financial institutions have regional headquarters in Jacksonville, including Citi (NYSE: C), JP Morgan & Chase (NYSE: JPM) Bank of America (NYSE: BAC), and Wells Fargo (NYSE: WFC).
Schools of note
The University of North Florida (UNF) is the largest secondary education establishment in the greater city of Jacksonville, Florida, with an estimated 17,000 students. There are several smaller private and liberal arts colleges in the area, including Jacksonville University and Flagler College, having roughly 6,600 students in total.
Neighborhoods of note
The suburban areas surrounding the city of Jacksonville are experiencing the highest demand and growth. While the urban core certainly has opportunity for investors, many of the top neighborhoods of note are located just outside of the center of the city.
Murray Hill
The Avondale and Riverside neighborhoods have grown into two of the most sought-after neighborhoods in Jacksonville city. Adjacent to the St. John's river, these neighborhoods have great restaurants, shops, and family-friendly vibes, but its prices leave little room for investors to profit outside of a fix-and-flip. Instead, investors may look to the adjoining neighborhood of Murray Hill. Homes in top-notch condition still run in the low 200's, meaning there is room for profit for both rental properties and fix-and-flip homes.
Hillcrest
Nearby Murray Hill is the neighborhood of Hillcrest. Comparatively, this neighborhood still has a lot of room for improvement and growth, with a large number of renters over homeowners, making it a good place to target multifamily property. Properties range from $90,000 to low $200's depending on the location, property type, size, and condition.
Southside
The southside of Jacksonville is a popular suburb that encompasses several unique neighborhoods, often with good schools and easy access to amenities, including the St. Johns Town Center, a 1.1 million-square-foot open-air retail center, making it a great area for large multifamily and commercial developments and single-family rentals. Mandarin is a great family- driven neighborhood but can be a bit pricey for investors. Instead, the adjacent area of Loretto is a more appealing neighborhood for investments, as it has more affordable real estate.
Neighborhoods around UNF
UNF is located on the southeastern side of the city, about halfway between Jacksonville Beach and the city center. There are several neighborhoods directly surrounding the school, including Windy Hill, Sans Pareil, Park Ridge, and Beachwood, which are known for abundant student housing. Since the home prices range from the low 100's to the mid 200's and rents can range from $1,200 to $1,600, there is a lot of room for multifamily and single-family rental investors.
The Millionacres bottom line
Jacksonville is a unique market, offering investment opportunities for all types of real estate investors. However, the largest opportunities seem to focus on certain types of rental real estate, like single-family fix-and-flip, as well as ground-up development and industrial real estate, considering its sizable logistics and warehouse distribution hubs. Investors do need to be mindful of the general volatility of certain neighborhoods here and be well versed in the intricacies of each neighborhood before investing. Jacksonville is in a growth stage. It's not growing nearly as rapidly as other emerging markets, such as Austin or Charlotte, however its increased inward migration is likely here to stay.
Got $1,000? The 10 Top Investments We'd Make Right Now
Our team of analysts agrees. These 10 real estate plays are the best ways to invest in real estate right now. By signing up to be a member of Real Estate Winners, you'll get access to our 10 best ideas and new investment ideas every month. Find out how you can get started with Real Estate Winners by clicking here.
Citigroup is an advertising partner of The Ascent, a Motley Fool company. JPMorgan Chase is an advertising partner of The Ascent, a Motley Fool company. Bank of America is an advertising partner of The Ascent, a Motley Fool company. Wells Fargo is an advertising partner of The Ascent, a Motley Fool company. John Mackey, CEO of Whole Foods Market, an Amazon subsidiary, is a member of The Motley Fool's board of directors.
Liz Brumer-Smith
has no position in any of the stocks mentioned. The Motley Fool owns shares of and recommends Amazon. The Motley Fool recommends Anheuser-Busch InBev NV, Johnson & Johnson, and Wayfair and recommends the following options: long January 2022 $1,920 calls on Amazon and short January 2022 $1,940 calls on Amazon. The Motley Fool has a
disclosure policy
.