Get our 43-Page Guide to Real Estate Investing Today!
Real estate has long been the go-to investment for those looking to build long-term wealth for generations. Let us help you navigate this asset class by signing up for our comprehensive real estate investing guide.
Note: Our market forecast includes Washington D.C. data and data from its surroundings, including Arlington and Alexandria.
Table of Contents:
Why consider Washington, D.C., for real estate investing?
Washington, D.C., may be best known for being the nation's capital, but it is also a thriving city in its own right. Formally known as the District of Columbia, the city is home to an estimated 705,000 people and is divided into as many as 131 diverse neighborhoods.
That said, since Washington, D.C., borders both Virginia and Maryland, its reach extends far beyond the city limits, which offers plenty of opportunity for investors, no matter what your investing strategy looks like.
The state of the market
Though the real estate market in Washington, D.C., has undoubtedly experienced some ups and downs amid the covid-19 crisis, it's worth noting that many of the indicators we looked at are forecasting a road to recovery. In an effort to give you a sense of what we mean, we've highlighted three major trends for your review. Take a look below for more info.
The inventory shortage is on par with the rest of the nation
At the moment, one of the real estate industry's largest concerns is a widespread lack of inventory. Unfortunately, in this respect, D.C. is no different. However, it's important to point out that the city's inventory matches the national average. In addition, the number of issued multi-family housing permits far exceeded projections, which is a good sign since it means many more housing options are currently being constructed.
Rental vacancies are down
In many of the nation's other large cities, the pandemic has caused an explosion in rental vacancies. The theory behind the increase is that renters have been leaving areas with high costs of living now that they can work remotely. In Washington, D.C., though, rental vacancies are actually down 0.4% on a year-over-year basis, which is good news for landlords.
Financial health indicators are above average
Lastly, it's worth noting that both the foreclosure rate and the delinquency rate in the nation's capital are below the national average, despite the major financial strain that came along with a pandemic. In this case, it's likely that many of the increased protections that were put in place during the pandemic, including forbearance measures, have contributed to the low numbers.
Washington, D.C., housing demand indicators
All data and charts supplied by Housing Tides by EnergyLogic.
Despite experiencing some setbacks due to the pandemic, the city's housing demand indicators show that Washington, D.C., is on the road to recovery.
Unemployment trends
Like countless other major cities, Washington, D.C., has experienced a spike in unemployment due to the coronavirus pandemic. However, even though unemployment peaked at 9.8% in April 2020, it's worth noting that figure is nowhere near the national average of 13.3%. Since then, as the city has begun to reopen, unemployment has gone down significantly. It now sits at just 6%.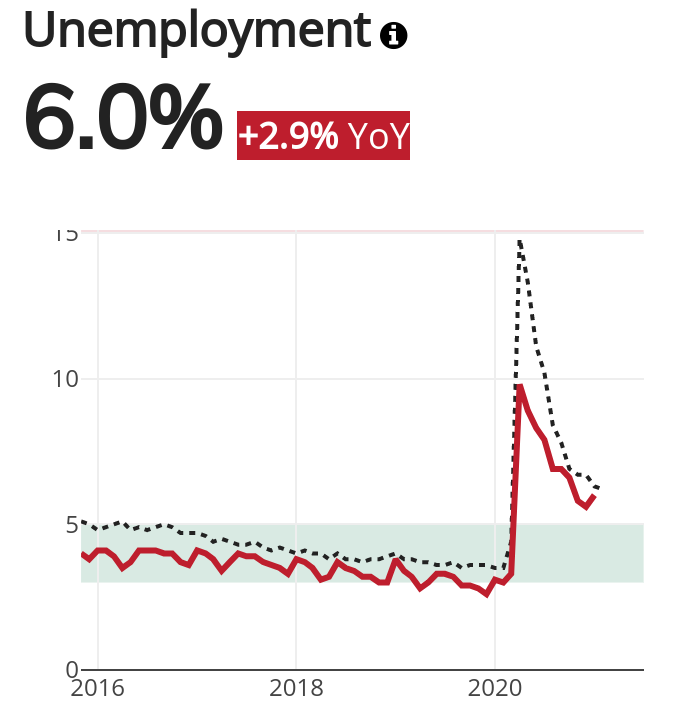 Median home price
While home prices in Washington, D.C., are traditionally higher than average, it's important to point out that the prices are still falling in line with the current national trend. Namely, they have gone up significantly as a result of a lack of inventory. In particular, the median home price in the city is now $440,000, which is up a staggering 10% on a year-over-year basis.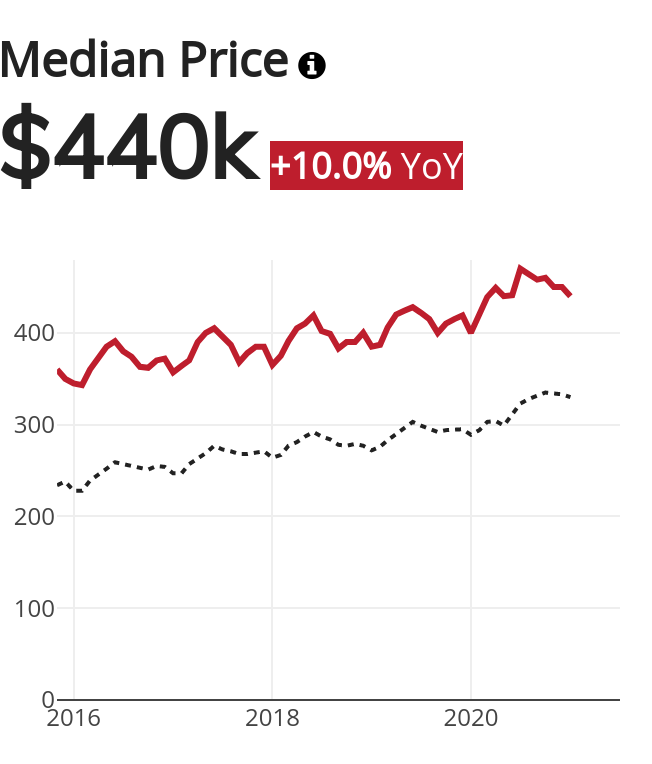 Median rent price
On the other hand, where rentals are concerned, the median rent price is down 2.3%, currently sitting at a rate of $2,022. This drop is likely due to numerous renters escaping the city during the pandemic now that they have the opportunity to work remotely.
That said, all indications point to the fact that the decrease is likely to be short-lived. In fact, the data shows that rental rates are already bouncing back, up from a low of $2,006 in September 2020.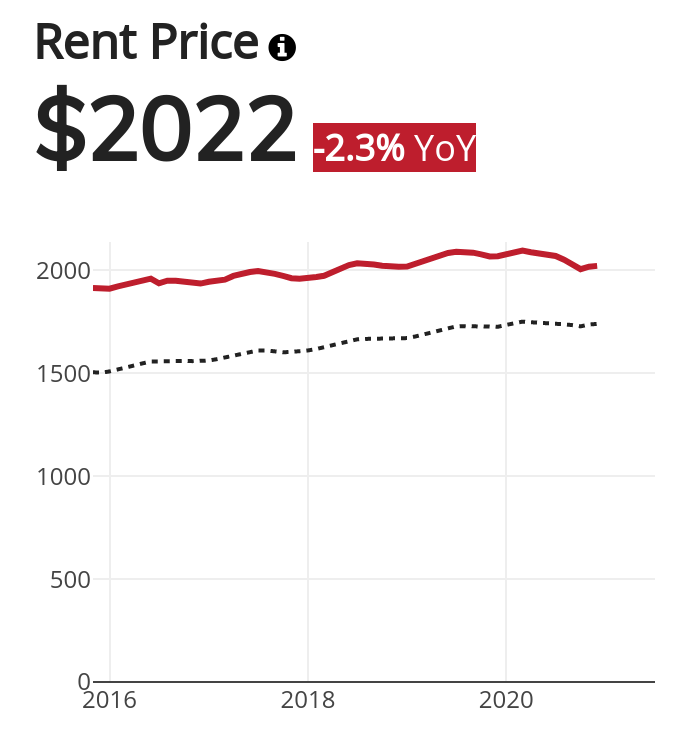 Washington, D.C., housing supply indicators
On the other hand, Washington, D..C.'s housing supply indexes are a mixed bag. While some of these metrics reveal that the nation's capital is faring better than some other areas of the country, others show that there is still a way to go before the city's real estate market returns to its pre-pandemic conditions.
Total housing supply
Although a 1.6-month total housing supply might seem low, particularly for a city that is as densely populated as Washington, D.C., this is another area in which the nation's capital is on par with the rest of the country. In fact, as a whole, the nation has an average of just 1.6 month's worth of housing inventory as well.
For investors, this means it's wise to expect to face more competition for available properties on the market and it's likely a good idea to adjust your investment strategy accordingly.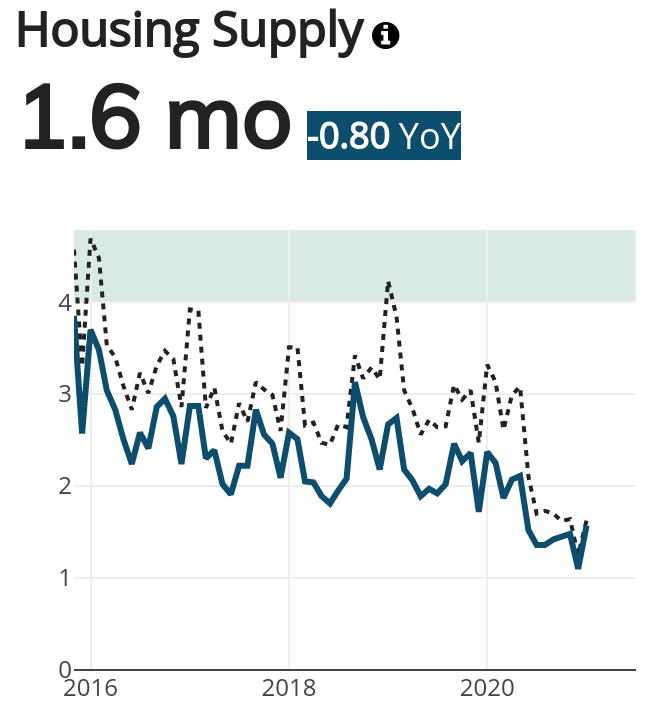 Rental vacancies
Rental vacancies have been a pain point for many big cities during the pandemic. As more people have begun to be able to work remotely, renters have been fleeing high-cost areas for more affordable living situations.
However, Washington, D.C., seems to be an exception. The city's rental vacancy rate peaked at 6.8% in January 2020, before the pandemic became widespread. However, it has dropped since then. As of December 2020, the rental vacancy rate in the nation's capital was 5.9%, a figure that is down 0.4% on a year-over-year basis and well below the national average of 6.5%.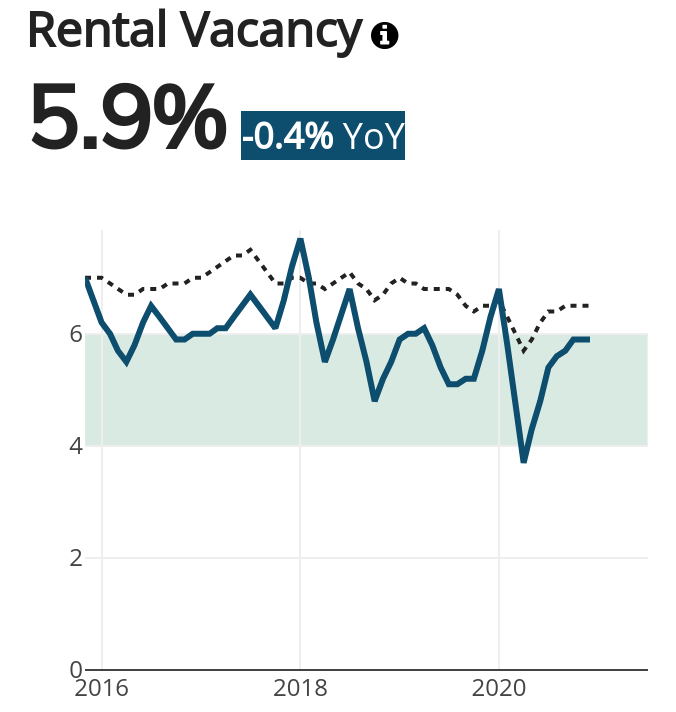 Architectural billings
For reference, architectural billings are typically used as a measure of nonresidential construction activity. Unsurprisingly, this index took a hit in light of the pandemic. Although figures for the south (which includes D.C.) are down 9.3% year over year as of January 2021, it's important to point out that, as the city has started to reopen, its billings have bounced back nicely from their low of 31.1 in April 2020.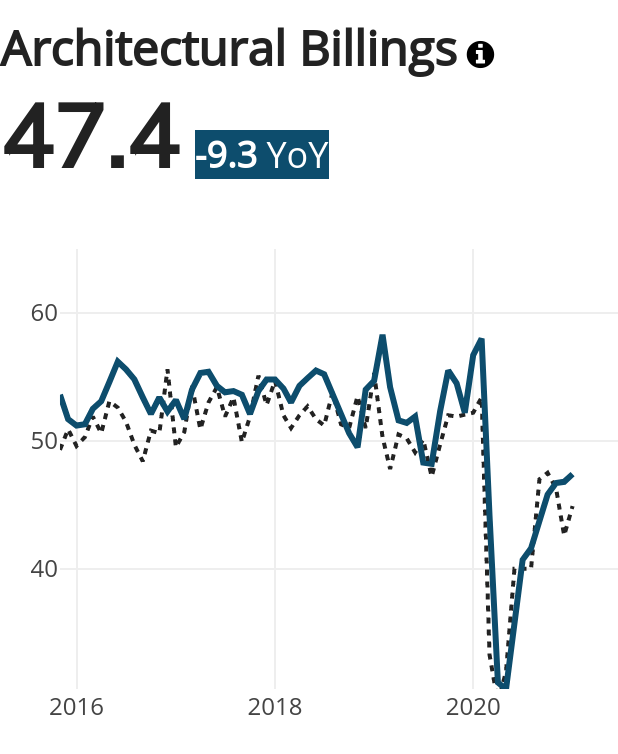 Construction indicators
For their part, construction costs are on the rise in Washington, D.C., which is not particularly surprising. These costs have been increasing for the last few years on a national scale and that increase was accelerated by a nationwide lumber shortage that was brought on by the pandemic-related shutdowns.
Investors should be aware that these increases will affect their bottom line and may want to postpone any renovation or construction projects in the immediate future. That said, as the vaccine rollout continues in both the United States and Canada, it seems as though more lumber plants should be able to reopen, which should start to bring prices down.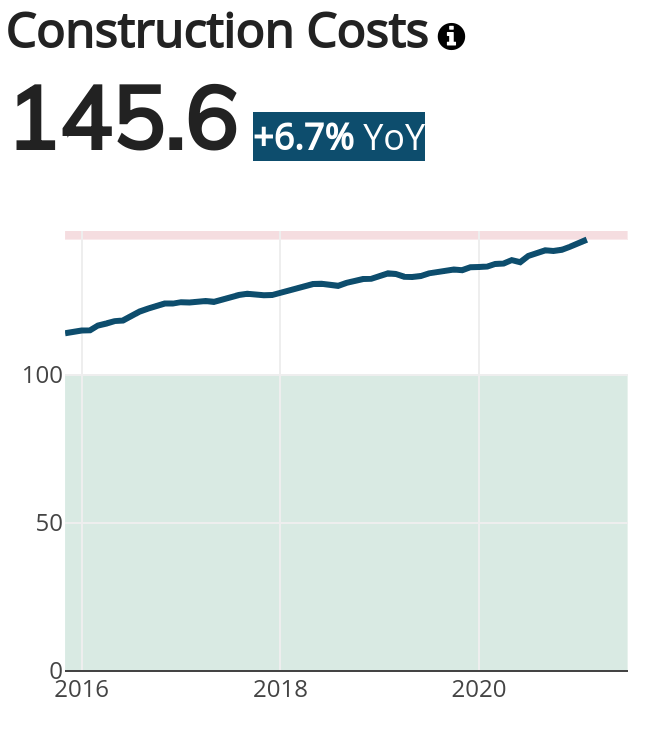 Single-family detached permits
Especially during an inventory shortage, the number of housing permits that are issued can be an important metric. Fortunately, the number of single-family housing permits issued in Washington, D.C., seems to be relatively on pace with projected targets. As of February 2021, there were 1,108 permits issued compared to the projected 1,135.

Multi-unit permits (2+ units)
Meanwhile, where multi-unit housing permits are concerned, the number of issued permits is far outpacing projections. In February 2021, there were 1,364 permits issued compared to a projected 1,030. In the short term, this may be a boon for investors because it will certainly help ease the immediate inventory shortage. However, if this trend continues, it could lead to a situation where the total housing supply outstrips demand, which would cause higher vacancy rates.

Washington, D.C., real estate financial health indicators
Where the top real estate financial health indicators are concerned, the capital seems to be doing better than average.
Delinquencies
Like almost everywhere else in the United States, mortgage delinquencies spiked in Washington, D.C., at the height of the pandemic. in June 2020, they reached a peak of 6.1%. That said, even at their highest, they were below the national average for the month of 7.59%. In addition, the rate has dropped since then. Per the latest data, for February 2021, D.C.'s delinquency rate is 5.1%, which is well below the national average of 6%.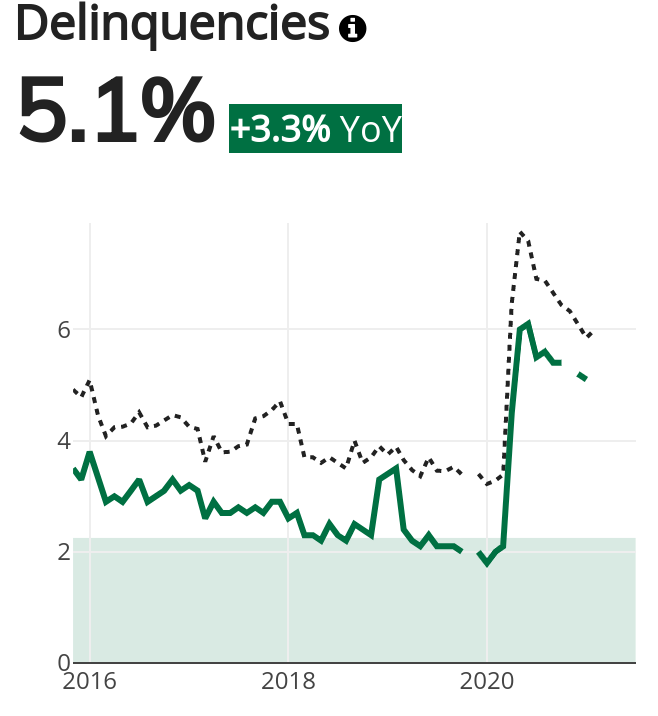 Foreclosures
Meanwhile, we are happy to report that the foreclosure rate in D.C. is actually down on a year-over-year basis. In January 2021, the rate was just 0.3%, which is slightly lower than the national average of 0.32%.
It is likely that many of the measures put in place to help homeowners during the pandemic, such as increased forbearance protections, have helped borrowers keep their head above water during these trying times and are contributing to the low rate.
Brand New District of Columbia Foreclosures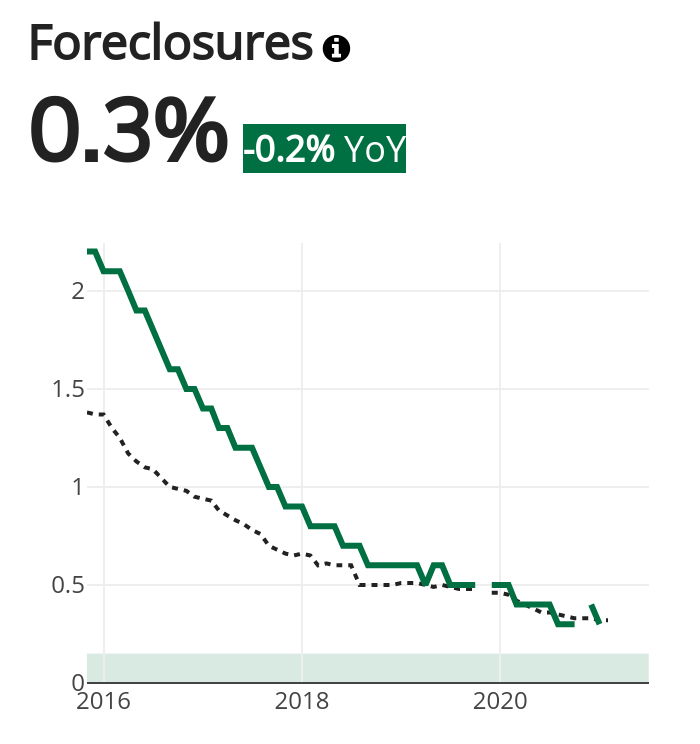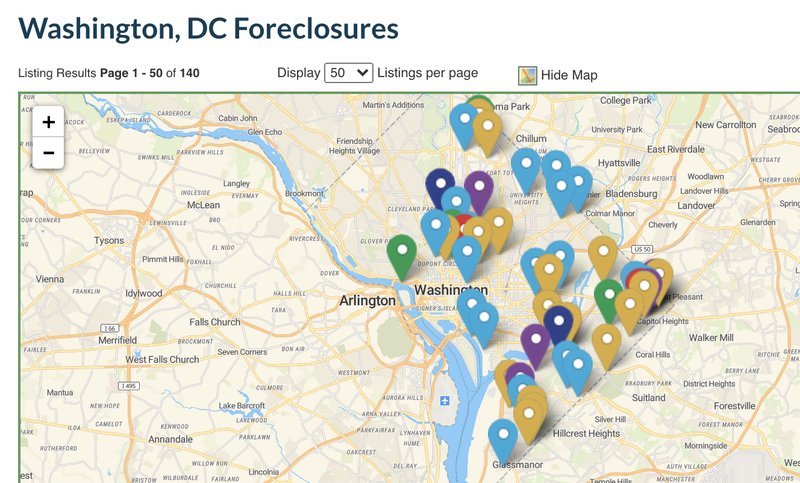 Anchor institutions
It shouldn't surprise anyone to hear that the largest employers in the Washington, D.C., metro area are branches of the federal government. However, you may be surprised with just how vast of a hold the government has on the city. In order to provide you with a clear picture, we've highlighted the three largest branches below.
Department of Defense: According to Zappia, a career research provider, the Department of Defense is the oldest and largest branch of government. It is currently responsible for employing 2,870,000 employees.
U.S. Postal Service: In second place is the U.S. Postal Service, an independent agency of the executive branch of the United States federal government. Altogether, it employs more than 633,000 employees.
United States Navy: In third place is the Navy. For its part, Zappia reports that the Navy employs an additional 600,000 employees.
Schools of note
Federal government aside, Washington, D.C., is also a thriving college town. According to Cappex, a website students can use to research higher learning institutions and scholarships, there are 20 colleges and universities within the D.C. metro area, which is good news for investors who think they might want to specialize in student housing. Here are three of the most noteworthy:
University of Maryland - College Park: Located about a half an hour outside the city in College Park, Maryland is the University of Maryland Flagship campus. The four-year, public institution is made up of 12 separate colleges and schools and enrolls a total of 41,000 students.
George Washington University: Although this university is made up of three campuses, its main campus is located in downtown Washington, D.C., just four blocks from the White House. The private institution enrolls a total of 28,000 students.
Georgetown University: Founded in 1789, Georgetown University is the oldest Catholic university in the country. The school is known for its selective admissions process. However, a total of 19,000 matriculate there each year.
Neighborhoods of note for investing
Washington, D.C., is home to a diverse mix of neighborhoods. With that in mind, we've brought you three that might make sense for investors.
Adams Morgan: Situated just north of downtown, the Adams Morgan area is our top pick for investors who want to buy in the center of the action. Home to a vibrant nightlife scene, this neighborhood has no shortage of bars, restaurants, or music venues. However, it is the walkability and access to transit that makes it especially popular among renters.
Trinidad: Located in D.C.'s northeast quadrant, Trinidad is a good choice for fix-and-flip investors. The neighborhood is full of 1920s row homes that are just begging to be brought into the 21st century. The property values are also lower in Trinidad, which is good for the margins.
Hillcrest: On the other hand, if you're after a buy-and-hold investment, you may want to consider Hillcrest. Despite its urban location, this neighborhood is known for its suburban feel, which makes it a good choice for tenants who want a bit more space and to put down roots.
All data and charts supplied by Housing Tides by EnergyLogic.
The bottom line
All things considered, Washington, D.C., seems to have weathered the pandemic fairly well, especially in comparison to other major cities. While it is still possible to see the effects of the pandemic in some of the metrics in our review, for the most part, the city seems to be making a strong comeback. With that in mind, it should make a fairly strong candidate for investment.
Got $1,000? The 10 Top Investments We'd Make Right Now
Our team of analysts agrees. These 10 real estate plays are the best ways to invest in real estate right now. By signing up to be a member of Real Estate Winners, you'll get access to our 10 best ideas and new investment ideas every month. Find out how you can get started with Real Estate Winners by clicking here.