Get our 43-Page Guide to Real Estate Investing Today!
Real estate has long been the go-to investment for those looking to build long-term wealth for generations. Let us help you navigate this asset class by signing up for our comprehensive real estate investing guide.
Greeley, located just north of Denver, is renowned for its iconic and rich agricultural history. We're taking an in-depth review of the city's real estate investment market and providing data on notable neighborhoods on the rise.
Table of Contents:
Why consider Greeley, Colorado, for real estate investing?
Once a tiny pioneering and agricultural settlement, Greeley has become one of the largest cities in the state, creating a veritable force in culture, community, and entertainment. This hidden gem offers affordable housing, an excellent location, and a wealth of amenities.
Greeley's population growth has been on pace with the city's rapid job growth, as the area boasts immense employment opportunities. What makes this opportunity excellent is low property vacancy rates and affordable rentals, appealing to real estate investors.
Greeley is also unique in recreational activities available in every season. The Pawnee National Grassland is a 193,060-acre grassland ideal for cross-country skiing, biking, camping, or hiking. You're able to swim year-round at Adventure Island Indoor Waterpark and even ice skate year-round at Greeley Ice Haus in town.
The state of the market
Greeley has been hit significantly due to the COVID-19 pandemic, as agricultural supply chains have had their issues. The expansion of unemployment benefits and federal aid to small businesses were pivotal to early Greeley's economic recovery.
Unemployment rate is high. Pre-pandemic, Greeley had a steadily declining unemployment rate, and when the pandemic was at its worst for unemployment numbers, Greeley remained below the national average. Unfortunately, at the time of writing this article, Greeley's unemployment rate is still higher than the national average and is trending upward.
Low housing supply. Historically low housing supplies are sweeping the nation, and Greeley is no exception. The low housing supply is leading to an increase in prices for both potential homebuyers and renters. The former is steadily battling bidding wars while the latter, possibly priced out of the house-buying market altogether, opts to rent, driving the rental demand increase. However, the higher demand for buyers might make Greeley a prime candidate for real estate investing.
Rental prices are increasing. Rental prices will continue to rise in Greeley. Since 2016, rental prices have increased 5% year over year, proving the strong demand for rentals in Greeley.
Greeley, Colorado, housing demand indicators
All data and charts supplied by Housing Tides by EnergyLogic.
Unemployment trends
Greeley's unemployment rate showed a slow but steady decline from 2016 through the beginning of 2020. However, as the pandemic worsened, unemployment reached a peak in June 2020 of 10.9%, only slightly below the U.S. rate at the time. The unemployment rate is improving, as the economy is not heavily dependent on tourism.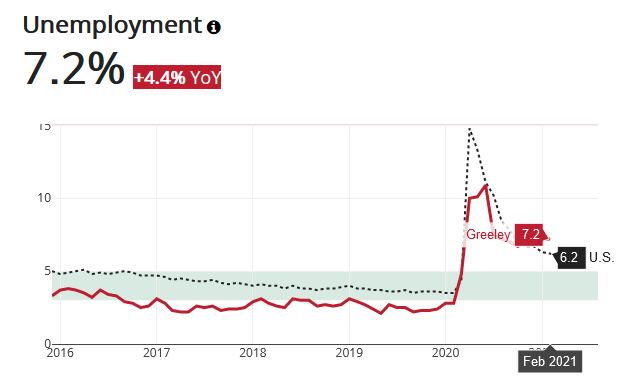 Median home price
Greeley's median home prices are up 11.9% year over year, compared to the national average. While the reasoning behind these rising home prices is primarily due to low interest rates, it is essential to note that if interest rates were to increase, it could spell disaster for this market's current pricing. The most positive sign of the median home prices in Greeley is that they are consistently above the U.S. average, dating back to 2016, showing a trend indicative of longevity in home values.
Median rent price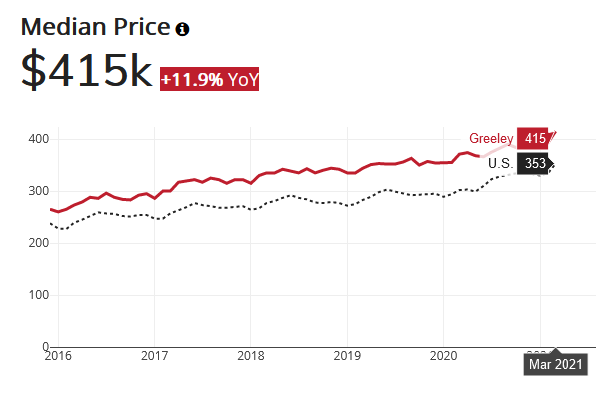 Rent prices in Greeley have increased steadily over the past few years, with 2020 being no exception to that trend. The rent prices have managed to bridge the gap between the U.S. average, which can be attributed to the increased rental demand from those who cannot buy a home in the current market.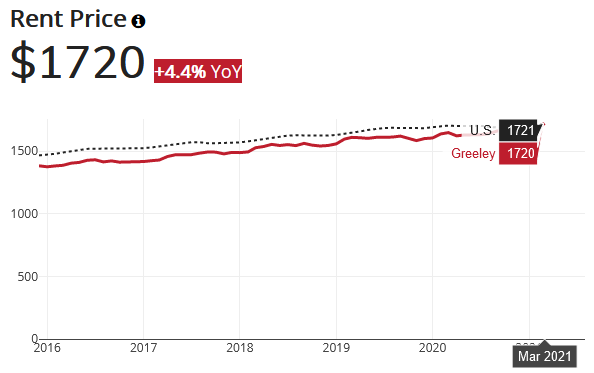 Greeley, Colorado, housing supply indicators
Total housing supply
The housing supply in Greeley remained steadily below the national average, dating back to 2016, with the only exception being the stark increase in May 2020. This low housing supply, which is the lowest Greeley has seen since 2016, indicates that investors may have difficulty with such a high entry barrier to this market, directly correlating to increasing housing prices.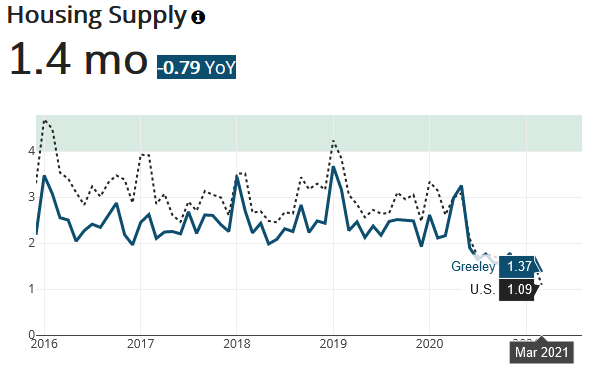 Architectural billings
Architectural billings, a trend for determining demand in commercial real estate, have shown positive growth nationally. Although the sector experienced significant drops due to the pandemic, the West is beginning to enjoy a resurgence, as is Greeley.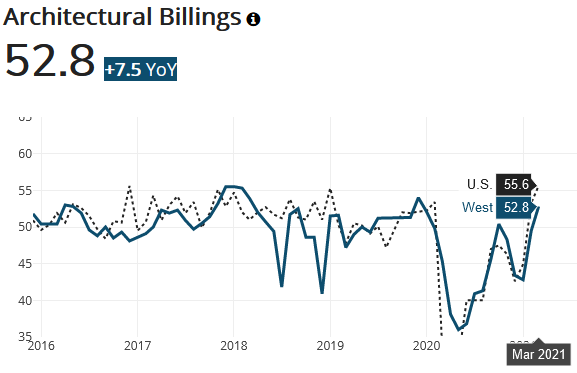 Construction indicators
Construction costs have enjoyed a dependable gain since 2016 and have increased 7% from the previous year in Greeley. Construction materials prices continue to rise for construction across nonresidential and residential sectors, most significantly in the cost of lumber and those opting to perform home improvement projects during quarantine in 2020.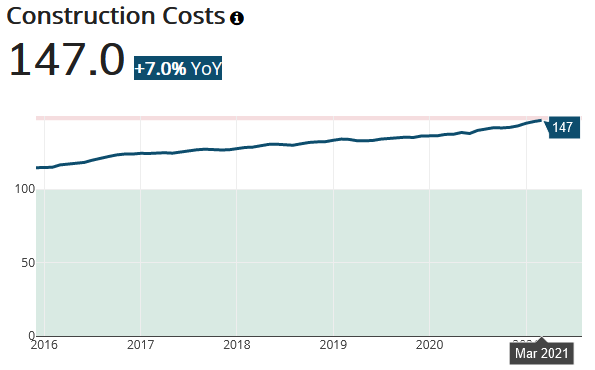 Single-family detached permits
As of March 2021, 372 single-family detached permits were issued, nearly 49.5% higher than forecast. Due to the low housing supply, this could indicate a favorable interest in these new homes to meet demand.

Multi-unit permits (2+ units)
As of March 2021, 63.5 multifamily building permits were issued, an 11% increase from the forecast. Over the last 12 months, multifamily building permits have seen a 53% decrease, despite the city's rising rent prices. However, this is still a significant indicator of solid rental demand for Greeley.

Greeley, Colorado, real estate financial health indicators
Delinquencies
Historically, delinquencies in Colorado have been well below the national average. Colorado managed to stay below the national average spike when the pandemic hit, even when unemployment rates skyrocketed. The delinquency rate has shown a slow but steady decline since peaking in May 2020 at 5.5%.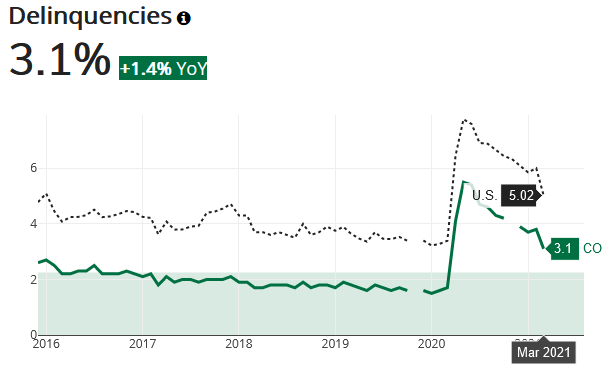 Foreclosures
Foreclosures nationally have been on a steady decline since 2016; however, the historic lows of January 2021 may have been directly influenced by the pandemic protections from foreclosures. Foreclosure rates declined for Colorado before the pandemic and still sit below the national average of 0.3% at a respective 0.1%. Visit our resources to see foreclosure investment opportunities in Greeley.
Brand New Colorado Foreclosures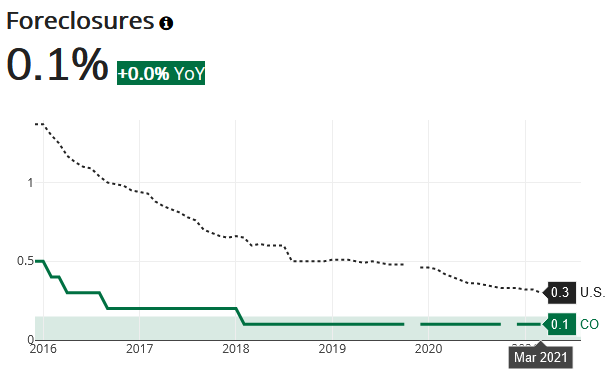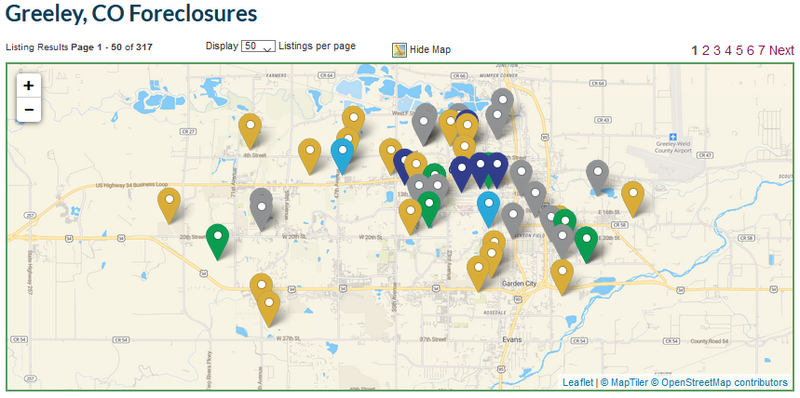 Anchor institutions
Greeley is well known for its agricultural contributions, but the city has worked diligently to grow in several other sectors.
Agriculture and food. Greeley is home to JBS USA, a food processing company and subsidiary of JBS S.A., which holds the distinction of being the world's largest processor of fresh beef and pork. With more than 4,500 residents employed, JBS USA is the largest employer in Greeley. Leprino Foods, a newcomer to the area, produces more mozzarella cheese than any other corporation globally and employs over 500 residents. Of the annual $1.54 billion industry of agriculture, Weld County ranks 8th nationally.
Healthcare. The North Colorado Medical Center, operated by Phoenix-based company Banner Health, is the second-largest employer in Greeley. NCMC is nationally recognized for burn and trauma care and is ranked in the Top 100 for cardiology. NCMC employs over 3,500 residents.
Schools of note
Greeley is home to several public and private colleges. With increasing enrollment every year, student housing presents an opportunity for real estate investors.
University of Northern Colorado
The University of Northern Colorado, offering undergraduate, graduate, professional, and doctoral degrees, is spread across two main areas, central and west, with over 11,400 students enrolled as of fall 2020.
Aims Community College
Aims Community College is a public 2-year college overlooking 100 miles of Rocky Mountain splendor. Aims provides more than 200 degree and certificate programs in addition to providing day and night classes. Over 9,000 students were enrolled as of fall 2020.
IBMC College
The Institute of Business and Medical Careers College is an accelerated for-profit training institution. Programs offered include clinical medical assistant, cosmetology, hairstyling, esthetics, and paralegal. The student population has increased by 18% over five years.
Neighborhoods of note
Greeley has a significant degree of real estate opportunities with its diverse range of neighborhoods, catering to almost any investor's needs.
Glenmere/Cranford
In Greeley's Glenmere/Cranford neighborhood, the tree-lined street and spacious yards give way to charming and character-filled homes. The perfect place for young professionals and families, the area offers quick access to restaurants, attractions, and the University of Northern Colorado.
Downtown
Located near the above mentioned neighborhood, Downtown possesses historic homes in the Monroe Historic District as well as modern loft-style properties. The residents in Downtown are only steps away from the festivals and live entertainment the city has to offer. It's not uncommon to see college students living next door to an older couple who have been there for 30+ years.
Kelly Farm
A newer neighborhood with homes built in the early 2000s, Kelly Farm is subdivided into three areas: Forest Glen at Kelly Farm, Glen Eden at Kelly Farm, and Cottesmore Reserve at Kelly Farm. The neighborhoods offer plenty of amenities, including a community pool, workout facility, and tennis courts. Median home prices are around $389,900.
The Millionacres bottom line
Investing in the Greeley residential area presents many opportunities. The population is growing, and there is an indication of a robust rental market. However, with land being in short supply, real estate prices will increase if demand dictates an inflow for this market. The local economy is slowly getting back to normal, and investors should keep a close eye on the unemployment rate, neighborhoods, and industries that make Greeley thrive.
Got $1,000? The 10 Top Investments We'd Make Right Now
Our team of analysts agrees. These 10 real estate plays are the best ways to invest in real estate right now. By signing up to be a member of Real Estate Winners, you'll get access to our 10 best ideas and new investment ideas every month. Find out how you can get started with Real Estate Winners by clicking here.