Get our 43-Page Guide to Real Estate Investing Today!
Real estate has long been the go-to investment for those looking to build long-term wealth for generations. Let us help you navigate this asset class by signing up for our comprehensive real estate investing guide.
Table of Contents:
Known for its gorgeous mountain views and clean air, Colorado Springs is not only a great place to visit but a great place to live. And as a real estate investor, that gives you an opportunity to buy up income properties and enjoy a steady stream of renters. Here's what you need to know about investing in Colorado Springs.
Why invest in Colorado Springs?
Colorado Springs is the second-most populous city in Colorado. Many renters are drawn to Colorado Springs because it's a more affordable alternative to nearby Denver. It also offers a host of activities that appeal to fitness-minded individuals and outdoor enthusiasts.
But that's not all. Colorado Springs also has a vibrant restaurant and nightlife scene. And it happens to be an extremely pet-friendly city to boot.
The state of the market
Is the Colorado Springs real estate market a good place to invest? It could be, though if you enter the market now, you'll likely wind up grappling with limited inventory and inflated prices, since that's the way homes are trending on a national level. But here are some trends specific to Colorado Springs that you should be aware of.
1. Unemployment is high
As of January 2021, the jobless rate in Colorado Springs was 7.2%, compared to a national jobless rate of 6.3%. A higher level of unemployment could mean many residents won't be in a position to sign leases in the near term.
2. Rent prices are up
In December 2020, the average Colorado Springs home rented for $1,578. That's a nice uptick from the previous year, which means there's still an appetite for rentals, despite high unemployment.
3. Construction costs are up
As of February 2021, construction costs had risen 6.7% year over year. While this is consistent with rising costs throughout the country, it does mean that newly built homes in Colorado Springs will likely be more expensive in the near term.
Colorado Springs housing demand indicators
Charts courtesy of Housing Tides, an EnergyLogic company.
Here's an overview of what housing demand looks like in Denver today.
Unemployment
The jobless rate in Colorado Springs was 7.2% as of January 2021, considerably higher than the national average of 6.3%. However, once things improve with regard to the pandemic and a more thorough vaccine rollout happens, the local unemployment rate could drop.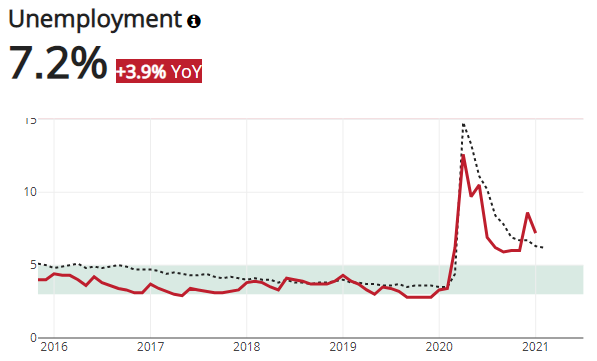 Median home price
The median price for listed homes in Colorado Springs is $370,000. Despite the city's proximity to Denver, home values aren't quite as high (the median home price in Denver is $455,000). As such, a lot of young professionals in particular may seek to take up residence in Colorado Springs due to its more affordable price point.
Median rent price
In December 2020, the median rent price in Colorado Springs was $1,578. That represents a 5.8% increase year over year. It's worth noting that the median rent price in Denver is considerably higher -- $1,756.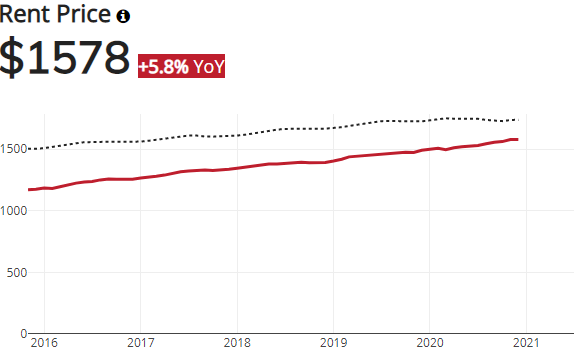 Colorado Springs housing supply indicators
Here's what housing supply looks like in Colorado Springs today.
Architectural billings
Architectural billings are typically used as an indicator for commercial construction, not residential, but it's worth noting that this metric experienced a year-over-year decline of 9.3% for the western part of the U.S., which Colorado Springs is part of.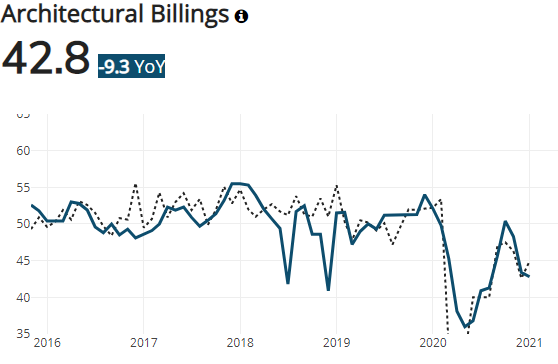 Construction indicators
Construction costs
As of February 2021, the cost of construction was up 6.7% year over year. This is consistent with national trends, as the price of lumber and other common building materials has soared. However, it also means new construction homes in Colorado Springs will likely hit the market at a higher price point.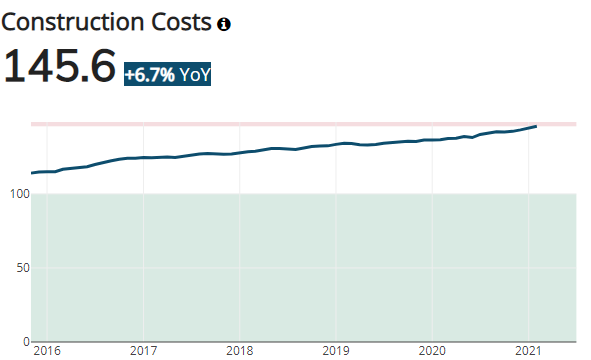 Construction jobs
Construction jobs actually declined in Colorado Springs by about 400,000 between January 2020 and January 2021. Fewer jobs could indicate that housing supply in the city won't pick up at as rapid a pace as it will in other cities.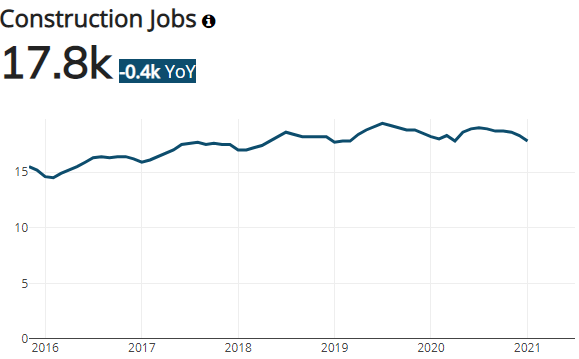 Single-family permits
In February 2021, there were 561 permits issued for single-family detached homes in Colorado Springs. This explains why construction jobs have declined. It also means the local market could remain tight for single-family homes. That's not necessarily a terrible thing for real estate investors, though. If few single-family homes hit the market, residents may be compelled to rent longer, opening the door to a world of profit in the multifamily property space.

Multi-unit permits
In February 2021, there were about 356 permits issued for multifamily properties with two or more units. Given the limited number of single-family homes that received permits by comparison, this certainly makes the case for investing in multifamily properties.

Colorado Springs real estate financial health indicators
Here's how Colorado Springs has done in terms of delinquencies and foreclosures.
Delinquencies
In January of 2021, the delinquency rate in Colorado Springs was 3.7%, which represents a 2.2% year-over-year increase. But it's important to note that over the past year, property owners have had the opportunity to pause their home loans by entering forbearance. In fact, given the unemployment rate in Colorado Springs, it's likely that delinquency rates would be much higher were it not for that specific protection that was made available early on in the pandemic.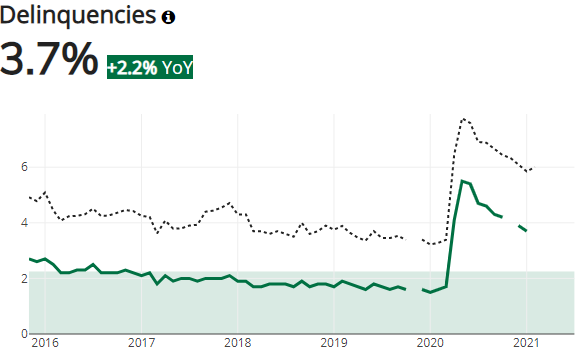 Foreclosures
Colorado Springs foreclosures are at just 0.1%, which has not risen year over year. However, foreclosures have also been banned for the past year, so it's important to take that figure with a grain of salt.
Brand New Colorado Foreclosures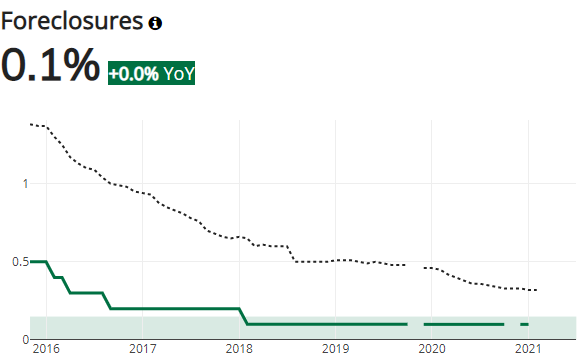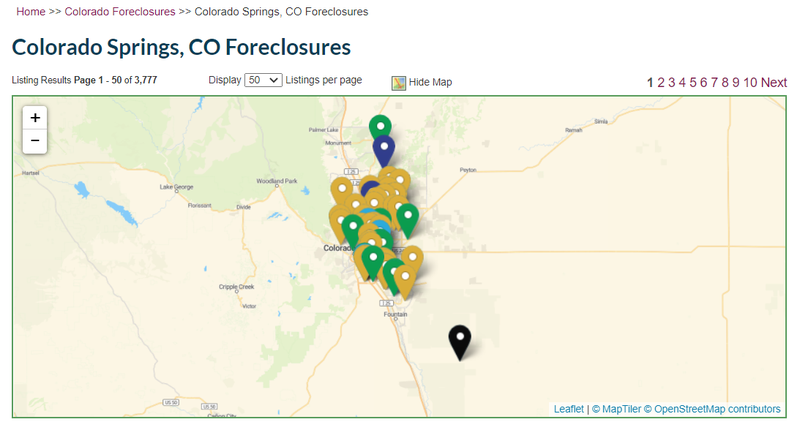 Anchor industries
Colorado Springs is home to a diverse range of industries that provide employment to residents.
Military and defense
Some of Colorado Springs' largest employers are defense contractors, with a concentration in space and missile defense. There's also a large number of aerospace jobs in the city. Defense and security firm Lockheed Martin (NYSE: LMT) is a major employer.
High-tech manufacturing
Though the high-tech sector has decreased its presence in Colorado Springs through the years, it's still a significant source of jobs. Some major companies that provide jobs in Colorado Springs include Verizon (NYSE: VZ) and Hewlett-Packard (NYSE: HPQ).
Tourism
With its many attractions, such as Pikes Peak and Garden of the Gods, Colorado Springs is a major tourist hub. As such, the industry is a huge source of jobs for area residents.
Schools of note
Colorado Springs is home to several well-known colleges and universities, including:
University of Colorado -- Colorado Springs: Located in the Cragmoor neighborhood in northern Colorado Springs, the University of Colorado -- Colorado Springs has a total undergraduate enrollment of 10,196. Though it offers its own student housing, many students also seek to rent in the area.
Colorado Technical University Colorado Springs: Though Colorado Technical University is largely an online program, it also welcomes many students to its Colorado Springs campus, which is right near the city's vibrant downtown area. The university itself doesn't offer student housing, however, so those who attend classes in person need to secure housing on their own.
Pikes Peak Community College: Pikes Peak Community College has three full-service campuses. Its Centennial Campus is located in southern Colorado Springs, while its Downtown Studio Campus is located in the heart of downtown Colorado Springs. Meanwhile, its Rampart Range Campus is located at the northern end of the city. The college enrolled 19,102 students during the 2019-2020 academic year.
Neighborhoods of note
Colorado Springs is divided into a number of distinct neighborhoods. Here are a few investors may want to focus on.
Cragmoor
Cragmoor is the perfect neighborhood for students at the University of Colorado -- Colorado Springs to reside in due to proximity to the campus. The area is known for its shopping and restaurants, as well as an array of nice parks. The average rent for a one-bedroom apartment in Cragmoor is $650. Compared to last year, the average rent price has remained flat. This low price point does a good job of drawing in students.
Garden Ranch
With access to both the University of Colorado -- Colorado Springs campus and Palmer Park, the city's largest park, Garden Ranch is a great spot for students as well as professors and academic professionals. The average rent for a one-bedroom apartment in Garden Ranch is currently $1,000. That represents a 4% increase compared to the previous year.
Rockrimmon
Located in northwestern Colorado Springs, Rockrimmon is close to the U.S. Air Force Academy, so it's a convenient neighborhood for attendees and their families to live in. The neighborhood's highly ranked school district is also a draw for families. The average rent for a one-bedroom apartment in Rockrimmon is $1,240. Compared to last year, the average rent price has remained flat.
Briargate
Located about 20 minutes from downtown Colorado Springs, Briargate is loaded with amenities like restaurants, coffee shops, and breweries that tend to draw in young professionals. The average rent for a one-bedroom apartment in Briargate is currently $1,680, an impressive 27% increase compared to the previous year. This indicates that the area is in pretty high demand.
The bottom line on Colorado Springs
With the cost of living in nearby Denver continuing to rise, many people -- especially younger professionals -- are turning to Colorado Springs as a more affordable alternative. As such, it could be a good time to buy an income property there.
Furthermore, the more moderate price point for homes makes Colorado Springs a good starter city for newer investors on a limited budget, and while some neighborhoods are more expensive than others, there are still deals to be had in the city as a whole. Besides, when scoping out properties, investors will get a chance to take in some of the most breathtaking scenery our country has to offer, and that alone is a good reason to give Colorado Springs a look.
Got $1,000? The 10 Top Investments We'd Make Right Now
Our team of analysts agrees. These 10 real estate plays are the best ways to invest in real estate right now. By signing up to be a member of Real Estate Winners, you'll get access to our 10 best ideas and new investment ideas every month. Find out how you can get started with Real Estate Winners by clicking here.
Maurie Backman
owns shares of Verizon Communications. The Motley Fool recommends Lockheed Martin and Verizon Communications. The Motley Fool has a
disclosure policy
.