Get our 43-Page Guide to Real Estate Investing Today!
Real estate has long been the go-to investment for those looking to build long-term wealth for generations. Let us help you navigate this asset class by signing up for our comprehensive real estate investing guide.
Note: Our market forecast includes both San Francisco data and data from its surroundings, including Oakland and Hayward.
Table of Contents:
Also known as "The Golden Gate City," San Francisco is considered by many to be the cultural and industrial hub of Northern California. Although the city covers only 46.9 square miles, it's home to nearly 882,000 residents, making it the 16th largest metropolitan statistical area in the United States.
However, in addition to the city's picturesque location and unique culture, San Francisco County is also known for having one of the highest per-capita incomes in the United States, which makes it a very lucrative area for investors.
The state of the market
Like most other major cities, the real estate market in San Francisco has been greatly impacted by the coronavirus pandemic. With that in mind, we've created an overview of the major trends that you should be aware of if investing in the Bay Area.
Rental vacancies are up
The percentage of rental vacancies in San Francisco currently sits at 8.5%. a 5.5% increase year over year. This increase in vacancies can be linked to a high number of coronavirus cases, as well as a jump in the number of companies that have shifted to remote work as a result of the pandemic.
However, as the vaccine rollout continues to escalate, it's looking like this will be a short-term issue. As more companies begin to require workers to return to the office, the percentage of rental vacancies should subside. That said, in the meantime, landlords may need to offer open units at a lower price point to fill some of their inventory. For its part, the median rent price is also down 8.1% year over year.
The housing supply is holding its own
While San Francisco currently only has a 2.1-month housing supply, it's actually doing better than the rest of the nation, which reported a mere 1.6-month supply in January 2021. In addition, there were 410 new single-family detached housing permits issued in February 2021, nearly 100 more permits than forecasted, which should also continue to help ease the low inventory burden.
The unemployment rate is making a comeback
As of January 2021, the unemployment rate in San Francisco is 6.7%, which is just above the national average of 6.3%. While that number is still higher than normal, it's important to note it has been on a downward trend since it hit a high of 13.2% at the height of the pandemic. For investors, this decline is an indication that the rental vacancy issues they're facing are likely to be a short-term problem. As more renters begin to secure jobs in the Bay Area, they will once again need to sign leases.
San Francisco housing demand indicators
All data and charts supplied by Housing Tides by EnergyLogic
Housing demand in San Francisco has experienced some ups and downs amid the coronavirus pandemic.
Unemployment trends
As a rule of thumb, San Francisco's unemployment rate is typically lower than the national average and, though joblessness did spike in 2020 as a result of the coronavirus pandemic, that statement still holds true. Despite the region's tourism industry taking a major hit during the pandemic, its position as one of the nation's top technological hubs has kept it better insulated than other metros.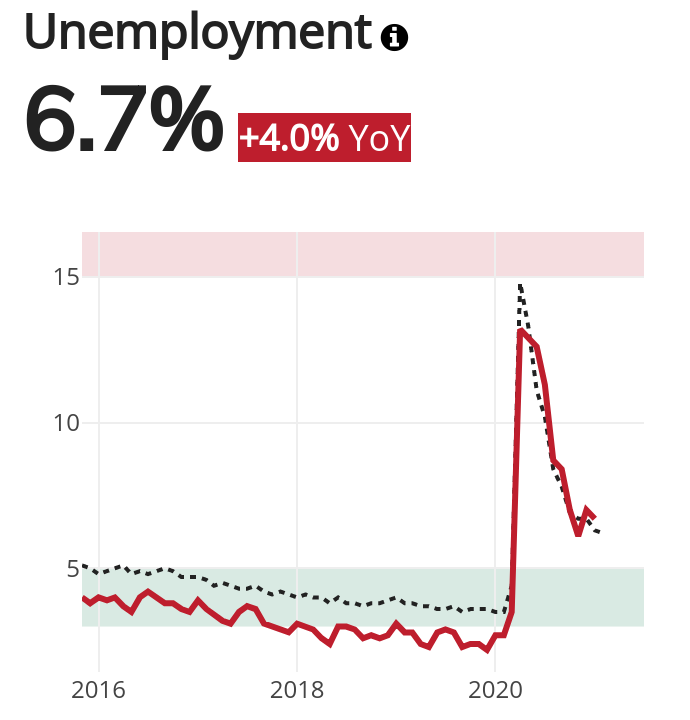 Median home price
Though housing prices in San Francisco are much higher than the national average, they are also currently following a nationwide trend. Low mortgage rates and a large influx of buyers are behind a surge in demand, which has caused housing prices to rise over the last year.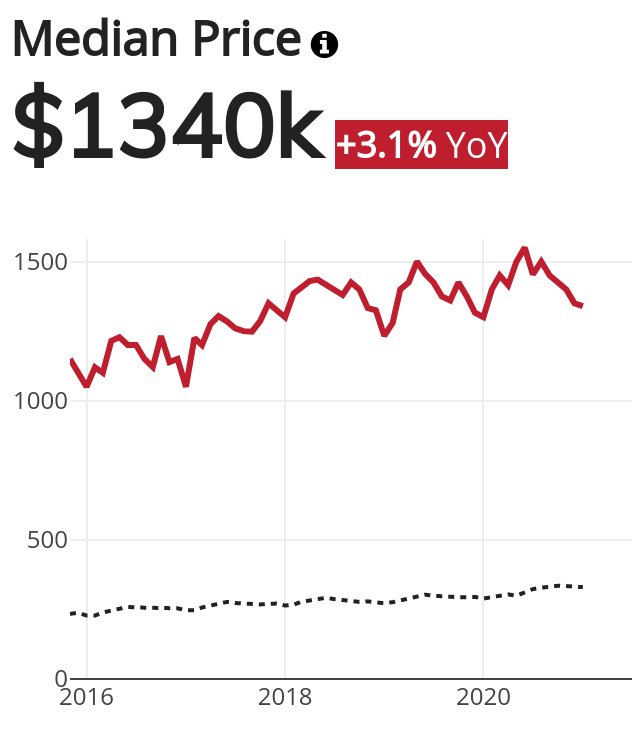 Median rent price
Although housing prices are on the rise, rental rates in San Francisco are down. This, too, is in keeping with a trend we've seen in other, more expensive metros like New York City. In part, it's due to a large number of vacancies. Since remote work has become the norm amid the pandemic, many renters have decided to leave the city center behind in search of a more affordable cost of living.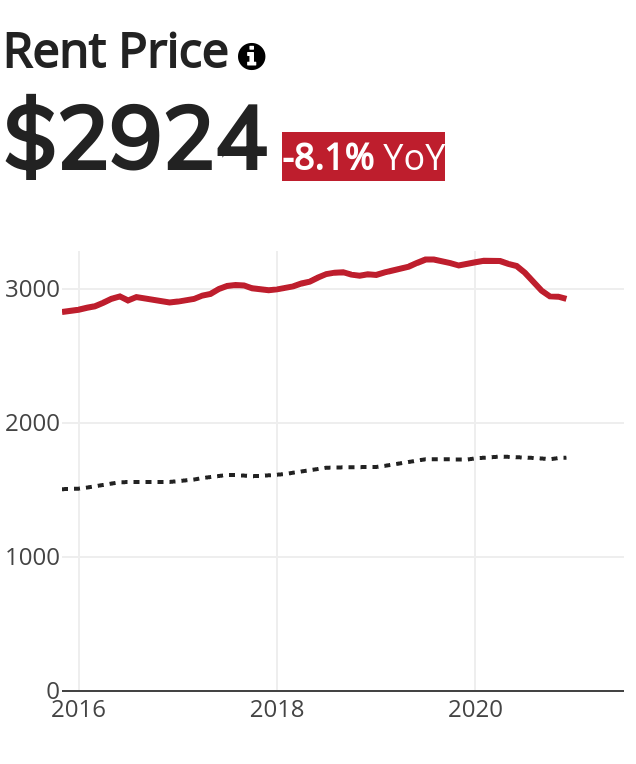 San Francisco housing supply indicators
Below is an overview of what housing supply looks like in San Francisco.
Total housing supply
While 2.1 months of housing inventory may not seem like much, San Francisco's total housing supply is actually above the national average. Again, this increase in supply is likely due to the increase in remote work allowing many to escape the Bay Area's high cost of living. However, as a result, interested investors may have an easier time finding available properties in San Francisco than in other areas of the country.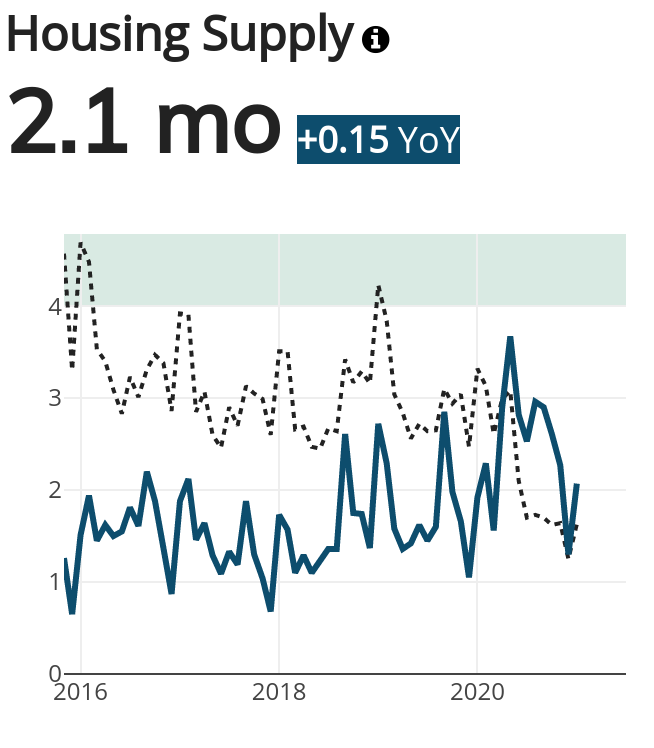 Rental vacancies
Unfortunately for investors, rental vacancies have surged during the pandemic. However, all indications show that this will only be a short-term trend. As the vaccine rollout continues and more people return to work, renters should begin to firm up their plans and sign new leases.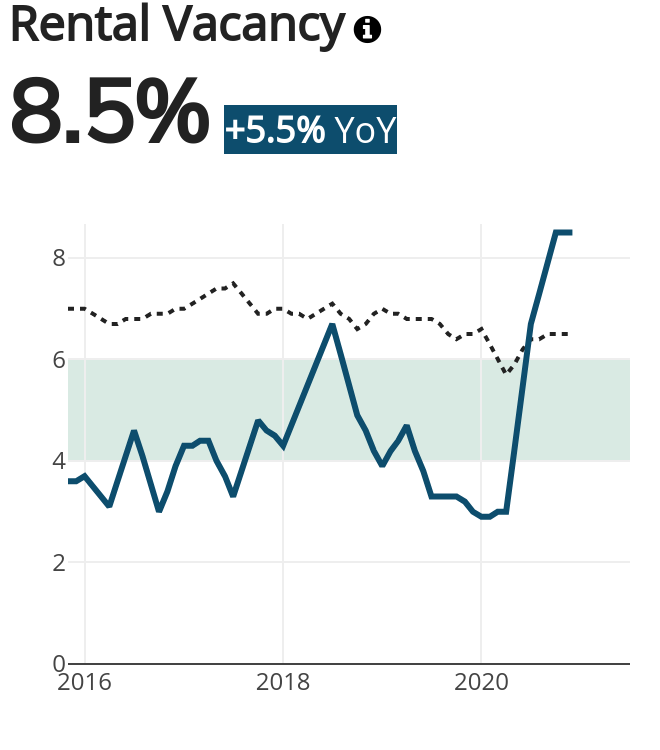 Architectural billings
Typically, architectural billings are used as a metric to gauge nonresidential construction activity. While they declined in the wake of the coronavirus pandemic, the region experienced a bit less of a decline than the nation as a whole.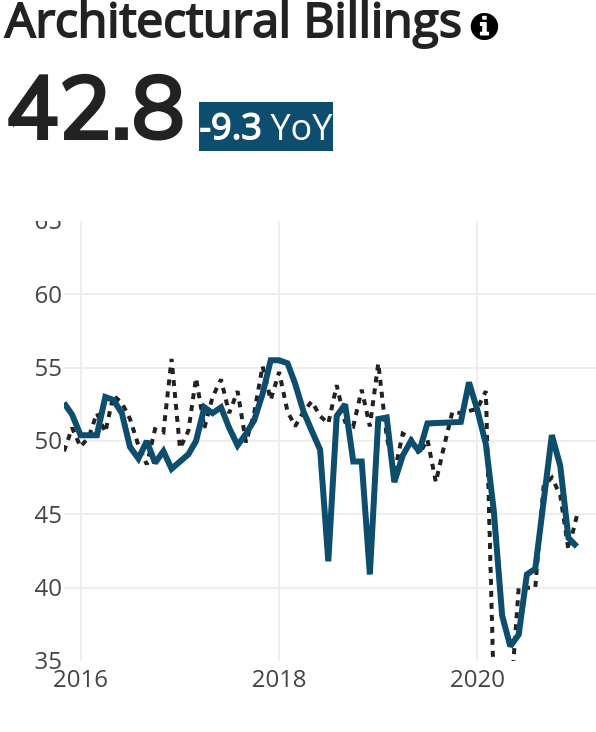 Construction indicators
On the whole, San Francisco's construction indicators seem to fall in line with the rest of the nation. For their part, construction costs have continued on a rising trajectory for the last few years. This problem was only made worse by the lumber shortage in 2020, as well as the lack of inventory in the resale market. Meanwhile, the number of construction jobs fell in the beginning of 2020 as the Bay Area shut down in an attempt to stop the spread of the pandemic. However, the sector seems to be making a recovery.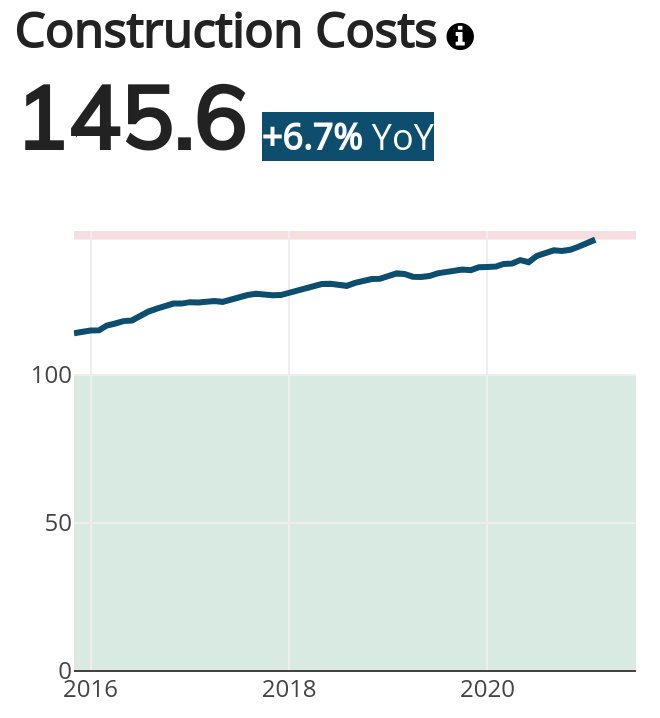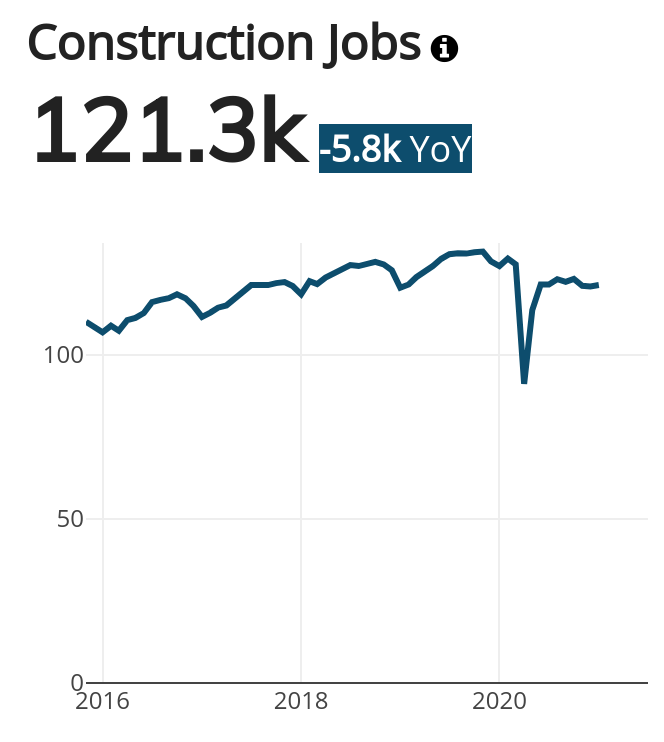 Single-family detached permits
In February 2021, there were 410 single-family detached housing permits issued in San Francisco. Though that number may be small compared to other metros, it's more than forecasted, which could help to ease the city's inventory shortage in the near future.

Multi-unit permits (2-plus units)
On the other hand, the number of multi-unit permits, or housing permits with dwellings of two or more units, came in lower than forecasted. In January 2021, there were just 542 permits issued. In this case, the decline could be a short-term reaction to the high rate of rental vacancies that have occurred alongside the increase in remote work.

San Francisco real estate financial health indicators
While 2020 was undoubtedly a hard year, all real estate financial health indicators reflect that the San Francisco region is faring better than the rest of the nation.
Delinquencies
While mortgage delinquencies increased by 2.7% year over year in California for January 2021, the state is still well below the national average of 6%. From an investing standpoint, the eviction bans put into place to assist renters have had a negative impact on landlords. As a result, many landlords have had to find relief options for their own mortgages.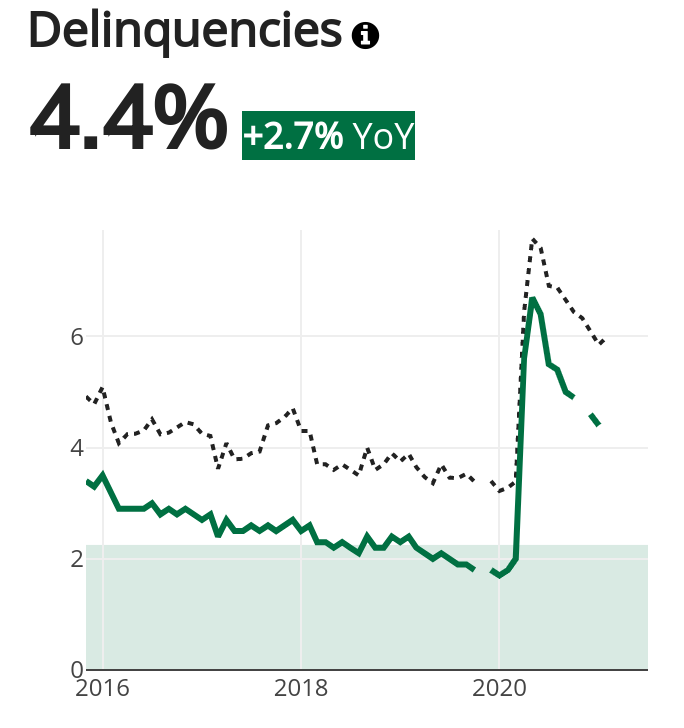 Foreclosures
At just 0.1%, the San Francisco foreclosure rate is well below the national average of 0.32% as of January 2021. While this index has generally been declining since 2016, it's likely that the protections put in place during the coronavirus pandemic, including increased access to mortgage forbearance, have stopped many homeowners from falling into foreclosure.
Brand New California Foreclosures
San Francisco, CA
Oxnard, CA
Orinda, CA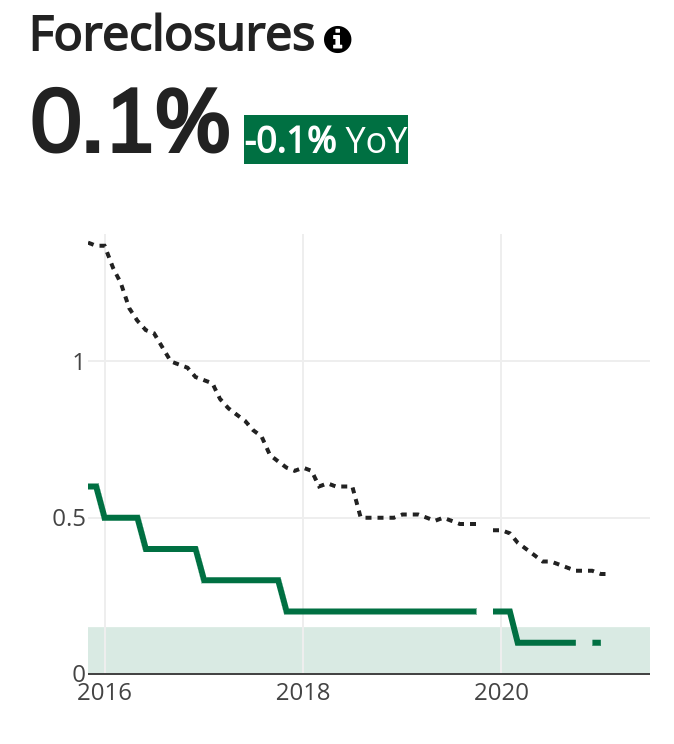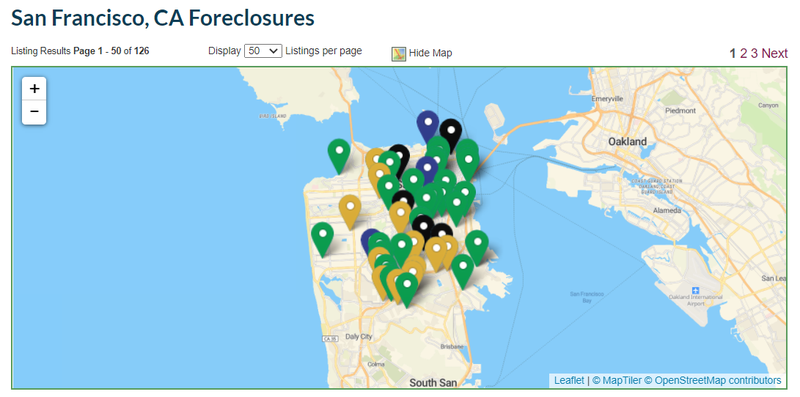 Anchor institutions
Though you might expect the Bay Area's anchor institutions to be made up entirely of tech companies, San Francisco's employment landscape also includes a well-known healthcare company, which may help to explain why the metro's unemployment rates were a bit more insulated compared to the rest of the nation.
Salesforce: According to a recent roundup by the San Francisco Business Times, Salesforce (NYSE: CRM) is the city's largest employer. The company's corporate headquarters is located in the heart of downtown and home to over 8,000 employees.
Kaiser Permanente: The Business Times ranks the healthcare giant as the city's third-largest employer, with over 58,000 of its employees working in the Bay Area.
Uber: In fifth place is Uber (NYSE: UBER), the popular ride-sharing app. Of the technology company's 17,000 total employees, 5,000 of them work in the Bay Area.
Schools of note
In total, the Bay Area is home to about 25 colleges and universities, which means it offers plenty of opportunity for landlords looking to specialize in student housing. Here's a rundown of three of the top schools in the area:
Stanford University: Though it's not officially considered an Ivy League school, Stanford University is commonly thought to be one of the best universities in the nation. On par with other prestigious learning institutions like MIT and Yale University, Stanford is home to approximately 16,000 graduate and undergraduate students.
University of California -- Berkeley: Commonly known simply as "UC Berkeley,'' this institution is one of the top-rated public universities in the Bay Area. Situated about 10 miles outside San Francisco proper, UC Berkeley hosts a total enrollment of about 44,000.
University of San Francisco: Nestled between the Golden Gate Bridge and Golden Gate Park, the Jesuit-run University of San Francisco is smaller than the other schools on this list but no less worthwhile. Its enrollment is about 11,000 students.
Neighborhoods of note for investing
San Francisco has many different neighborhoods worth considering when you're thinking about buying an investment property. We've highlighted three worth a closer look:
Mission Bay: Located on the east side of San Francisco, Mission Bay is a 303-acre neighborhood that originally began as an industrial district. However, over recent years, with the development of the University of California Mission Bay campus, it has undergone a wave of development. Its close proximity to downtown and ample opportunity for student housing makes it a good fit for investors.
Alamo Square: Part of the city's Western Addition, this neighborhood centers around Alamo Square Park. With property values under $1 million, it's known as one of the most affordable neighborhoods in the San Francisco area, making it a good fit for newer investors. Still, despite its affordability, this neighborhood is well known for its burgeoning dining scene and breathtaking views of downtown.
Merced Manor: Known to locals simply as "Parkside," the Merced Manor neighborhood is considered a family-friendly area. Situated between Stern Grove and Lake Merced, the area's robust transit system makes it an ideal fit for those who want to be accessible to downtown while still being able to enjoy peace and quiet.
The bottom line
In the wake of the coronavirus pandemic, San Francisco's economy and real estate market have experienced some upheaval. However, the city's reputation as a technological hub and desirable place to live have helped it weather the storm better than most comparable metro areas. Though investors may find certain metrics here less than ideal, it's important to remember that these upsets are likely short-term problems, and the city already seems to be making a comeback
Got $1,000? The 10 Top Investments We'd Make Right Now
Our team of analysts agrees. These 10 real estate plays are the best ways to invest in real estate right now. By signing up to be a member of Real Estate Winners, you'll get access to our 10 best ideas and new investment ideas every month. Find out how you can get started with Real Estate Winners by clicking here.
The Motley Fool owns shares of and recommends Salesforce.com. The Motley Fool recommends Uber Technologies. The Motley Fool has a
disclosure policy
.