Get our 43-Page Guide to Real Estate Investing Today!
Real estate has long been the go-to investment for those looking to build long-term wealth for generations. Let us help you navigate this asset class by signing up for our comprehensive real estate investing guide.
Note: Our market forecast includes Los Angeles data and data from its surroundings, including Long Beach and Anaheim.
Table of Contents:
Why consider Los Angeles for real estate investing?
Bordered by mountains, deserts, and the Pacific Ocean, Los Angeles is the second-largest city in the United States, behind New York City. Though the city only covers approximately 469 square miles, it is home to around four million people. The Los Angeles metropolitan statistical area, which includes the Inland Empire as well as Ventura County, expands to 13.1 million.
Also known as "The City of Angels," Los Angeles is home to a number of diverse populations and neighborhoods, meaning that investors of all kinds can find something to fit their investment strategy.
The state of the market
While real estate markets across the country have been profoundly impacted by the COVID-19 pandemic, only a few of the markets we've covered have been hit quite as hard as the Los Angeles area. Investors who are thinking of adding this market to their portfolios should be aware of the following trends.
Rental vacancies are up
Rental vacancies are up 2.5% in Los Angeles on a year-over-year basis. As a result, rental rates are also down. Though, notably, they're only down 0.4%.
However, investors will be heartened to know that this is likely to be a short-term issue. Vacancies are up as a result of an increase in the accessibility of remote work, but as LA seems to be preparing to reopen in the very near future, it is likely that people will return to the office and vacancies will soon start to decrease.
Inventory is better than average
Although the LA metro area is currently reporting that it only has 2.2 months worth of housing inventory, it's worth noting that number is higher than the national average of 1.6 months. An increase in the number of both single-family housing permits and multifamily housing permits should also help ease the inventory shortage in the not-too-distant future.
Unemployment is relatively high
Investors should also be aware that unemployment is still relatively high in Los Angeles, which could lead to longer vacancies. As of February 2021, the unemployment rate is 9.9%, a figure that is up 5.6% since the same time last year and is significantly higher than the national average of just 6.2%. Still, as LA prepares to enter the next phase of its reopening plan, odds are that many more jobs will become available and the rate should begin to drop.
Los Angeles Housing Demand Indicators
All data and charts supplied by Housing Tides by EnergyLogic.
One look at Los Angeles's housing demand indicators will tell you that the city's real estate market has been profoundly impacted by the pandemic and is still trying to find its feet.
Unemployment trends
While unemployment has been high across the country as a result of the coronavirus pandemic, few areas we've covered have been impacted quite as hard as Los Angeles. At its peak in April 2020, the unemployment rate hit a staggering 17.9%, which was much higher than the national average of 13.3% at the time.
Since then, this metric has begun to make a recovery. However, as of March 2021, it's still at 9.9%, which is up 5.6% year over year and well above the national average of 6%.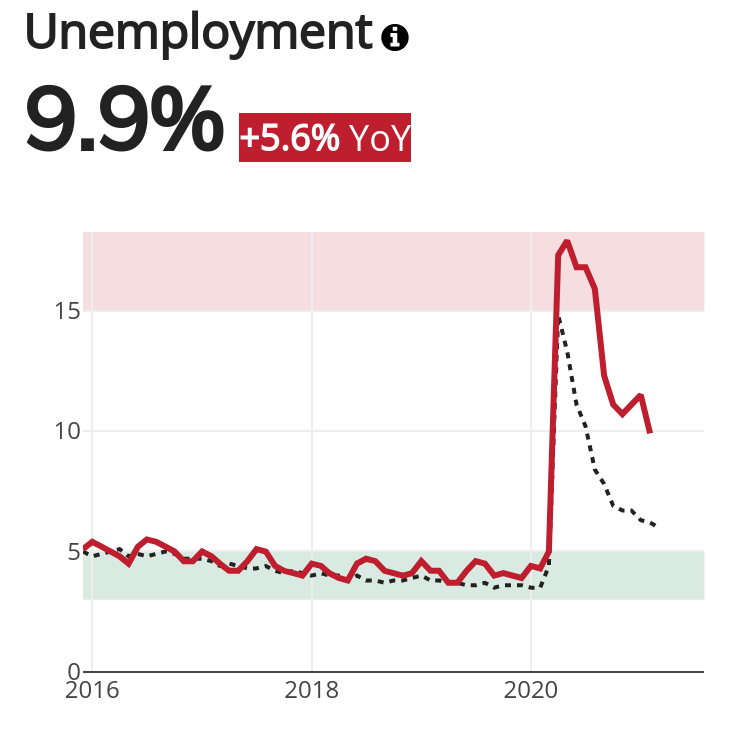 Median home price
Across the nation, this metric has been on the rise because of a widespread inventory shortage, and Los Angeles is no exception to this trend. Over the last year, home prices in Los Angeles have risen a staggering 14.2% in the last year. As it stands, LA's median home price is $725,000, which is more than double the current national average of $330,000.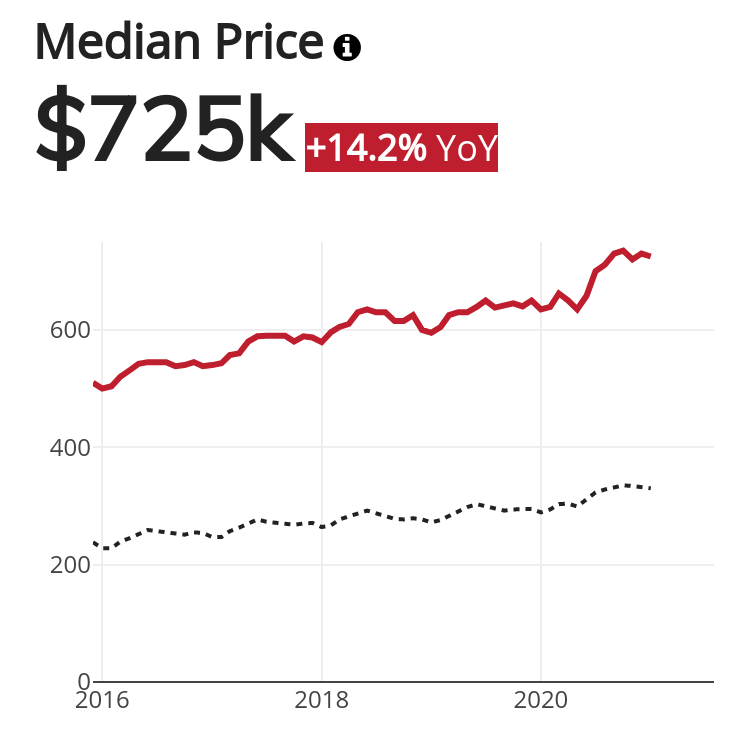 Median rent price
Meanwhile, typically, if home prices are on the rise, it makes sense for rent prices to rise as well. However, that's not what's happening in Los Angeles right now. According to this index, rent prices have actually gone down 0.4% on a year-over-year basis.
Again, this decrease is likely due to the pandemic. Many renters have been fleeing high- cost-of-living areas as they have been given the opportunity to work remotely. As a result, landlords have had to drop rent prices in order to fill an increase in vacancies.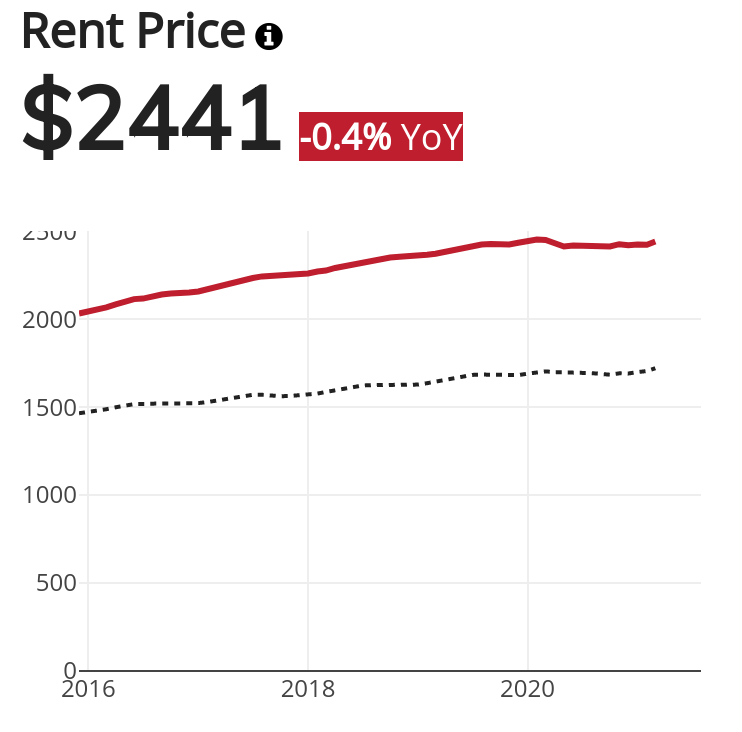 Los Angeles housing supply indicators
LA's housing supply indicators show that the city is attempting to make a recovery, despite not having yet returned to pre-pandemic levels.
Total housing supply
On the other hand, total housing supply is one metric where LA seems to be doing better than the rest of the country. Nationwide, the country is grappling with having only 1.6 months of inventory on average. For its part, Los Angeles reported having 2.2 months of inventory in January 2021, which is an increase of 0.72% on a year-over-year basis.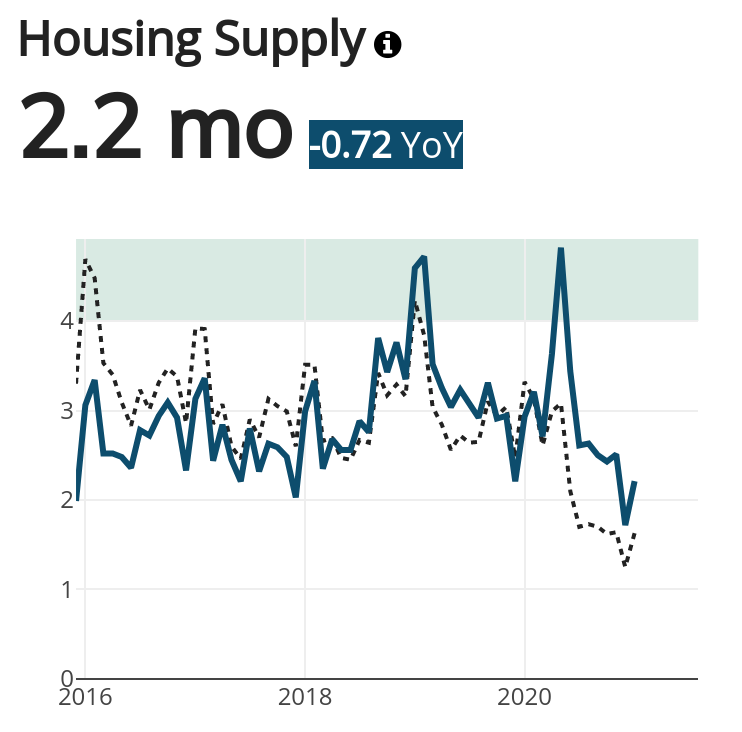 Rental vacancies
Unfortunately, rental vacancies are on the rise in Los Angeles. Again, this is likely due to many renters leaving the city once they had the opportunity to work remotely. However, if we had to guess, we would say that the vacancies are likely to be a short-term issue.
Governor Newsom recently announced that California could enter the more-lenient yellow tier of its reopening plan in just a few days. The plan specifically mentions reopening gyms, movie theaters, and live-event venues. However, if these venues are reopening, it's likely that many companies will begin to return to the workplace, indicating that rental vacancies should go down in the near future.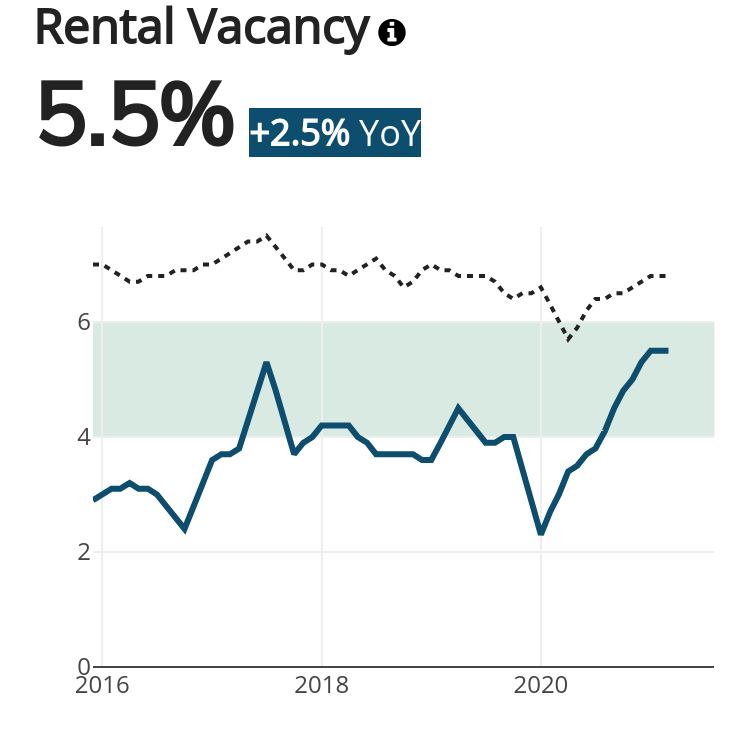 Architectural billings
On the whole, architectural billings are typically used to speak to the state of the market. It's an indicator of nonresidential construction activity. In this case, LA is showing signs of making a recovery. While the western region of the United States did drop to a low of 36 in May 2020, it's worth noting that they fared better than the nation as a whole, which hit a low of 32 at the same time.
After that point, the West has seemingly started to make a recovery. At a current rate of 52.8, this metric has actually increased by 7.5% on a year-over-year basis.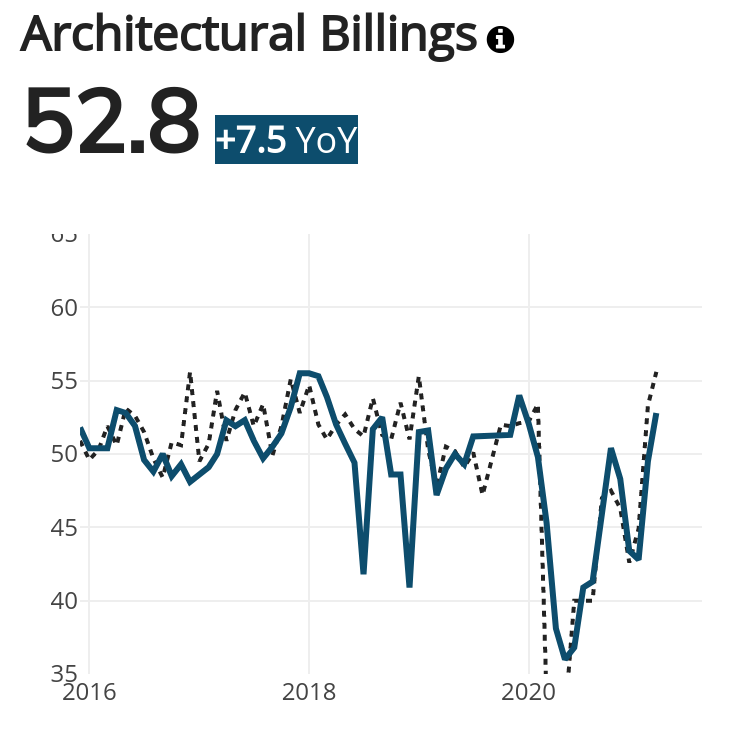 Construction Indicators
Where the construction indicators are concerned, the outlook is also mixed. On one hand, construction costs have continued to rise. They've been on an upward trajectory since 2016 and were likely aided in growing 7% over the last year by the lumber shortage that has occurred as a result of the pandemic.
Meanwhile, on a more positive note, the amount of construction jobs LA has to offer is currently up as well. As of March 2021, the city reported having 61,200 construction jobs, which is an increase of 0.8% on a year-over-year basis.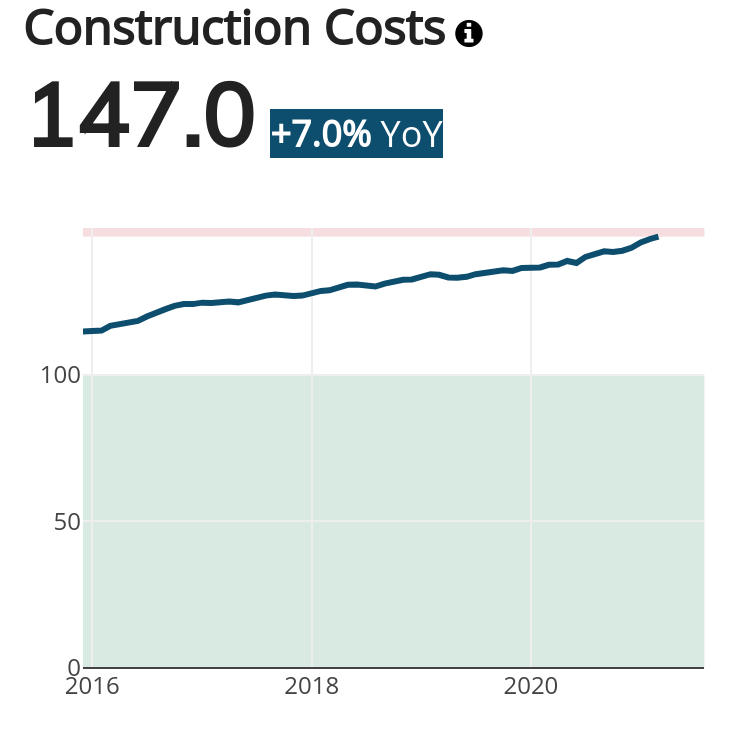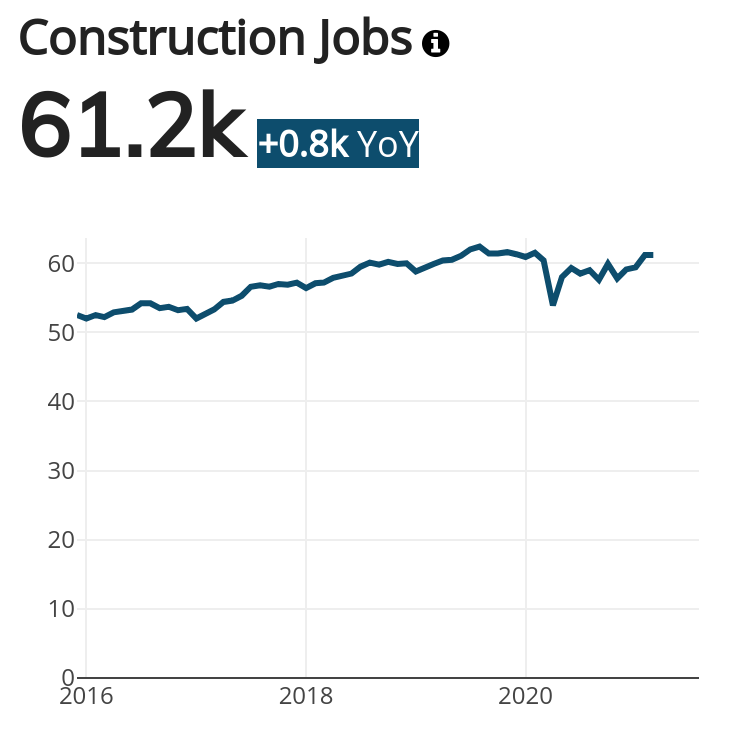 Single-family detached permits
LA had 1,264 single-family detached housing permits issued in March 2021. While this number may not seem like much, given the city's large population, it's important to note it well exceeds the projected number of 840.
In the short term, this increase will likely help further ease the city's inventory shortage. However, if this trend continues, there's a chance that housing supply could begin to outpace demand.

Multi-unit permits (2+ units)
On the mulifamily side of things, there were 1,934 housing permits issued in March 2021. While this number once again outpaces projections, the overage is less. The city had projected 1,569 permits for the month. Still, the increase is concerning given the number of rental vacancies that are on the market today.

Los Angeles real estate financial health indicators
LA's real estate financial health indicators tell a more positive story. In many aspects, the City of Angels is doing better than the rest of the country.
Delinquencies
Although delinquencies are up in California on a year-over-year basis, they are coming in at just 4.4% as of February 2021. That number is significantly lower than the national average of 6%. It also is a sign that the state has begun making a recovery, since it's a drop from the peak rate of 6.7% in May 2020.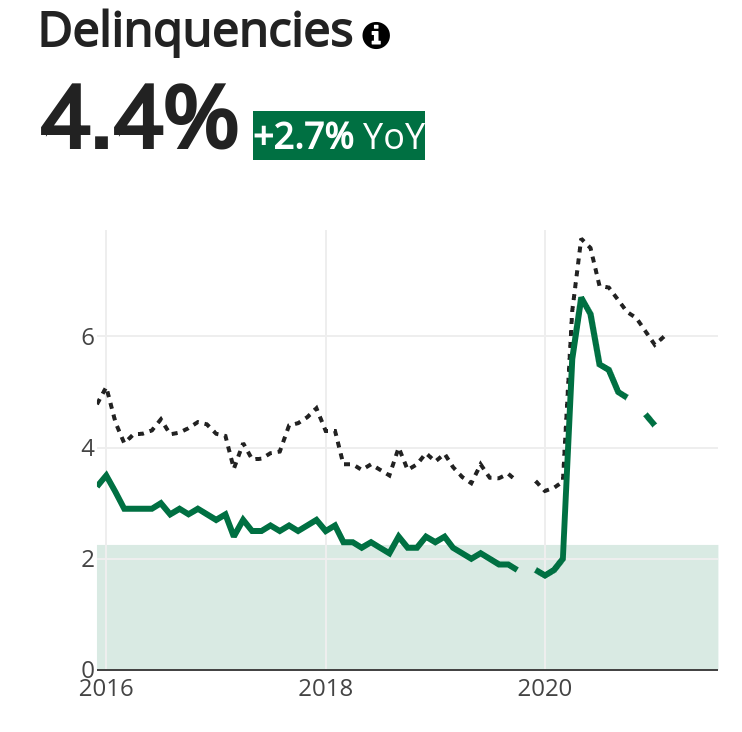 Foreclosures
Lastly, as of February 2021, the state of California has a foreclosure rate of just 0.1%. Aside from being notable on its own, it's worth pointing out that this number is much lower than the current national average of 0.32%. It's likely that many of the extended forbearance measures that have been put in place during the pandemic have contributed to this metric being so low.
Brand New California Foreclosures
San Francisco, CA
Oxnard, CA
Orinda, CA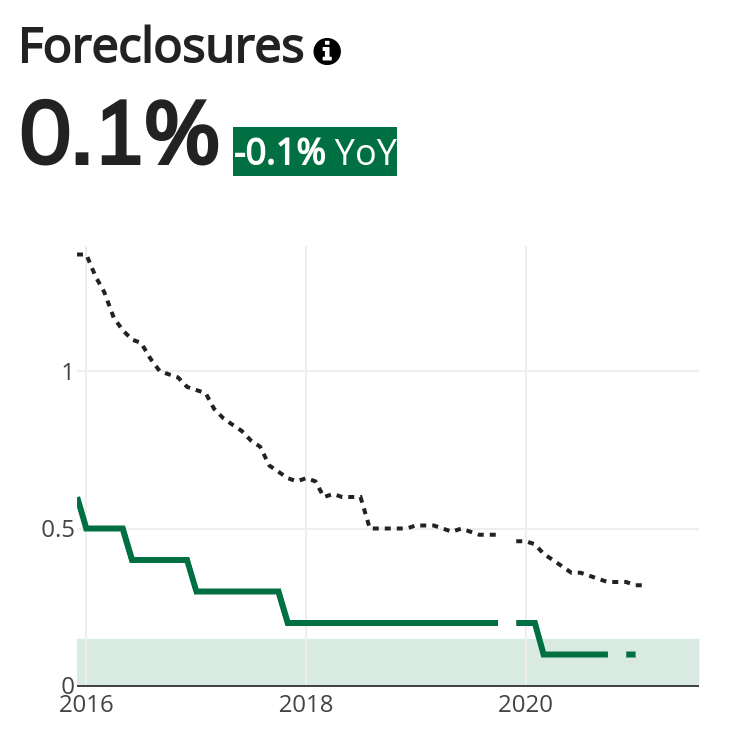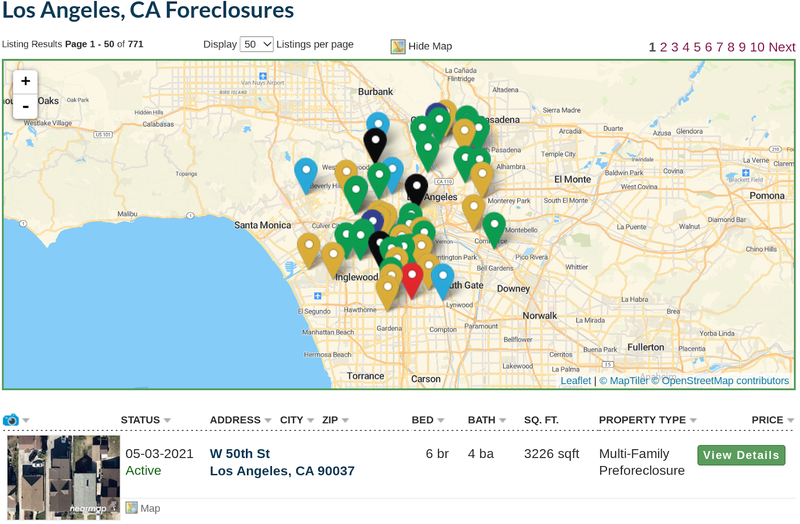 Anchor institutions
The City of Angels is home to a number of anchor institutions. However, interestingly, the state's largest employers are in the public sector, according to the LA Business Journal. We've outlined them for you below (and included the list of the county's largest private-sector employers for comparison).
Los Angeles County: Los Angeles County is by far the city's largest employer. LA County is home to 10 million people, and over 113,000 of them are employed by the county itself.
Los Angeles United School District: In second place is the city's public school district. In total, it is responsible for employing approximately 78,000 Los Angeles residents.
University of California Los Angeles (UCLA): Coming in third on the list is Los Angeles's state university system. The UCLA campus employs around another 51,000 people.
Schools of note
Investors who are interested in focusing on student housing will be pleased to know that La is home to a number of respected higher-learning institutions. Here are three of the most notable ones within the city limits.
University of California - Los Angeles (UCLA): The University of California - Los Angeles is by far the biggest school in the area. It is home to approximately 30,000 students. In particular, the school is known for its large campus and rigorous academics.
University of Southern California (USC): Meanwhile, USC brings another 19,000 students to Los Angeles each year. Its design and film programs are of note, as well as its generous student-to-faculty ratio.
California Institute of Technology (CalTech): On par with the Massachusetts Institute of Technology, CalTech is known for its science and engineering programs. However, even though this is one of the most prestigious institutions in the country, investors should know that it's small. in fact, only about 1,000 students matriculate there each year.
Neighborhoods of note for investing
Los Angeles is home to a wealth of diverse neighborhoods, which can make it hard for investors to narrow down a focus. With that said, in an effort to help, we've laid out three of the top neighborhoods worth your consideration.
Downtown Los Angeles (DTLA): While a city's downtown area is usually the heart of the action, that's not the case with Los Angeles. DTLA was primarily a business district for years, which means residential real estate can still be bought at a premium compared to some of the surrounding areas. However, over the last few years, a revitalization has started to take place.
Inglewood: Inglewood is located in the southwestern portion of LA County. This neighborhood is up-and-coming, and home prices have risen quite a bit over the last few years. Since the neighborhood is still in transition, it could be a good fit for fix-and-flip investors who are looking to buy at a lower price point.
El Sereno: On Los Angeles's east side is El Sereno. This is one of the oldest neighborhoods in the city. As such, it's filled with many historic homes. However, what's important to investors is that home values are lower here than they are in many surrounding areas.
All data and charts supplied by Housing Tides by EnergyLogic.
The bottom line
There's no denying the fact that Los Angeles has been hit hard by the pandemic. However, the real estate market shows signs of resilience. Many of the indices we measured have begun to make a recovery since covid-19 infection rates hit their peak last spring. In addition, as vaccinations continue and the city begins to reopen on a wider scale, we should start to see increasing signs that the City of Angels is ready to bounce back.
Got $1,000? The 10 Top Investments We'd Make Right Now
Our team of analysts agrees. These 10 real estate plays are the best ways to invest in real estate right now. By signing up to be a member of Real Estate Winners, you'll get access to our 10 best ideas and new investment ideas every month. Find out how you can get started with Real Estate Winners by clicking here.